Miss Saigon Reminds Us There's Hope
3 min read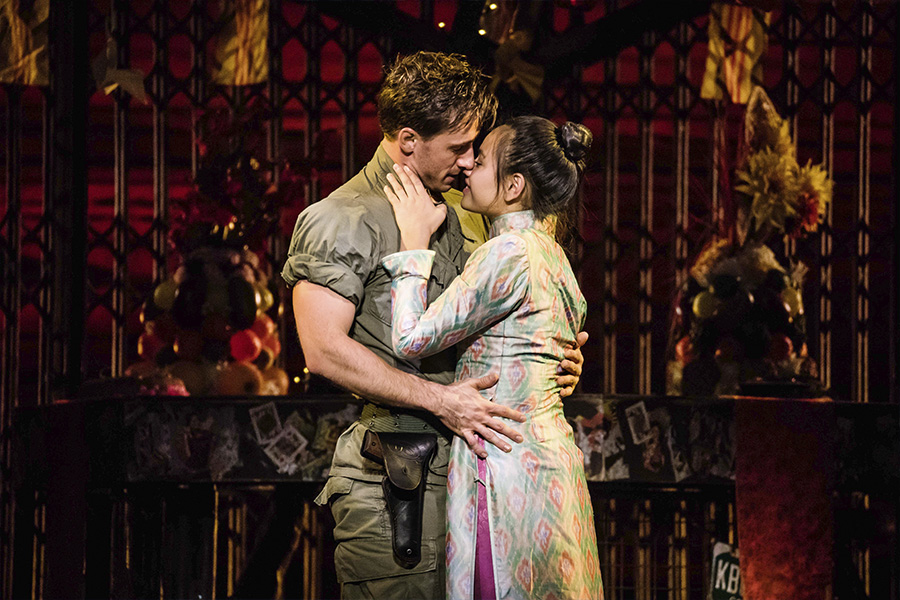 After 17 years, the highly anticipated Cameron Mackintosh's dynamite Broadway revival of Boubil and Schӧnberg's legendary musical MISS SAIGON– at the Washington, D.C. Kennedy Center Opera House– is a sensational, relevant conscientious musical you do not want to miss! 
Do not be worried if you think this classic has been tweaked, this touring version will please both avid fans and the unicorn-esque first-timer!  With Broadway hits like "The Heat is On in Saigon," "The Movie in My Mind," "Last Night of the World," and "The American Dream," directed by Laurence Conner with musical staging by Bob Avian and additional choreography by Geoffrey Garratt, you'll be happy to know that MISS SAIGON is still the truly visually stunning and emotionally intense musical – with a twist!
If you have not seen MISS SAIGON, then you are infor a treat as it is from the creators of LesMisérables.  This tour has a superior cast with a strong female lead – Emily Bautista, who has been most recently seen as Éponine in the current national tour of Les Misérables.  Bautista plays Kim the young Vietnamese woman, who is orphaned by war and forced to work in a bar by a notorious character known as the Engineer, played by Red Concepción; who also played the Engineer in the U.K. Tour of MISS SAIGON.  What is new with this tour: Conner focuses on Kim and created her to be less passive, while the Engineer, thesemi-sympathetic villain of the musical is no longer the star of the musicalalbeit Concepción is a powerhouse performer.  At certain performances, the role of Kim will be played by Myra Molloy.
As Cameron Mackintosh said, "The tragic love story at the heart of the show has become even more relevant today with innocent people being torn apart by war all over the world."  Anthony Festa, who plays Chris,the U.S. Marine who falls in love during his second tour of duty, is not the1990s version but a newer version who emphasizes his character's various flaws and depth.  Together, the performances of Bautista and Festa will make you more conscious of resiliency, wartime love and self-sacrifice.  
Stacie Bono plays Ellen; Bono allows you to put yourself in her shoes, feeling her pain, as she belts out her solo of "Maybe,"while, J. Daughtry as John warms your heart and makes you cry in his solo of"Bui Doi."  J. Daughtry has been seen on Broadway in Beautiful–The Carole King Musical and The Color Purple.  Jinwoo Jung who was born and raised in Korea and was most recently seen Off-Broadway in K-Pop plays Thuy and is very believable as an unwavering Vietnamese Nationalist/Viet Cong Sergeant.  Christine Bunuan plays Gigi and delivers an emotional duet with Bautista and company in "The Movie in My Mind." 
The role of Tam is played by Jace Chen, Ryder Khatiwala, Fin Moulding, Melanie Ramirez, and Sarah Ramirez.  I will admit that the performance I saw, Tam was played by Fin Moudling, who was absolutely adorable and had the audience giving Tam a standing ovation!
The only miss with the production was not providing the audience our "fourth sense," i.e. I was disappointed that we didn't feel the wind from the blades during the entrance of "iconic helicopter"scene.  My favorite production and costume designs scenes were of the 'American Dream' and the 'Morning of the Dragon."  To me, although culturally different, both were filled with a symbolic show of force.  
Overall, this musical makes you think about the many sides and depth of the social issues impacting our world today i.e. war, immigration, life as a refugee, racism, commercial sex workers, etc. and despite the critics who argue that "Miss Saigon" perpetuates the exotic and romantic stereotypes, it is important to note that this musical is a tragic love story and a need to understand how our best intentions may cause pain to those we love.
Running Time: Two hours and 30 minutes and there is one 20 minute intermission.
MISS SAIGON, playing until Sunday, January 13, 2019 in the Opera House, will be performed Wednesday–Sunday at 7:00 p.m. with matinees at 1:30 p.m. on Saturday and Sunday. Tickets, priced beginning at $49, are currently on sale. For more information please visit the Kennedy Center website, in-person at the Kennedy Center box office, or call (202) 467-4600 or (800) 444-1324.