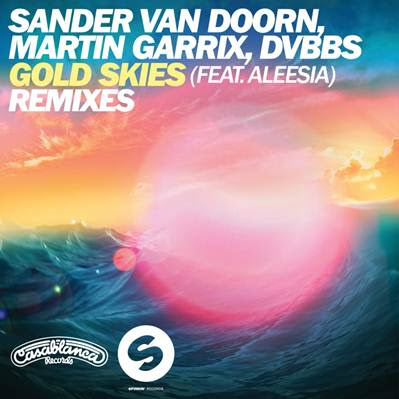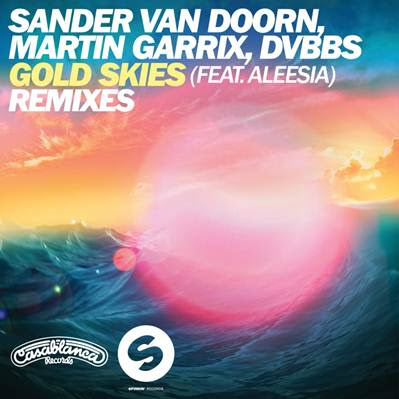 MARTIN GARRIX's single "Gold Skies" [Feat. Aleesia] gets remixed by Tiësto, DubVision, and more on Gold Skies (Remixes) [Casablanca Records]—out now via iTunes and all digital retailers. Get the five-track collection at this link now! Each of these high-profile talents lent his own personal stamp and spin to the dance floor anthem, augmenting and expanding it in the process.
It's been a busy fall for the artist and producer. His debut EP, Gold Skies, debuted at #1 on the iTunes Top Dance Albums Chart. Recently, fans voted GARRIX #4 on the prestigious DJ Mag Top 100 List, another huge honor. His latest release "Virus" with MOTi just landed in the Global Shazam Top 100, and he collaborated with Dillon Francis on "Set Me Free" from the former's new album, Money Sucks, Friends Rule, available now.
Hear "Gold Skies" like you've never heard it before in this new remix package.
It's been a triumphant two years for GARRIX. He's given powerful headline performances at Ultra Music Festival and Coachella among countless other festivals. "Animals" not only went platinum, but it made him the "youngest artist to go #1 on Beatport". It achieved iTunes "Dance Single of the Year" for 2013 and topped Billboard's Hot Dance Club Play Chart. It seized #1 in the UK and stayed strong in the Top 10 for four consecutive weeks. It peaked at #12 on Top 40 radio, becoming the highest charting instrumental song at the format since Dave Stewart and Candy Dulfer's "Lily Was Here" in 1991
To date, "Animals" is approaching 2 million digital sales in the U.S., racked up almost 400 million YouTube plays, more than 92 million global Spotify streams, and upwards of 145,000 plays at U.S. radio. Other Beatport honors include "Animals" being named "Best Selling Original Track 2014" and GARRIX receiving "DJ Choice Award". 2014 saw him achieve three International Dance Music Awards including Best Break-Through DJ, and Best Break-Through Artist (Solo). Martin has also been nominated for "Choice Electronic Dance Music Artist" at this year's upcoming Teen Choice Awards. Moreover, he's seen praise from Rolling Stone, Billboard, MTV, Spotify, Shazam, and more. Online, he's accumulated over 8.7 million Facebook "likes", 1.2 million Twitter followers, and 1.6 million Instagram followers.
What started out as a single release from the world's most powerful independent record label Spinnin' Records, "Animals" has grown into a full-fledged monster globally. In 2013, Casablanca Records and Republic Records released the song stateside, and it's become a veritable smash since. GARRIX's trajectory is unmatched by any other artist in this space.
Martin Garrix "Gold Skies (Remix)"
Tracklisting:
Sander van Doorn, Martin Garrix, DVBBS – "Gold Skies" [Feat. Aleesia]
Sander van Doorn, Martin Garrix, DVBBS – "Gold Skies" [Feat. Aleesia] (Tiësto Remix)
Sander van Doorn, Martin Garrix, DVBBS – "Gold Skies" [Feat. Aleesia] (DubVision Remix)
Sander van Doorn, Martin Garrix, DVBBS – "Gold Skies" [Feat. Aleesia] (Ferreck Dawn & Redondo Remix)
Sander van Doorn, Martin Garrix, DVBBS – "Gold Skies" [Feat. Aleesia] (Metrik Remix)
Music: http://smarturl.it/MGGoldSkiesRemix
Google Play: http://smarturl.it/gGoldSkiesRemix
Amazon: http://smarturl.it/aGoldSkiesRemix
Spotify: http://smarturl.it/sGoldSkiesRemix
Spotify URI: spotify:album:3zogJevq8UThlgHYHXfnv7
Spotify HTTP: http://open.spotify.com/album/3zogJevq8UThlgHYHXfnv7