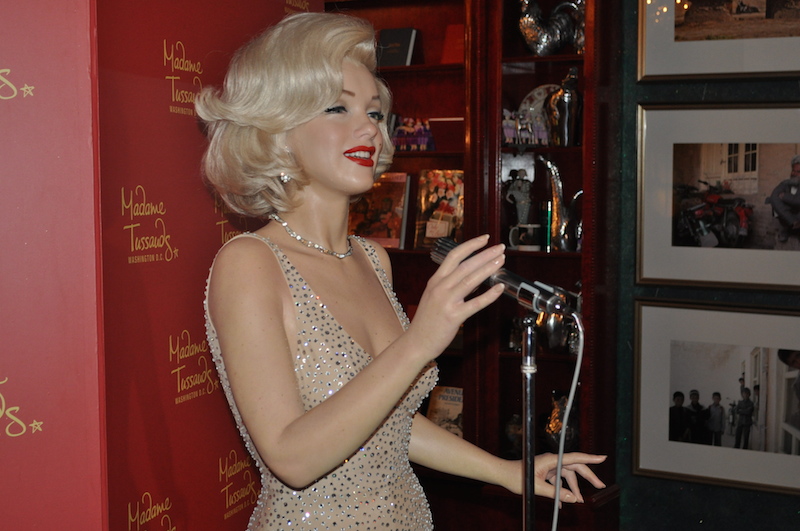 Ms. Marilyn Monroe has grace the magazines & the silver screen with her grace, charm and beauty for the last six decades. Today, she graced the stage once more, this time as the final addition to the Madame Tussauds Washington D.C. of 2013.
Born Norma Jean Mortenson, Monroe had transformed herself from the girl next door to Hollywood's It Girl of the 1950's. Wednesday morning at the Mansion on On Street, a few people were on hand to witness the unveiling of the newest Marilyn Monroe wax figure. This Monroe wax figure is the fourth Monroe to be on display in the Madame Tussaud's collection across the U.S.
Monroe is decked out in the Jean Louis designer dress that she wore when she sung "Happy Birthday, Mr. President" to President John F. Kennedy on Saturday, May 19, 1962. The infamous dress is custom-made in a sheer and flesh colored marquisette fabric adored with 2,500 rhinestones sewn into it.
"Long before people became brands, Marilyn was the ultimate brand. Long before people became pop icons,  Marilyn was the ultimate pop icon. Long before the selling of sex become rote,  Marilyn was the ultimate sex symbol." said Ted Spero, President of The Mansion on O Street and member of the board of O Street Museum Foundation.
As part of the exhibit, memorabilia from the O Street Museum Foundation were on display, including a Pin-Up calendar, photographs, and a lunchbox that was once owned by the late Anna Nicole Smith
This is the second wax figure unveiling the Mansion on O Street has hosted this year. They welcome "The Fab Four" back in July!
For more information on The Mansion on O Street, please visit: http://omansion.com/
For more on Madame Tussauds DC: visit:  http://www.madametussauds.com/washington/