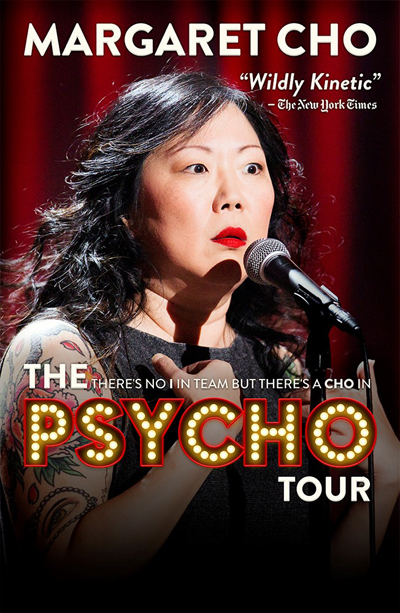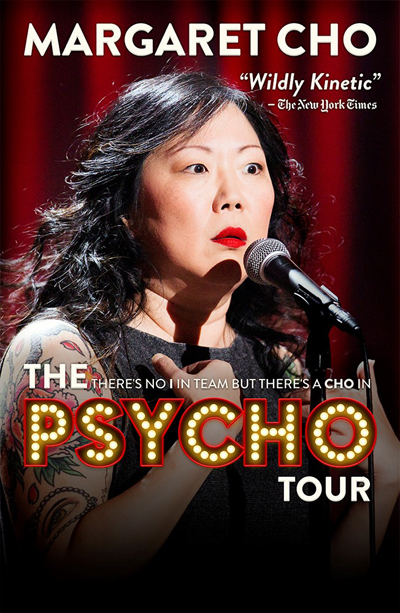 Three time Grammy and Emmy nominee, comedian Margaret Cho has announced she will embark on a national U.S. run in support of The psyCHO Tour this fall. Margaret will hit various cities including Los Angeles, Chicago and her hometown of San Francisco before embarking on a string of European dates this winter. 
Margaret has been developing brand new material over the last several months and said: "I'm so thrilled to announce that I will be back out on the road. This show is about insanity, and about the anger I feel about everything happening in the world right now, from police brutality to racism to the rising tide of violence against women. It makes me all so crazy – hence the title: "The psyCHO Tour" – there is no "I" in team but there is a "CHO" in psycho". When men go off on something – they are "passionate" and "driven" and when women go off on something we are "hysterical" and "crazy". I'm trying to bring some joy to the hysteria and insanity. "
From singlehood to Boko Haram to Bruce Jenner's transition to female empowerment, Margaret tackles difficult subjects with sensitivity and razor sharp insight. A pioneer amongst women in comedy, Margaret doesn't take anything for granted. "It's a wonderful thing to be known as a 'safe haven' for people who feel disenfranchised. The audience at my shows don't necessarily consider themselves traditional comedy fans. I seem to be a secure alternative for people who don't think they're being represented in society. They come because my point of view satisfies a lot of what needs to be said out there, and that makes me really proud."
A big part of Margaret's show are tributes to her "father in comedy," Robin Williams and her "mother in comedy," Joan Rivers, who passed away within a month of one another. Margaret was very close to both of them; her friendship with Robin encouraged her to start the #BeRobin campaign to raise awareness and funds for the homeless community. Her friendship with Joan reinforced Margaret's desire to remain fearless.
Pre-sale tickets for October 1 thru November 14 dates are available.
June, July & August dates are currently on sale. All show info is posted at http://www.margaretcho.com/
Margaret Cho Official Website http://www.margaretcho.com/
Margaret Cho Facebook: https://www.facebook.com/officialmargaretcho
Margaret Cho Twitter: https://twitter.com/margaretcho/
Margaret Cho YouTube channel: https://www.youtube.com/margaretcho

2015 Tour dates
Saturday, July 18 – Atlantic City, NJ – The Borgata

Friday, July 24 – Montreal Canada – Just For Laughs Festival

Saturday, August 8 – Fire Island, NJ
Thursday, August 13 – Provincetown – Town Hall
Friday, October 2- Minneapolis, MN – Pantages
Saturday, October 3- Chicago, IL – Chicago Theatre
Sunday, October 4- Cleveland, OH – Hard Rock Live
Thursday, October 8- Westbury, NY – Theatre at Westbury
Friday, October 9- Washington DC – Warner Theatre – http://www.ticketmaster.com/event/15004EA89EDF35F9
Saturday, October 10 – Boston, MA – Wilbur Theatre
Thursday, October 15- San Fran, CA- Castro Theatre
Friday, October 16- Las Vegas, NV – Treasure Island
Saturday, October 17- Scottsdale, AZ – Scottsdale Center for the Arts
Sunday, October 18- Tucson, AZ – Rialto Theatre
Thursday, October 22- San Diego – Balboa Theatre
Friday, October 23- Riverside, CA – Fox Theatre
Saturday, October 24- Seattle, WA – Moore Theatre
Sunday, October 25- Portland, OR – Revolution Hall
Thursday, October 29- Atlanta, GA – Tabernacle
Friday, October 30- Miami, FL – Fillmore Jackie Gleason
Friday, November 6 – Honolulu, HI – Blaisdell Concert Hall
Saturday, November 7 – Kahului, HI – Maui Arts & Cultural Center-Castle Theater
Friday, November 13- Denver, CO – Paramount Theatre
Saturday, November 14- Los Angeles, CA – Wiltern Theatre