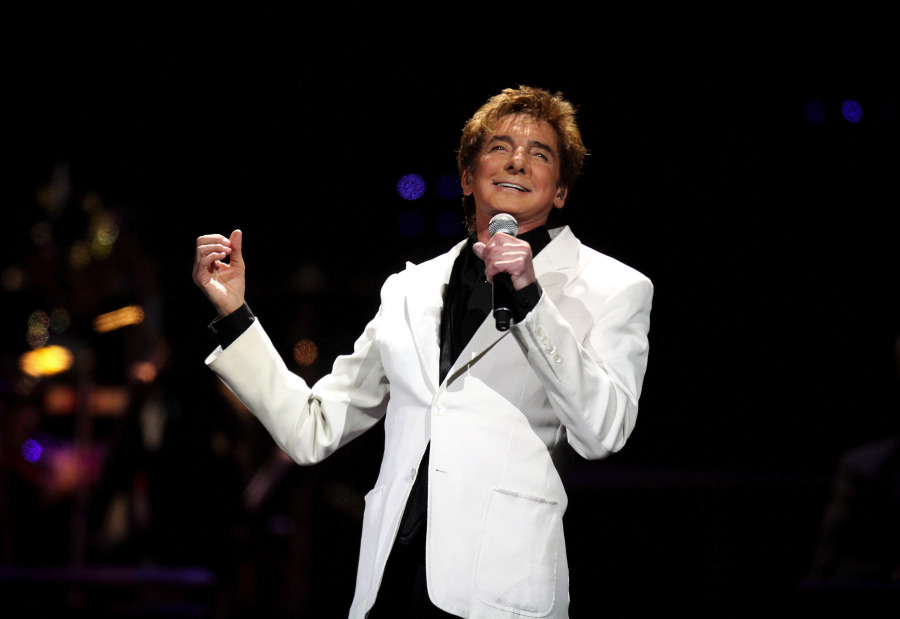 If there is one thing that Barry Manilow does well, it's being a fantastic showman. Thankfully, he does more than one thing well! Besides his amazing theatrical-type presence, his voice is clear as a bell and rings true with every song! Mr. Manilow, along with his two back-up singers, sang the night away. Singing his well-known tunes, "I Write the Songs", "Mandy", "Can't Smile Without You", and "Copacabana", were just some of the highlights of the evening.
The night began with comedian, Jake Johannsen's personal take on his marriage, the hamster,  and killer whales. His observations were very funny and I would definitely see him again on his own. Let's be honest though, we were there to see Barry Manilow, so we waited with extreme anticipation, but Jake's humor was a welcomed opening to the magnificent Manilow…and magnificent he is! Every aspect of the show screams, "PRO"! The lighting is exquisite. The movements of his back-up singers are perfection throughout; expertly in sync the whole night. He uses all of the screens at The Filene Center, to show clips of him performing at different points in his life and does a quick duet with himself for "Mandy". It was really cute…as a matter of fact he was really cute all night. With the energy of a twenty-something he keeps the show rolling the entire night. There are even costume changes that are made in a flash!
He tells many stories over the course of the evening; even reminding us of the jingles that he has written along the way of his illustrious career. Anyone know, "Like a good neighbor…" Yup, you have Barry Manilow to thank for that ditty, along with many others. Among his many hats in the industry, he is also a philanthropist, starting the heaven sent charity, The Manilow Music Project, which is part of his nonprofit, Manilow Health and Hope Fund. This generous charity donates instruments to our public schools across the nation, so that no one is left out of perusing their passion. Manilow himself, grew up very poor in Brooklyn, N.Y. and because he was able to follow through on what his Grandfather saw as raw talent, we have the entertainer of entertainers, among us today! It's a heartfelt charity and they are open to any and all donations. What I really like is that Barry asks the audience to donate to our local schools. He makes it plain, that it doesn't need to come through his charity to be an act of charity and I really commend him for stressing that point! Speaking of his Grandfather's influence, he plays a real record, from back in the day, of himself and his Grandfather, recorded at a 25 cent booth in Times Square, that is priceless! Four year old Barry, with a lot of coaxing from Grandpa, sings "Happy Birthday". It brought a tear and a smile to many!
Although, Manilow has only graced Wolf Trap's stage once before, I hope that now that he remembers how much he loves it and what a fantastic audience we are, that he joins us for many years to come, as we would LOVE to see him again and again!
If you didn't get to see the show last night, you are in luck because he is at The Filene Center again, tonight. Some tickets are still available, but make your plans A.S.A.P. because last night there was a line of hopefuls, praying for cancellations!!
Overall Performance: A++, Genius from start to finish!
Manilow's Performance: A++, naturally! He's a legend, a pro, and a gentleman!
Jake Johannsen's Performance: A+, I love humor that comes from everyday events that are stranger than fiction!
Technical Side: A+, I feel the need to mention his team separately. They are a well-oiled machine, as you would expect, but what they produce is more than you could hope for!
Manilow's Performance: A++, naturally!
For more information of Manilow's tour or to donate to his charity, go to www.manilow.com (I love that he doesn't even need, "Barry" in his site address!) and for the remainder of The Filene Center's season, go to www.wolftrap.org