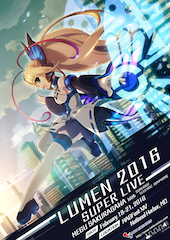 The Music And Gaming Festival (MAGFest) is thrilled to reveal that the Inti Creates sound team will be attending this year's event to perform two concerts: one dedicated to Azure Striker Gunvolt titled Lumen Super Live 2016, and the other being a special Inti Creates 20th Anniversary concert, featuring music from games they worked throughout their history such as Mega Man Zero. Performers include Ippo Yamada, Godspeed, Yamajet, Luna Umegaki, Megu Sakuragawa (Lumen), and other special guests who will take to the stage during MAGFest 2016 happening in National Harbor, Maryland on February 18, 2016 through February 21, 2016.
Tickets to the festival are still available:
Also attending will be popular game music cover bands such as The OneUps, composers Grant Kirkhope (GoldenEye, Banjo-Kazooie), Alexander Brandon (Deus Ex), and Austin Wintory (with a live orchestral performance of his Journeysoundtrack), and Internet musical superstars Ninja Sex Party.
"The members of the Inti Creates sound team are legendary in the video game music community, so it's our pleasure to be able to welcome them as guests at MAGFest," notes MAGFest Chief Operating Officer Nicholas Marinelli. "With MAGFest's main focus being fan and community creations, it's always a privilege to show the original creators in-person just how much we appreciate their work."
In addition to over 40 performers who will take to the stage over the course of four days of festivities, there's also a 24-hour arcade stocked full of arcade and console gaming, panels featuring industry and community talent, a marketplace to pick up retro games and artwork, and special events including Games on Film, MAGES (Music and Gaming Education Symposium), and the MAGCabaret dress-up concert.
Ticketing information, an updated list of events and performers, and more can be found on the MAGFest official website: http://www.magfest.org/