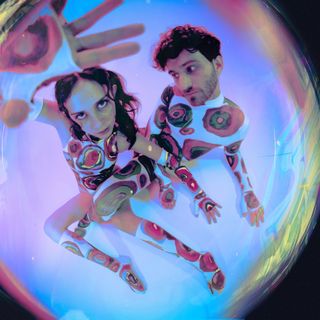 Magdalena Bay crossed paths with a sold out Black Cat Saturday night on 14th street, NW Washington DC. The atmosphere was electric for the electronic synth outfit.
The LA based duo from Miami Florida, Mica Tenenbaum and Mathew Lewin otherwise known as Magdalena Bay are on tour pushing their recently released LP "Mercurial World". I would compare the sound to cruising along South Beach during the 80's & early 90's in a Lamborghini wearing shades. It kind of leaves hope the album is released on cassette tape. I love analog sound!
Realistically, the Mercurial Tour is a complete album playthrough of the Mercurial World LP from start to finish. The show begins with the introduction titled "The End" and ends with "The Beginning", save the encore. It reminds me of the quote "Every new beginning comes from some other beginnings end" by Seneca.
This LP is full of fun songs, so I enjoyed the complete album setlist. The performance of "Hysterical Us" was my favorite. It has a psychedelic sound reminiscent of 70's classic rock and a piano line that feels good. Mica closes out the song with a solo on some weird green flute instrument that I have never seen or heard before. It was trippy. The best vocal performance of the night was the song "Secrets (Your Fire)". Some of the notes Mica hits in that song are serene.
I like the sounds of the Mercurial World LP. It has a pronounced retro aesthetic that is just plain fun to listen to. It's a wild mix of familiar but hard to specifically identify electronic sounds. The rolling synth waves complement Mica's singing voice well. The live performance is a little more edgy than the album, but the timing and instrumentation all hit in stride. Their live sound isn't obnoxious or overbearing. There's a good balance between the highs and lows without a whole lot of distortion. I didn't leave the concert feeling like I wish I wore earplugs. Mica sings just like you're listening to the album.
I must complement Mathew's producing prowess on the new album. There's a multitude of effects, synth sounds both modern and retro with hints of VGM chiptunes. As a multi-instrumentalist his bass and guitar playing is clean as well. Studio quality clean.
For an encore "Killshot", "Only If You Want It" and "Good Intentions" were performed. I was glad to hear "Killshot" and "Good Intentions". I was a little disappointed Drive Alone wasn't performed. It's the song that turned me on to Magdalena Bay but all in all a fun time and great atmosphere.
https://www.youtube.com/watch?v=0OtpRw0YdpA