Madea Made Enters the Great Food Truck Race
9 min read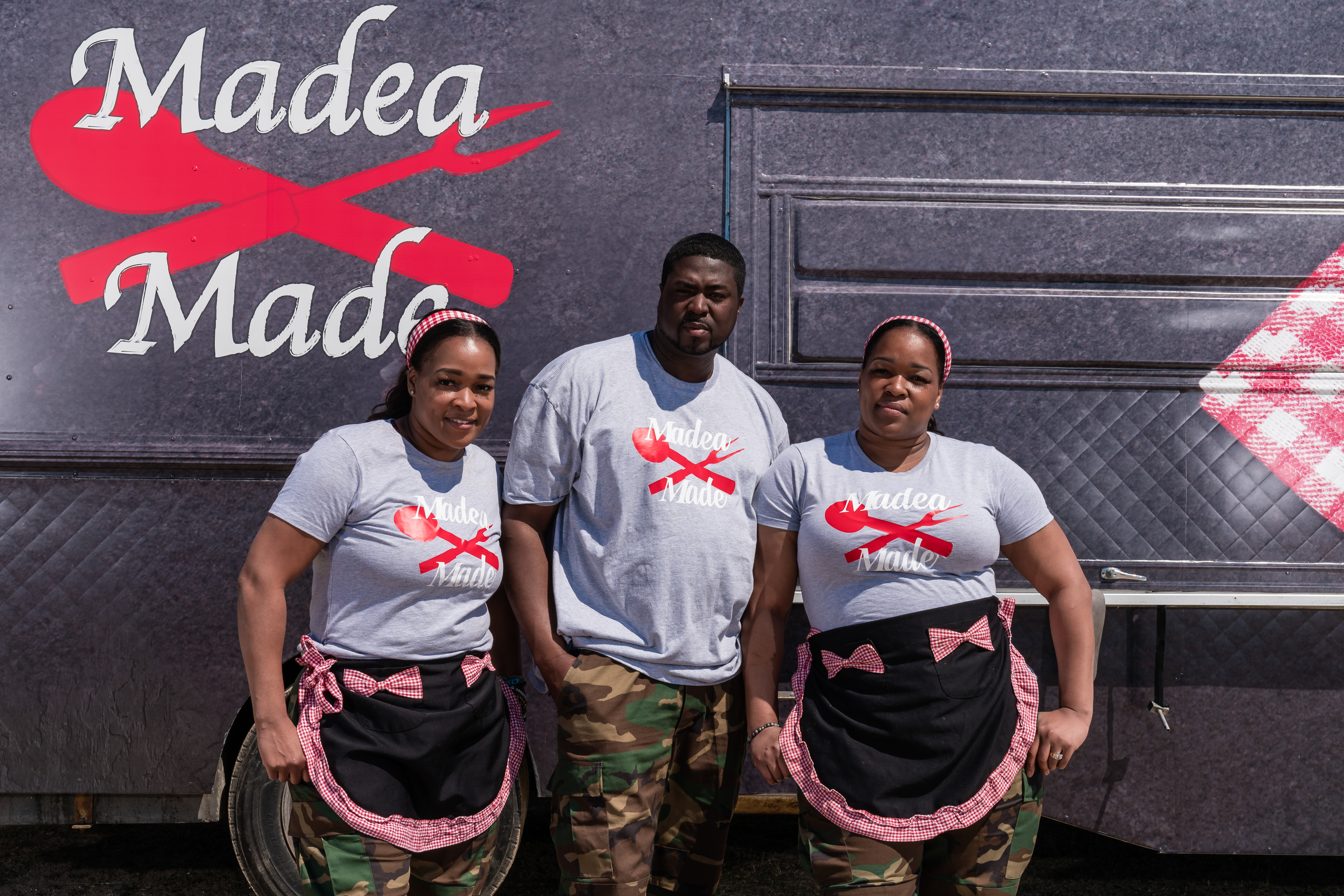 Welcome to your summer edition of THE INTERVUE, I'm Dean Rogers
The Great Food Truck Race celebrates the summer with a Tyler Florence-hosted culinary beach battle along the Atlantic coast, with nine teams of aspiring food truck owners with unique concepts competing for a $50,000 grand prize. 
Our special guests today called Virginia Beach home. Team Madea Made is Married couple Hope and Andre Thourogood and Hope's twin sister Faith Johnson. This team serving up faith, family, and food with dishes described as Southern soul food with innovation.  The trio is dedicated to their church, but just because their beliefs are strong – it doesn't mean they aren't competitive.  Their truck name honors Hope and Faith's grandmother Madea and the legacy of generations that came before them.
As we know, this is the tenth season of "The Great Food Truck Race" which premieres this Sunday at 9. What lead you three to try out for the competition?
Hope Thourogood: Well, we're a family that loves to cook. Andre and I both grew up learning from our family and those who came before us, so once we got married, we just brought those recipes together and just had a lot of fun in the kitchen together, so once we found out about the "Food Truck Race," we applied for the show and hoped we'd get casted so that we could possibly win the $50,000 so we could further our dream in the culinary world. So, we were cast and it was just done from there.
What can we look forward to the very first episode that premieres on Sunday?
For the first episode, we were in Myrtle Beach, SC.
Nice!
HT: This season was a seaside episode. We were on a boardwalk, and the host, Tyler Florence, was going to challenge us to create the perfect portable summer dish, and so, you can look forward to someone pulling off a surprise win. Disaster strikes when a food truck is crashed. Also, we had to create a seafood staple. One of the teams refuses to participate, so ultimately one team is eliminated, and eight of us are going to head towards Hilton Head.
Aah, that's great! Looking forward to it.
HT: Myrtle Beach is going to be a fun episode. It's great for the premiere.
It sounds like it's going to be a great episode to come. So, tell us about your catering company, since you guys are from Virginia Beach, VA, which is close to a few hours away from here. So, tell us about your company.
HT: Ok, so Madea's Country Catering is a local catering company in Virginia Beach. We started out catering for friends and family, and so we're just hoping that with exposure from this show we'll be able to get on another level and people will know who we are. And so, we do a lot of country cooking. Our staple is pulled pork and barbecue sauce and come back sauce we use a lot of our recipes, a lot of fried foods. We also try to take soul food to an innovative level.
And so, just like a little old school and new school mixed together. Both recipes coming together. Andre coming from a family that they do a lot of barbecuing and a lot of country cooking; my family as well. Just bringing it all together.
Mmm, sounds delicious! I'll have to come down to Virginia Beach one day. (laughs)
HT: Yeah, I hope you can!
So, all three of you are dedicated to the church, so let's give a shout out to your home church right here and now. So, let's do that.
HT: We want to shout out New Jerusalem Church of God in Christ. It's right in Virginia Beach. (couldn't make this part out) community. It was founded by Andre's uncle, Bishop Thoroughgood. He's the founder. He's no longer with us today. They do a lot for the community. A lot of culinary—a lot of cooking for the community, basically. They feed the community and man, it's such an amazing church. It's a strong community church and we're glad to be a part of it.
Well, I'm glad to help you give that shout out. That's absolutely amazing. So, did any of you three watch the show before deciding this is for you and you wanted to participate in the tenth season?
HT: Yeah, we did. I watched the show a lot more than Faith and Andre did, but they knew about it. This is so funny. I'm the one who watched the Food Network and said, "hey guys, we have to do this." I think I talked to my husband about it first, and then I was like, talk to my sister because she sells hair. She works in a salon, so she's really creative with how she styles hair and the marketing she does, and I was like "hey, you have to come with us." Hey, that's how it goes. That really is how it goes. (laughs)
HT: Faith is also a people person, so when I mentioned the show, I said "hey, have you ever heard of The Great Food Truck Race? Come with me!" (laughs)
(laughs) What is your signature dish? If I were to come down to your catering company and say, "cook me your signature dish," what would I expect?
HT: I'd say we have two signature dishes that everybody loves so much. You would definitely want to try to pulled pork barbecue. You want to try to pulled pork barbecue with the kale slaw, and you want to try the chicken and waffles. That is something that everybody loves when we cook. It's southern fried chicken, but it's like a buttermilk pie. So, Andre just drenched that chicken a couple of times, so it's fully coated. We make a homemade cinnamon butter.
Oh!
HT: Homemade syrup, and a waffle that's just crispy to perfection! And so, yeah, that pulled pork barbecue with homemade barbecue sauce, kale slaw, and the chicken and waffles. Yeah, you want to try—you have to mention you have to add the collard to the slaw sometimes. Oh yeah, you have the collard green slaw. Sometimes we have collard greens. Try that out.
Ok, you guys have got to save me a plate. I'm convinced. Between the pulled pork and the chicken and waffles, and the collards, slaw, yeah I've definitely got to come down to Virginia Beach one day. (laughs)
HT: (laughs)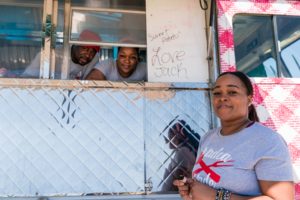 Well, for people who want to start their own food trucks, what do you think is the most important lesson that can take away from the show and from watching your progress in the next few weeks?
HT: We would all agree that the most important lesson for someone starting a food truck business: know your truck, know your truck. Know your truck and find a good location.
Why do you say those two things?
Faith Thourogood: Because a lot of people want food trucks. It's a growing business in the US right now. So many people are leaving brick and mortar, going out to the customers, and so you've got to get good events. You have to know where the park. A lot of cities, you have to pull different permits.
And so, when I talk about locations, I'm saying, "ok, if you're going to come out of that brick and mortar and go into that truck, you've still got to go where the people are, and so that's being in the know, and understanding where your customer base is. As far as knowing your truck, being in a commercial kitchen is totally different than being in a food truck.
It's tight spaces and you have to work in limited space. And so know your truck, know what you're using on the truck, and once you know that truck and you know where you're going, you can have a great day.
Absolutely, what's next for you?
Andre Thourogood: Probably investing in our own food truck.
That's great! Now, would you be able to go to different cities, counties or travel up here to Washington, D.C. by any chance?
AT: I guess I would for certain events. If it's an even that we can get into that we feel we can make it work so we could expand, I think I would. I would travel wherever I could go; if I needed to come, I would go with the truck.
Awesome. Well, please make sure one of the itineraries is Washington, D.C. because that's where I'm from. (laughs)
If people want to know more about your business, where can they find you?
HT: They can go to MadeasCountryCatering.com.
Hope Thourogood, Andre Thourogood, Faith Johnson – thank you for joining us and we're looking forward to watching your journey. Be sure to catch the Thourogoods and their food truck "Madea Made" every Sunday night at 9 pm for the tenth season of "The Great Food Truck Race," on the Food Network. Have a Happy Summer!!