Machine Gun Kelly Spits Fire
3 min read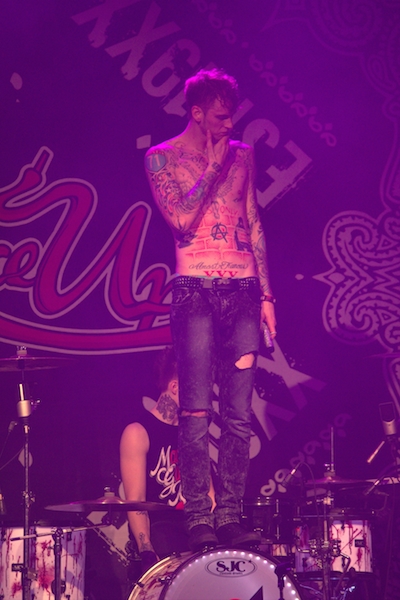 MGK otherwise known as Machine Gun Kelly played host to The Fillmore last Friday night. In a small amount of time, one EP, some promotion from Bad Boy and about six mix tapes he has garnered a strong following. He has since been featured in XXL, signed a clothing deal with Young and Restless, and was named MTV's Hottest Breakthrough MC of 2011. That's some pretty good accolade let's see how it plays out on stage.

It was an enthusiastic audience, not too ruckus or heated. No fights broke out; people were more concerned with seeing a great performance more than they were their own personal space. As far as dress code, clusters of fitted baseball caps, sneaks, wife beaters, and jeans for the dudes. It's typical the ladies outshined the guys in this department they were the only ones wearing anything decent. I can't say anything; I was in jeans and a t-shirt myself. A VIP pass and I probably would have busted out a suit. There were also a lot of middle fingers in the air, all night. It was almost as if it were a kind gesture (It really is if you think about it). But that's just Rap; middle fingers are the new lighters. His song entitled "Chip off the Block" refers to them as the middle finger crew. I guess it's no different than holding up devil horns at a Heavy Metal concert.
This concert was about more than just some blatantly offensive gesture. It was about the music, the set-up and the vocals. There was a DJ table, complete drum kit and electric guitar. It wouldn't be going too far to say this was a Rap Rock concert as opposed to Hip Hop. MGK the group sounded good. I mean they covered Led Zeppelin's "Dazed and Confused" and the guitar solo was spot on. They also did an instrumental cover of Nirvana's "Smells Like Teen Spirit". It was alright, there was a little bit of a hiccup on the guitar solo during the first verse where the B and E strings are plucked open in succession. But that's live music and why we love it. They did a few other covers like the Eminem chorus in Dr. Dre's "Forgot about Dre" and a brief Pusha T cover. They played a bunch of songs off the laced up album. The sound in general was very bass driven and up tempo. MGK shared the stage with Dub-O and Tezo. It sounded good but I'm starting to get used to hearing amplified rap sound distorted. Especially with quick tempo rap you can hear the syllables but you can't make out all the enunciations. This is just a generalization, while still a little apparent tonight it wasn't as bad some previous rap concerts I've attended. As far as Machine Gun Kelly's rapping, the pace is really fast so its natural you get a little distortion but for the most part you can clearly make out all his lyrics. I give him props; that's not easy to do.
This was a fun concert. Not bad for MGK's first ever D.C. area concert; so it was kind of like history. MGK has a lot is store for the near future. He has already announced a new mix tape featuring Pusha T, Meek Mill, and Wiz Khalifa. It's going to be called "Black Flag". The album cover shows Machine Gun Kelly with a Black Flag resting out his shoulder decked out in Punk Rock attire. Washington D.C. native Henry Rollins was Black Flag's most popular and longest stint vocalist. He introduced "Black Flag" to Go-Go music, a genre specific to this area. One of the feature tracks "Lace Up" off their album "Lace Up", MGK collaborates with Lil Jon. Lil Jon a few years back collaborated with local legends the Bad Brains in his song "Roll Call". This song instrumentally is an exact cover of Bad Brain's "Re Ignition". It's an interesting coincidence, maybe an inspiration for the new mix tape. Or this could be a shout out to the area. Next time MGK comes to town that's something definitely to check out. So be prepared to embrace a fun atmosphere and give the ole' one finger salute.