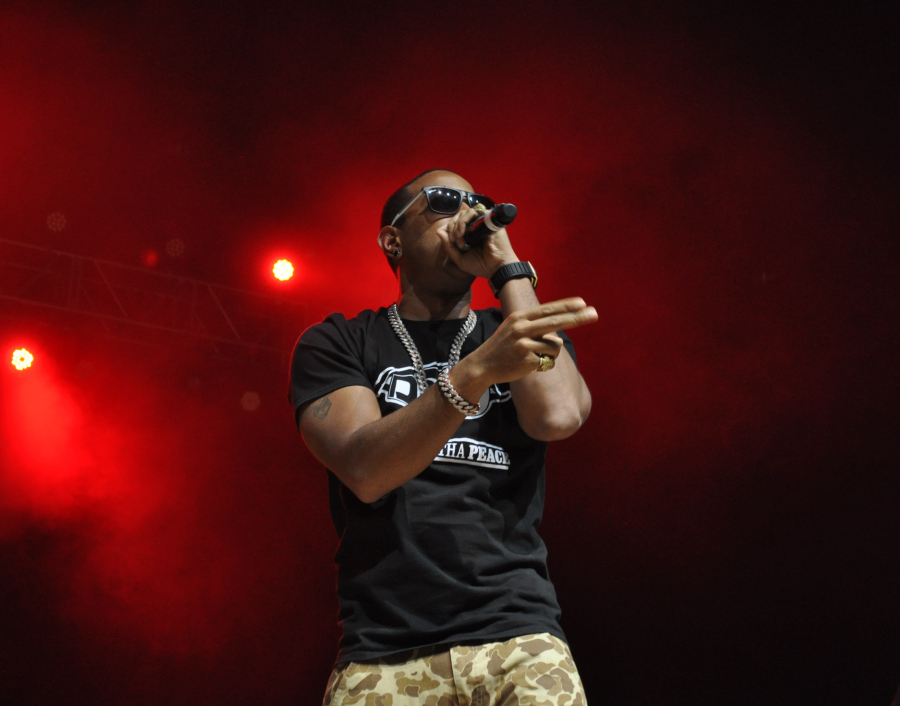 by Stephanie Taylor, Photography by Dean Rogers
LUDA!
Yes, I'm going to pull a Brian Williams and call Christopher "Ludacris" Bridges by the most familiar name out there. Some of the great moments in my life story and family history have been punctuated with his songs, and I'm obviously not the only fan out there. A small crowd, but a crowd nonetheless, showed up to party with Luda at George Mason University's Patriot Center on Friday night.
Shortly after 8 pm, the strangest opening act I've ever seen or heard wasted several minutes. Fly Panda consists of a poppy rapper, an ethnically ambiguous singer with great abs, and a dancing fool in a panda suit. I'm sure they could've called themselves Black Eyed Panda if will.i.am. weren't sure to sue. Like most of today's hits, the "music" of Fly Panda cannot be categorized unless "Zumba Class" is a genre. It was very heavy on electronic remixes of current beats, yelling catch phrases, and random profanity-laced instructions. I know I sound old, but they call that noise music? I was not impressed and was even more anxious to see my old friend/the headliner!
Ludacris performed as part of GMU's "Mason Day," a celebration of the university's founder that includes a concert for the student body. Luda was very aware of his audience, incorporating "GMU" into the lyrics of his songs and asking, "What about school?" after several girls shrieked gleefully at his suggestion that some of them be kidnapped and taken to Atlanta with him. Ludacris is one of those people who is so cool that he can suggest outlandish things and make you go along with it. His distinctive voice, charm, and charisma were on full display as he effortlessly got hundreds of women to scream gleefully "You's a hoooo…HO!"
The fun was nonstop as Ludacris performed hit after hit, challenging the audience to sing along and prove that they were "real fans." Comedic, silly songs like "Number One Spot" blended easily with his more risqué hits such as "What's Your Fantasy." He brought out some new material with "Party Girls," which sounds a lot like several of his other songs, but that's kind of the point with Ludacris. His sound is so unique and catchy and that is what you want to hear from him. He's like the non-Latino precursor to Pitbull: consistently loveable and full of street swagger.
The only time Luda's set wasn't an absolutely awesome riot was when his alleged "hypeman" and definite friend Lil' Fate received some solo time onstage.  Some people claim that rap is not an art, but you definitely need certain skills to perform it successfully. Lil' Fate's clumsy and mumbled attempt was in stark contrast to the breath control and clarity present in Ludacris' confident flow. They both chalked it up to Lil' Fate being "f***ed up," but I think it's safe to say that one of these friends is more talented than the other. I was beyond relieved when the spotlight was back on Luda and his homeboy was in the background repeating the last 3-4 syllables of his sentences.
Ludacris fans have been waiting for his new album "Ludaversal" for far too long and hip-hop just isn't the same without him. He gets mad without being scary, gets silly without making himself a joke, and gets dirty without sounding overtly misogynistic. He was a great choice for the end of a school year, and I hope this is just the beginning of his comeback.