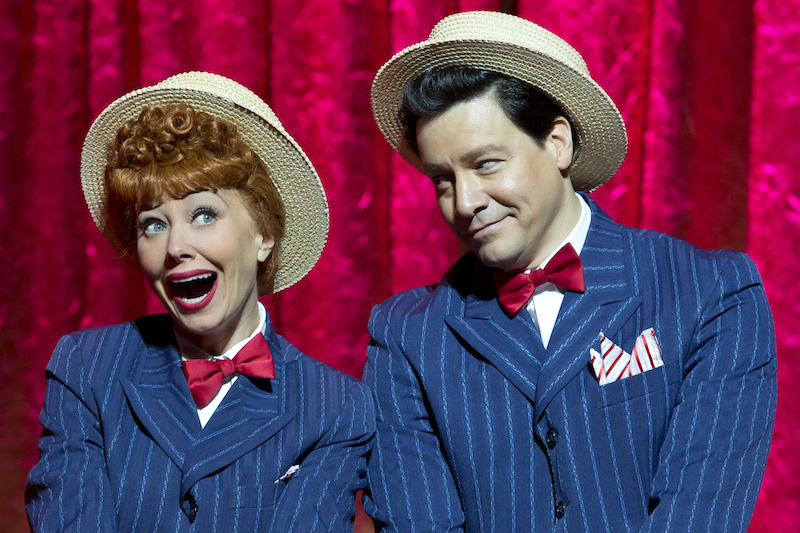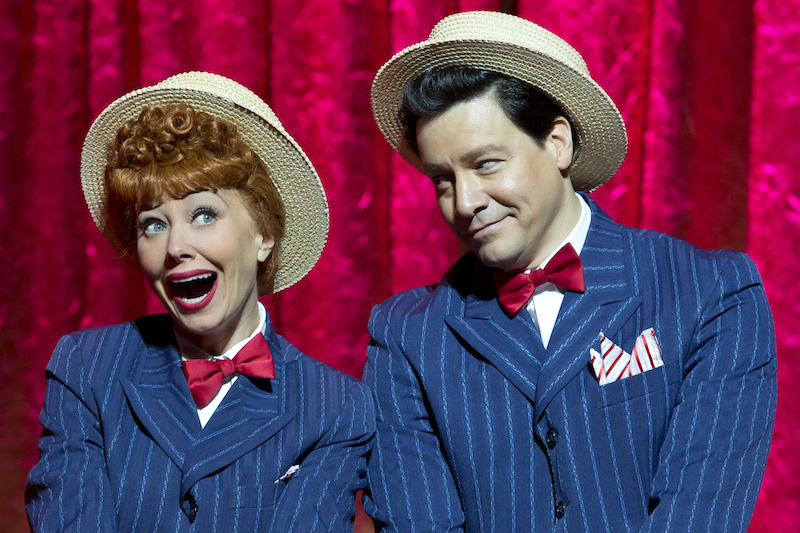 Overall, "I Love Lucy Live on Stage" does delight. Having said that, I truly LOVE Lucy, but I'm not sure that creator and director Rick Sparks does. For anyone who is a true fan and can quote any episode, this show is a bit of a letdown.
On the eve of the premiere of "I Love Lucy" in 1951, everyone is extremely excited to see what all the buzz has been about. The production is very cute to start, with Denise Moses (one of the more talented of the bunch) portraying a lady from Oklahoma who is just excited to be in "Hollywood" at the recording of "I Love Lucy." The premise of the entire show is debatable.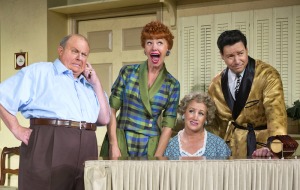 We (the audience) are at the studio, attending a "live" taping of two episodes. The two episodes, while funny (of course), are not the most notable in the "I Love Lucy" canon. "The Benefit" and "Lucy Has Her Eyes Examined" are abridged versions of the originals, with some alterations to the "taping" so we get the flavor of how flubbed lines are fixed and cut-away shots are done. However, episodes were shot live and flubbed lines, while they happened, were very rare and infrequent. So, either they flipped the idea of the stage show in the middle and we were now watching a "rehearsal," or it was dramatic license. I will go with the latter, since a lot of liberties were taken in every aspect of the stage show.
The costumes of the main characters were wrong in a lot of places…Lucy's shoes are nothing she ever wore onset, same with Ricky. Desi Arnaz was not the tallest man and because of this, Ricky always wore Cuban heels (with a little lift). The only deviation was a pair of sneakers he wore every so often, when being casual. Ricky's pants are too short in the waist, and his costumes are nothing that Desi ever wore as Ricky. Lucy's dresses aren't right and even the costume color choices are debatable. The wigs are also off-putting. Ethel's is too grey, but sadly, Lucy's is the worst. Thea Brooks, who portrays Lucy, has a helmet of hair. Instead of a wig of henna colored hair, styled into a 50's coiffe, she dons a trademarked "I Love Lucy" costume wig, it seems. Unfortunately, that is not Brooks' biggest issue.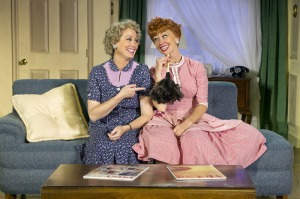 Granted, when stepping into the comedic genius shoes of Lucille Ball, whether they are the correct shoes or not, it's a daunting task. Brooks falls very short. The voice is VERY wrong! Facial expressions, wrong! The worst is her lack of timing. Lucille Ball was a pioneer of the art and while she would be hard for anyone to emulate, it's not impossible. Watching Brooks is like watching a caricature or a campy Joan Cusack version, like we are making fun. I think a drag queen would give a less campy version! I have seen some good ones!!
Euriamis Losada as Desi Arnaz is the most capable of the foursome. Losada's portrayal was more accurate, garnering laughs and applause for his delivery of, "Lucy, you have some 'splaining to do," whereas Brooks misses tons of Lucyisms. Both are amusing. Brooks was better at differentiating between the TV persona and the real person, whereas that is where Losada falls short. He was the same whether he was Ricky or Desi and fell very short during "Babalu." Losada sings and plays the Congo very well, just not as Ricky. I think a lot of these issues are director related.
Brooks' timing may not be Lucy's, but a third party (director) could have helped her along the way. Notice how long it has taken me to get to Fred and Ethel? Well, they could have not been in the show at all and it would not have made much difference. The portrayals are flat and again, not super accurate. The whole show isn't better than watching the actual episodes. The real foursome had a rapport, even if in real life they had turmoil. There is no pizazz in this group. However, I did appreciate the subtle looks from Lucille Ball to Desi in disapproval of his flirty ways. It happens twice in the stage show, but is just enough to get the point across, if you catch it.
My favorite part includes the Crystaltone Singers. The troupe expertly delivers their choreography and portrayals of the 50's commercials. Their costumes are stunning and very accurate for the time. 
I would recommend this show, if you were not a huge "I Love Lucy" fan. If you are, you will only enjoy aspects of it and probably find more faults with it, as I did. There are too many things that are not correct about the show to list. If you don't watch it for literal content, it is fun.
For tickets for this show or the rest of the Hippodrome calendar, go to www.france-merrickpac.com. 
For info on "I Love Lucy on Stage", go to www.ilovelucylive.com