Long Live Lupe
3 min read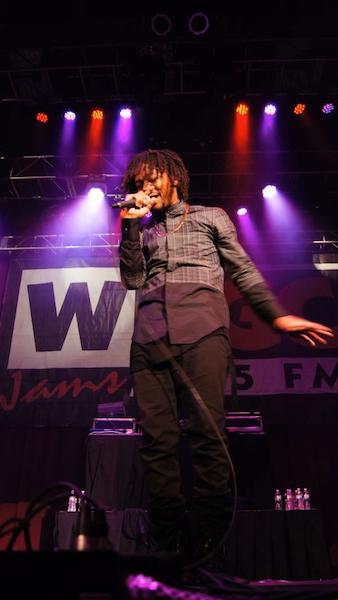 WPGC 95.5 FM hosted Lupe Fiasco's concert held at The Fillmore Silver Spring.Wednesday night in particular marked a very important event for me, not just as a photographer, but also as a avid Hip Hop listener and enthusiast.
Various local artists hit the stage to open up the night in a grand fashion, including the lyrics of none other than Flex Mathews. Flex Mathews definitely held it down for D.C. and proved why he is known as one of the best local freestyle emcees in the streets today. Most people only know artists that are played on the radio, or seen and heard on music videos, and signed to big name labels. But most commercial music is just that, "commercial." I give much respect to local artists making music for the love of music alone, and Flex is well on his way to getting picked up by a label that takes lyrics and Hip Hop seriously. There's a noticeable difference in the audience when you partake in a concert for rappers versus a concert for lyricists. The less ratchet, the better, and it's impossible to ignore the vibe of the crowd's energy. It was positive and appreciative for the music that holds substance with minimal to no gimmicks.
Lupe made his way to the stage and into the spotlights that beamed on him like a scene from a sci-fi movie. He appeared to be very focused and prepared. Every song was memorable and muttered by the true fans standing and throwing their arms towards the stage behind me. It was amazing to hear them reciting the same lyrics in unison with Lupe, but what made it most amazing is that I could hear them crystal clear over the monstrous sub woofers' bass and mids lined up in front of me. The difference to me between rap and hip-hop is defined by listeners who only know the first few bars of a songs or the hook for rap music, and the listeners who know the entire song by heart because of musical construct; there is no comparison and those who follow these two genres know that and can draw that fine line between the two.
Lupe was truly entertaining and despite the recent rumors he went into depth during brief intermissions between tracks, expressing himself as an artist and also as a person who has views on life like the rest of us. You could tell he was speaking from his heart with non-scripted feelings. He was painting a picture and brought it to life with almost a spoken word style, kind of like a standup as he had the entire audience very much involved and laughing with him. You couldn't help but to like him for him – he's just too real and though he may be out spoken, he speaks out for those too scared to stand up for themselves.

He pleased us all with his older hits and newer tracks from his latest album, and at one point he performed a track with its music, then did it over just acapella, so everyone under the roof could hear him break down the lyrics bar for bar. He went even further to define the innuendos and double meanings which often go misunderstood. I thought his approach was down to earth and refreshing as a conscious lyricist, where other artists in the same genre are sleeping and too involved with the glitz and glamour.

He ended the night with probably the two most known songs to date: Superstar, Battle Scars featuring Guy Sebastian, and the last song Kick Push had everybody up off their feet, waving their hands side to side on his cue, jumping, and screaming Lupe! Before leaving the stage he gave a shout out to WPGC-FM for being one of the first radio stations to play his music in the area. Then, he gave a shout out to all the fans present and absent with much love and respect pumping up a peace sign before turning his back and walking off to bless another night.