Lolawolf Debuts Creative Platform Lolaloopz
3 min read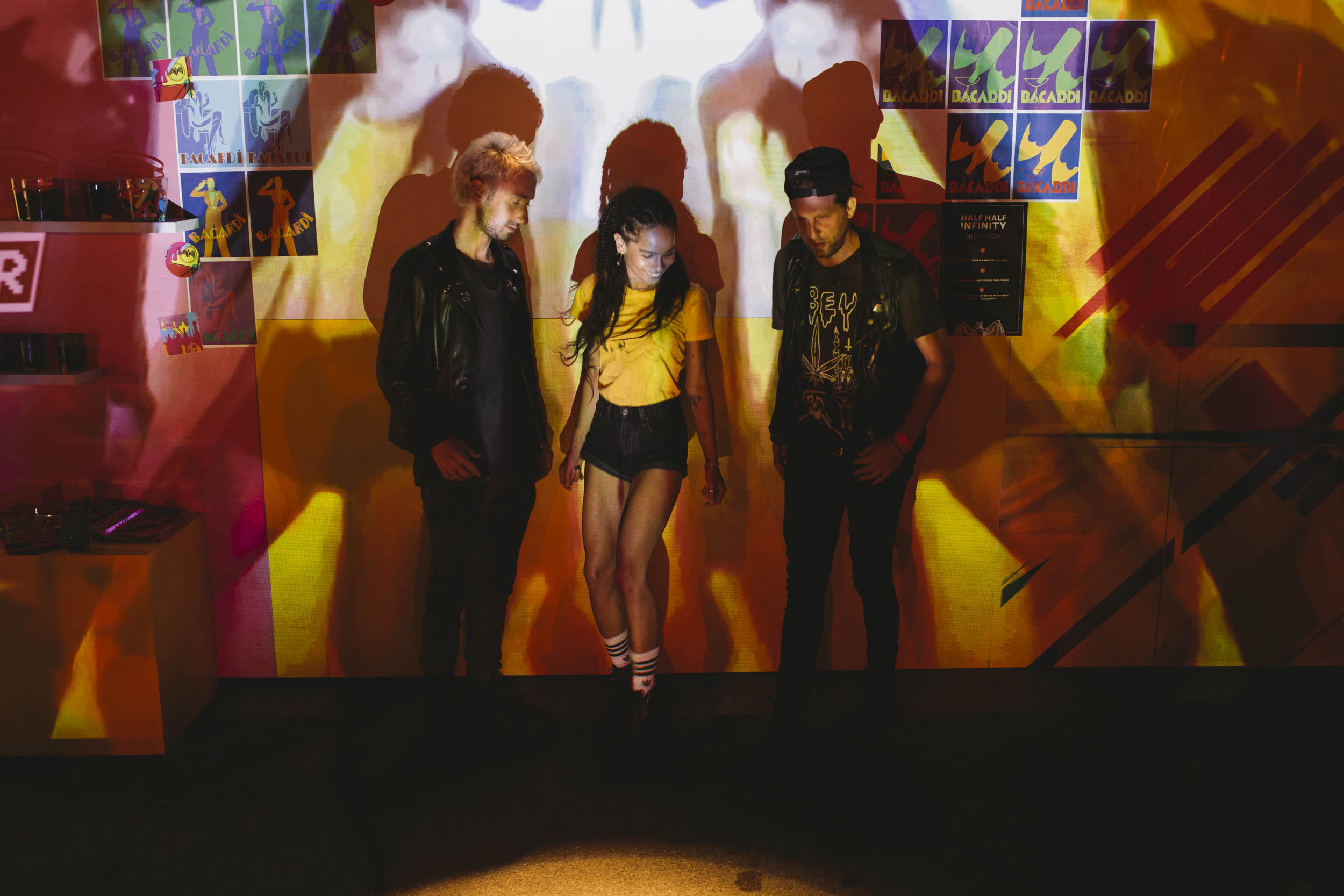 When you go to a concert, you intend to hear awesome music and witness the greatest performance of a lifetime. When you go to a Lolawolf concert, you'll get so much more. The R&B/Electropop band recently debuted their new creative platform called Lolaloopz at Bacardi's 'Untameable Artist' series in Miami. Lolaloopz is described as a live special effects creative lab which features live analog effects that can be used by fans for social media. Lolawolf—comprised of actress/singer Zoe Kravitz, keyboardist James Levy and drummer/producer Jimmy Giannopoulos—have toured with and opened for Lily Allen, Warpaint and Miley Cyrus. They also performed at SXSW and the Made in America festival in Philadelphia.
Lolawolf came together after Kravitz invited Giannopoulos and Levy to come to Los Angeles while she was shooting an independent film. The Brooklyn band made their debut at Mercy Lounge in Manhattan in November of 2013 and their self-titled EP was released the following February. They released their debut album "Calm Down" in October of last year and an EP titled "Every F*cking Day", which was released June 23rd of this year. They have also released several music videos since 2013, including two from their latest EP.
This is a band that stands out from everyone else, and I admire that. They have their own ideas and style that make them appealing to audiences everywhere. Whereas most artists would prefer to record in a traditional studio, Lolawolf will record their music either in a Las Vegas hotel room or her father's home studio in the Bahamas. They chose not to sign with a label and go independent so they could have control over the direction of their music.
I can't say that I have ever known of any artists quite like Lolawolf. What impresses me about them is how different they are. I love their originality and how they presented Lolaloopz to their audience. It's always good to be different and do something that no one else has ever done, and Lolawolf is doing that.  I can tell that they are destined for amazing things and I am looking forward to hearing more about Lolawolf.