Liv Symone Talks About Aladdin
13 min read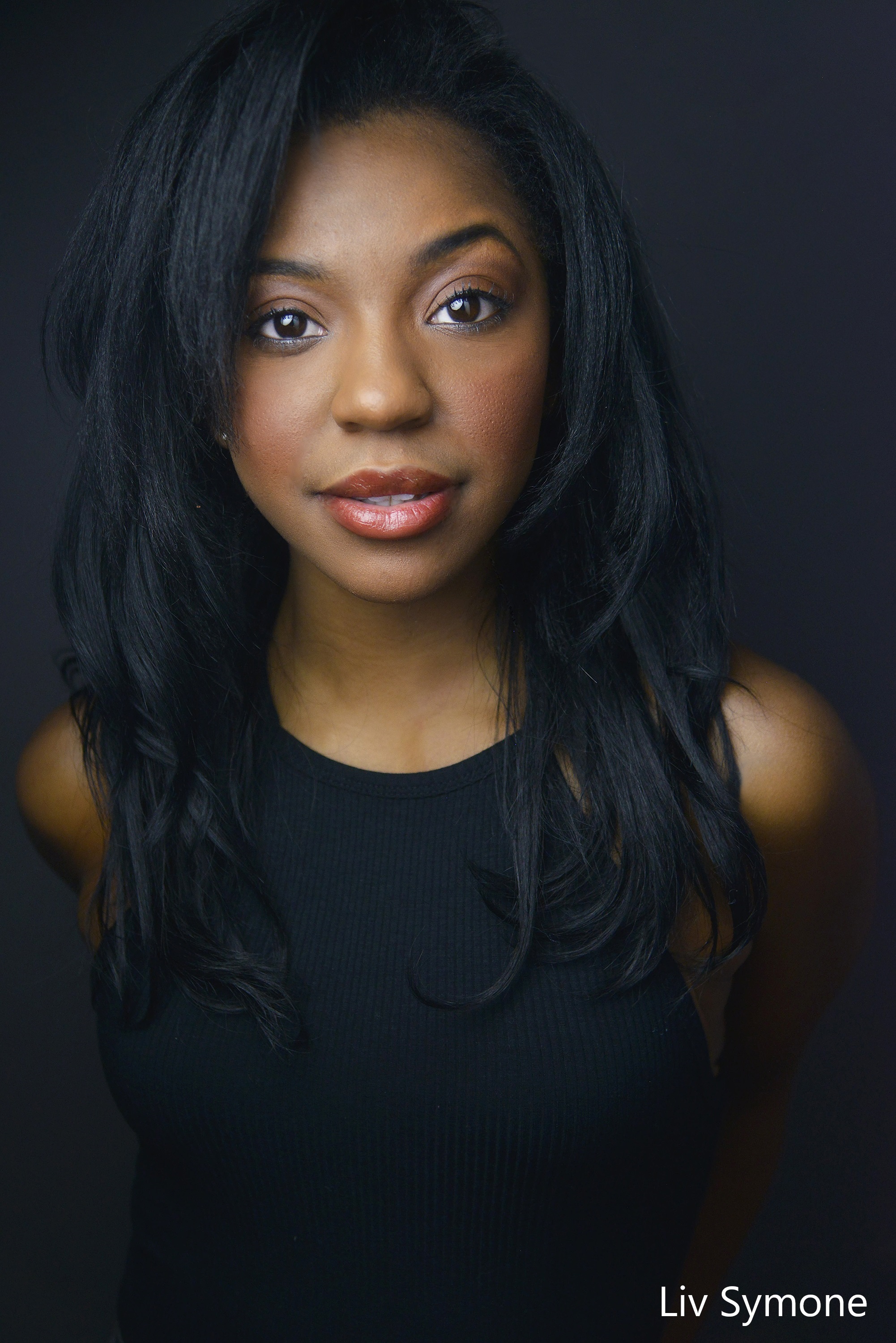 Disney's "Aladdin" has been a fan favorite since it first appeared in movie theaters in 1992. Now, we get to see it onstage at The Kennedy Center, from now until September 7th. I recently had a chance to speak with one of the stars of the show, Liv Symone about her role in "Aladdin," her first national tour and her theater background.
Can you tell us how it feels to go on your first national tour?
It's been an amazing experience. I'm not going to lie, at first I was very apprehensive of the idea of leaving New York. I'd only been in New York after moving from D.C. for about a year, and I was a little nervous to be packing up again, for a second time in a year and not going to a place I was going to be stable, but literally packing up everything and hitting the road like, honestly it's been the best thing.
I'm going through so many states that I never even thought that I would end up being in, which has been really cool and I've made some great friends and also get to be on the road and performing and singing and acting and dancing every single day for different communities, because theater communities across the country has been a very rewarding experience. Also, I'm glad that I made the decision to come.
I'm glad you did too, and since you mentioned D.C., how does it feel to come back?
It felt so cool! We have three days off before we actually start performances, and so I've just been kind of walking around the Georgetown area. I spent a lot of time there, especially later on in my college career. I was working at a Boys & Girls Club out there. I worked at an Urban Outfitters. I worked at a bunch of little stores that are in Georgetown, so as I was walking around today, it was very nostalgic, seeing like, the places I was in five years ago. It's been really cool. We've only been here a day and a half so far, so I'm excited to get to spend an entire few months here and get to tackle my old stomping grounds.
Can you tell us about your experience when performing at the Signature Theater?
I would say to this day, my favorite show I've done at the Signature Theater was "Jelly's Last Jam" in 2016, I think. Yes, 2016. I worked with Matt Gardiner; he was the director, and Jared Grimes was the choreographer, and the late Darius Smith was the music director, and it was such an amazing experience. It was really great to work with a cast and majority production team that was people of color. The cast was an all African-American cast. That was my first experience in that environment which was amazing. And it was a very challenging show.
All of the choreography was very, very intricate tap, which of all of the dance styles is my least favorite. So, I really had to step it up, because I was up on stage dancing with some of the best in the industry, and the choreographer Jared Grimes was absolutely insane. Signature, they really make you feel like you're in a familial environment. That's why they continue to have the same actors come and work in their show, because it's the experience there that is just one of a kind. It was only my second show ever. I still have memories from that cast and that production that will always, always be with me. And yeah, I loved it. I loved it.
According to your bio, you are a "proud graduate of Howard University." What was your experience at Howard?
Howard is an experience that I could never even fully explain. I knew that I wanted to go to an HBCU from birth, basically, and I had an older cousin who went to Howard. She was ten years older than me and so, of course, she drove it into my brain when I was very young, "you're going to go to Howard, and you're going to do this, you're going to do that." Howard's actually the only school I applied to, which terrified my mom and all of my guidance counselors, but I was so sure that it was the school for me, that I was going to get in, and that I wasn't even worried about it. And of course, I did get in. I started as a dance major, and I switched departments, because I felt like by only focusing on dance, I was limiting myself a little bit, so I expanded into the musical theater department.
So, I was getting my dance training, my vocal training, and my acting training. It was kind of funny because Fine Arts majors, we're such a small community at Howard, so you kind of stick out like a sore thumb amongst all of the school of communications, school of business people, which is like—I think the school of communications is the most heavily populated program.
Mm-hmm.
–at Howard. It was tricky to balance the work load, because our work was so performance based, you know? It was so like—you couldn't study the night before for an exam. You had to know your lines. You had to do this, you had to do that. So, I will say there are some things that I had to sacrifice a little it, being a Fine Arts major at a school like Howard, but I still got to enjoy myself so much!
I am so proud that I went to Howard. Honestly, most people don't say this, but if I could do my college experience all over again, I totally would because it was that much fun. It was a challenge though. Our professors were very hardcore, very cutthroat and no nonsense. But that's kind of what made us the artists that we are today because we had such rigorous training, and we learned a lot valuable life lessons from them. I'm really grateful for everything that I got out of being at Howard.
So, did you take those life lessons and did it somehow influence your career, or were you already interested in theater before going to Howard?
Oh, no, I was completely—I was interested fully. I started dance class when I was three years old, so it's kind of something that's been apart of my life. Yeah, I started at three, and then I did a lot of community theater and went to school plays and went to community choir and all that growing up in my neighborhood. And once my mom saw that this was something that I really, really like and was pretty good at, she started sending me to various challenging programs that were in my area where I grew up, in Trenton, NJ. Yeah, and I also have an uncle who is an actor, so I grew up going to see him on Broadway, watching his television shows and films when I was younger. And so, my mom always says we have some kind of special gene that not many of the other Russells have.
But yeah, it's something that's always been apart of me since I was a child. To this day, I can't imagine—if someone told me I couldn't dance or sing or act again, I truly could not tell you what I'd be doing. (laughs) Even all of the jobs I've had I were centered around performing arts—working with kids, helping them to put on plays, teaching them how to make costumes and remember lines and learn songs—always been my kind of focus my entire life.
In addition to studying theater and dance, are you also an instructor?
Oh yeah! After joining the school, I've partnered with a few organizations. A local theater that's in the city that we visit.
Mm-hmm.
One of the organizations is called Broadway Connections, and the other one is called Faith's Door and I've kind of bounced back and forth between those. Every once or twice a month, depending on where we're performing in any given city, or somehow get a chance to teach a fun Master Class workshop with kids of all ages, and I love doing that. I also, while I was still in D.C., I worked in a Boys & Girls Club, the Jellef Boys and Girls Club that's here in Georgetown and I started a musical theater program there and I took a handful of kids and we put on a play for their parents. I taught them about music, I taught them choreography, I taught them how to make costumes and build a set. We did all kind of work together, and I'm so happy I got to give them that experience. Those are the kinds of things my mom put me in as a kid, so I'm really glad that I got the kids established kind of something in a place that I've never been introduced before, so I would say that was one of the most rewarding things that I've done outside of being right on the stage myself directly, when it comes to giving back and influencing children who may or may not be artistically inclined. But if some who are, or others who are having a good time doing it, it's still an amazing experience, and it's definitely something that I plan to do in the future.
As far as the national tour of "Aladdin," what was the audition process like?
So my audition process for "Aladdin" wasn't like most people. I am the first female placement in the show. And so my process, it was really fast, and I will say it doesn't typically go like this. I had established a relationship with the casting director, so they invited me to a special call to replace one of the girls, and there were about fifty girls there, and they taught us the combination. We did it a few times and after that, they put it onstage and I was there with the dance captain from the Broadway Company. She's the one who taught us the combination. And the casting and creative team was there and they filmed it. And then, after that they asked twelve of us out of the fifty to stay to sing. So, I stayed and I sang a song for them. And after that, I pretty much—three days later—I got a call saying that, "it's not official yet, but we loved your work and we'll reach out to you again in a couple of days." I said, "ok," and sure enough about two days after that, I got an email with an offer for "Aladdin," and I accepted. And that's how I got here, but I will say that it's not most people's journey. Our old Iago had auditioned for the show eleven times before he got it. So, each audition experience is unique for each person. We all have a different journey with how we got here, so…yeah. It just happened to be mine. It's pretty simple.
Can you tell us about your role in "Aladdin" and how you prepared for it?
Yeah, well everyday I do a nice ten to fifteen minute stretch. And I like to vocally warm up in the shower, just because I've got all the steam and also the acoustics in my shower are great. (laughs) So, I like to warm up vocally in the shower and do a nice stretch to get my body prepared because we're spinning and flipping. It's a very physical show. The men do a lot more physical labor than we do, but it still is a lot on the men and women. So, I always make sure my body is always nice and always limber and ready to go. And then, my role is—I play one of Princess Jasmine's attendants. I also am the ensemble. Essentially, the attendants are Jasmine's best friends. If you wanted to equate it to the cast in the film, it would be Rajah the tiger, but obviously we can't travel a tiger. I don't think that would be very safe. (laughs) So, I think they've taken the personality of Rajah, who was the best friend and put it into me, sisters essentially. All three of us have different personalities. I'm kind of the older sister. I'm kind of a little sassy, and yeah, we sing some songs with her and we dance with her and we have a few scenes where we're basically advising her on what she should do about Aladdin, because she goes to the marketplace. Should she leave and run away from home, and we're kind of the ones who keep her grounded and help her to make all of her rational decisions before she actually does them. So, yeah. And then in the ensemble, I'm dancing a lot. So, yeah, it's a lot but it's a lot of fun at the same time.
What is one thing you are looking forward to doing while you're in D.C.?
I'm definitely looking forward to going back to Howard and visiting the Fine Arts department. It's a bummer that we're not going to be here during the actual school year, but it'll still be great because I know people are in that building all throughout the summer. They have different programs that they do throughout. And I'm excited just to go back into the building and walk the hallways because it's been now four years since I've been back at Howard. It was such a life changing experience. So much happened inside of that building, so that's really the main thing that I'm excited about is being back in that studio, in those classes, in those halls that eventually shaped me into the performer that I am and are pretty much responsible for the reason that I'm on this tour right now.
Do you have any projects in the works you can talk about?
At the moment, I don't have anything crazy. I've been working on some of my own things, trying to get back into the writer I used to be when I was younger. I loved writing stories, writing plays, songs. I wrote a lot and especially within the last couple of months, I've been trying to dive back into that part of myself because I've neglected it just a tad bit over the last year or two. So I've got some things that I'm doing personally that I'm excited about. We'll see what comes out of them in the next year or so.
If there's anyone who wants to follow in your footsteps, what advice would you give them?
As cliché as it might sound, I would seriously say do not give up and keep pushing. I feel like the majority of people that are in New York City auditioning at any given time, people tend to drop out because it gets too hard or for whatever life reason that push them in another direction or they decide to stop doing it and that's totally fine. But I feel that being tenacious is what's going to get you to your end goal, ultimately. It doesn't matter how long it takes, it doesn't matter what other people are doing. Stay in your own lane, know that what God and the universe has in store for you is inevitably going to come for you if you stay the course and stay tenacious and don't stop. That's it. That's the real.
Get ready for a whole new experience with Aladdin at the Kennedy Center from July 18thto September 7th. Get your tickets and keep an eye out for Liv Symone's amazing performance.