Lineup for Comcast Xfinity Outdoor Film Festival at Strathmore, Aug. 24-26
4 min read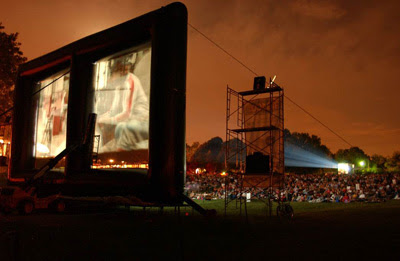 The Comcast Xfinity Outdoor Film Festival returns for three consecutive days of free films under the stars from Thursday, August 24 through Saturday, August 26, 2017 with Disney's Moana, Rogue One: A Star Wars Story, and The Lego Batman Movie. The country's original outdoor film festival, the free event is underwritten by Comcast and produced by DTA Global with Strathmore, and benefits NIH Children's Charities. More information is available by visiting www.strathmore.org or by calling (301) 581-5100.
The popular Washington, D.C. metro area event celebrating the end of summer will feature recent blockbusters on the only nine-story tall, 52-foot-wide inflatable movie screen within 1,000 miles. Guests will enjoy an unrivaled outdoor movie experience with digital cinema projection.
The fun begins at 7:30 p.m. with on-site activations like live music, visual art displays, and games. Classic movie theater fare, barbecue, and beverages, including wine and beer, will be available for purchase from Ridgewells.
The 2017 schedule is:
Thursday, August 24 – Moana – PG – 1 hour 47 minutes
Friday, August 25 – Rogue One: A Star Wars Story – PG-13 – 2 hours 13 minutes
Saturday, August 26 – The Lego Batman Movie – PG – 1 hour 44 minutes
Films will be shown on the lawn near the historic Mansion at Strathmore and Gudelsky Gazebo, located at 10701 Rockville Pike, North Bethesda, MD 20852.
Picnic blankets, low beach chairs, and small coolers are welcome.
In the event of severe weather, outdoor films will be cancelled. Weather updates can be found on Strathmore's Facebook and Twitter platforms.
The Comcast Xfinity Outdoor Film Festival is conveniently located adjacent to the Grosvenor-Strathmore Metro station on the Red Line. FREE parking is available in the Grosvenor-Strathmore Metro Garage on Saturday. Parking on weekdays is $5.10 payable with credit card or SmarTrip card.
About the Comcast Xfinity Outdoor Film Festival
Started in 1996, the Comcast Xfinity Outdoor Film Festival was the first major outdoor screening event in the United States. The event began on the grounds of the NIH Charities and remained there until the events of 9/11 eliminated public access to the grounds of NIH. The Film Festival then moved to several other locations and in 2013 found a home on the MCPS Board of Education property. Now, thanks to Comcast, Strathmore and sponsors, the magic days of yesteryear are back as the Comcast Outdoor Film Festival returns to its most popular location on the grounds of Strathmore.