Linda Eder Just Keeps Getting Better
2 min read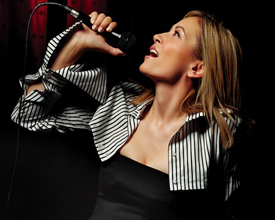 Whether it's Etta James, Barbra Streisand, Bryant Adams, Judy Garland, Adele; whether it's Jazz, Blues, Country, Pop, Classical, or Rock n Roll Linda Eder has all bases covered and she sounds absolutely fantastic. So be sure to have your wine, and prepare to feel the ultimate sensation of relaxation. The bluesy but radiantly calm which is Linda Eder performing at Strathmore.
She was accompanied by a group of Jazz style musicians. It sounded as if you were in a club lounge during the 1940's minus the zoot suites, and plastic palm trees. There was an Upright Bass, Grand Piano, Drum set and Acoustic Guitar. Every one of her songs was magnificently performed; "Blue Skies" was particularly amazing Ella Fitzgerald would have blushed. The band played loose, you could tell even though they were reading sheet music there was a lot of improvisation. One part I found entertaining was when Linda would hold a single note for an extended amount of time. I don't think I could hold my breath for that long let along carry a high pitched tone. The range in genres she encompasses is also impressive. I would have found it difficult to blend such a wide variety of different types of music and have it mesh but she pulled it off seemingly easy. She has been singing professionally ever since graduating high school so great performances must be second nature. What had to be the show stopper of the evening would have be her encore rendition of "Over the Rainbow". It sounded like Judy Garland herself it was absolutely beautiful.
If you can't tell by now, I would definitely recommend seeing Linda Eder live in concert. You will leave with a better understanding of what music really is and should be. There is no way you could go to one of her concerts and not recognize any of the songs she performs, they are so ingrained into the fabric of our society they are unmistakable and you would highly enjoy them. So go see Linda Eder live if you have the opportunity I promise you will not regret it.