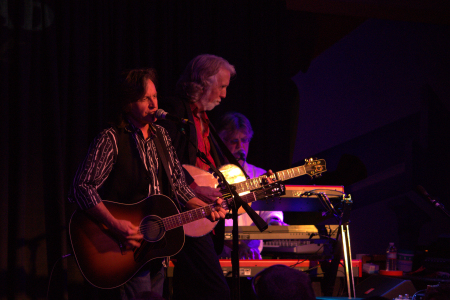 It's Mother's Day, that special time of year to show thanks and appreciation to all the moms out there. What better way to do this than to go see Nitty Gritty. Strolling down West Street there was that all so familiar sight of a tinted out tour bus parked out in front of Rams Head On Stage. That wasn't just any ordinary bus! That was the transportation for legendary country rockers The Nitty Gritty Dirt Band.
The best word to describe Nitty Gritty would be; entertainers. THEY'VE BEEN ROCKING FOR 47 YEARS, THATS ALMOST AS LONG AS THE ROLLING STONES! So the stage is no stranger to them. Their so nonchalant on stage it's cool. The line up featured original members, Jeff Hanna on guitar and vocals, Jimmy Fadden on harmonica, drums and vocals, multi-instrumentalist John McEuen and keyboardist and vocalist Bob Carpenter who joined about a decade after the band originally formed.
It was a good line up as far as instrumentation is concerned. John McEuen traded off between playing violin, mandolin, banjo, and guitar which was pretty amazing. I was hoping he had brought his accordion along with him but playing four different instruments was still impressive. It would have been cool if they had busted out a washboard or jug. Jeff Hanna's singing sounded great, a soft tone that carried well. The song "Mr. Bojangles" was great! It was the perfect blend of folk, rock and country. My favorite song of the evening was "My Walking Shoes Don't Fit Me Anymore" an upbeat bluegrass song that featured awesome harmonica solos by Jimmy Fadden. It was one of those bluegrass songs where you couldn't help but to clap in rhythm. Another favorite part of the concert was when John McEuen had the stage to himself. This guy is a character! He should seriously consider doing comedy because he had everybody rolling. He did everything from explaining him and his band mate married twins because it was "the country thing to do" to playing the guitar with his nose. It was very entertaining! The whole concert was entertaining and something I would best describe as a rock 'n' roll country shindig.
Nitty Gritty are out there still doing there thing after all these years. It really shows that they love their craft. There are moments on stage where you can tell just by the look on their faces that they can talk to each other without saying a word. That's takes years of familiarity to achieve. Catch a show if you get the chance, you'll clap, you'll smile, and you'll have a good time.