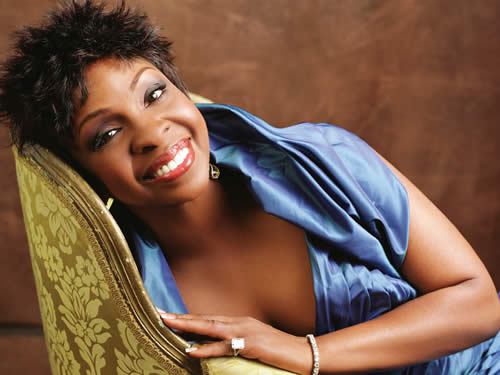 I had no idea how adored an artist can be until Friday evening when Gladys Knight tentatively stepped onto the stage at Strathmore Music Hall. The crowd erupted into wild cheers and gave her a standing ovation BEFORE SHE SANG ONE NOTE. Gladys, an award-winning and record-setting living legend, put her hands up to her mouth and her cheeks just like Taylor Swift after winning her third County Music Award of the evening. She was as touched by the outpour of love as I was bewildered. I knew the woman could sing beautifully, and absolutely love her chicken & waffles restaurant in Atlanta, but I was not ready to stand up and cheer before the show even started.
Gladys confidently took her mic and strutted from end to end, pacing the stage while regaling the audience with tales of her early days in Motown and career firsts. She told these stories with the air of a homegirl or a favorite aunt, joking about her age when she looks and sounds like a fabulous and classy young woman. As Gladys spoke, she was lighthearted and funny, but the millisecond she started to sing, she was dead serious. That voice is a force all its own, the kind that mesmerizes and moves people to declare undying love or praise Jesus. I was struck dumb by how powerful her voice still is as she gave an intimate performance of "If I Were Your Woman." It was as if the entire venue became alive and her vibrato was its pulse.
After blowing the crowd away with each song, Gladys told the audience how much she loved us and how amazing we were and then launched into another monologue. The more mature spectators definitely could relate to Knight's disappointment in how today's music lacks the magic and romance that Motown was known for. Gladys, ever the gentlewoman, did not show disrespect to current artists, stating that she "loves what they're doing today" and doing a joyful rendition of Mary J. Blige's "just Fine." But I have to agree that something magical happens when you get just the right mix of soaring violins, earnest lyrics, and teardrop in the throat vocals. Unfortunately, people whose livelihood depends on how many preteens, clubgoers, and kickboxing instructors find your song catchy do not spend as much time finding the perfect aural combination to pull at the heartstrings just so.
Those who longed for the past got a special treat when her older brother (and original Pip!) Merald Knight joined Gladys and her four background singers onstage for some shenanigans and of course, more great music. Their voices blended together in perfect harmony during The Beatles' "Yesterday" and they showed perfect comedic timing as they jokingly fought each other for the spotlight. It was obvious they were having fun and that spirit spread to the audience. As if we hadn't been spoiled enough, Gladys ended the show with "Midnight Train to Georgia" and all of us sang along. Only two things could've made the night better for me: if she had sung "Love Overboard," and if I had realized that a standing ovation before the performance would have been more than appropriate for a singer as special as Gladys Knight.