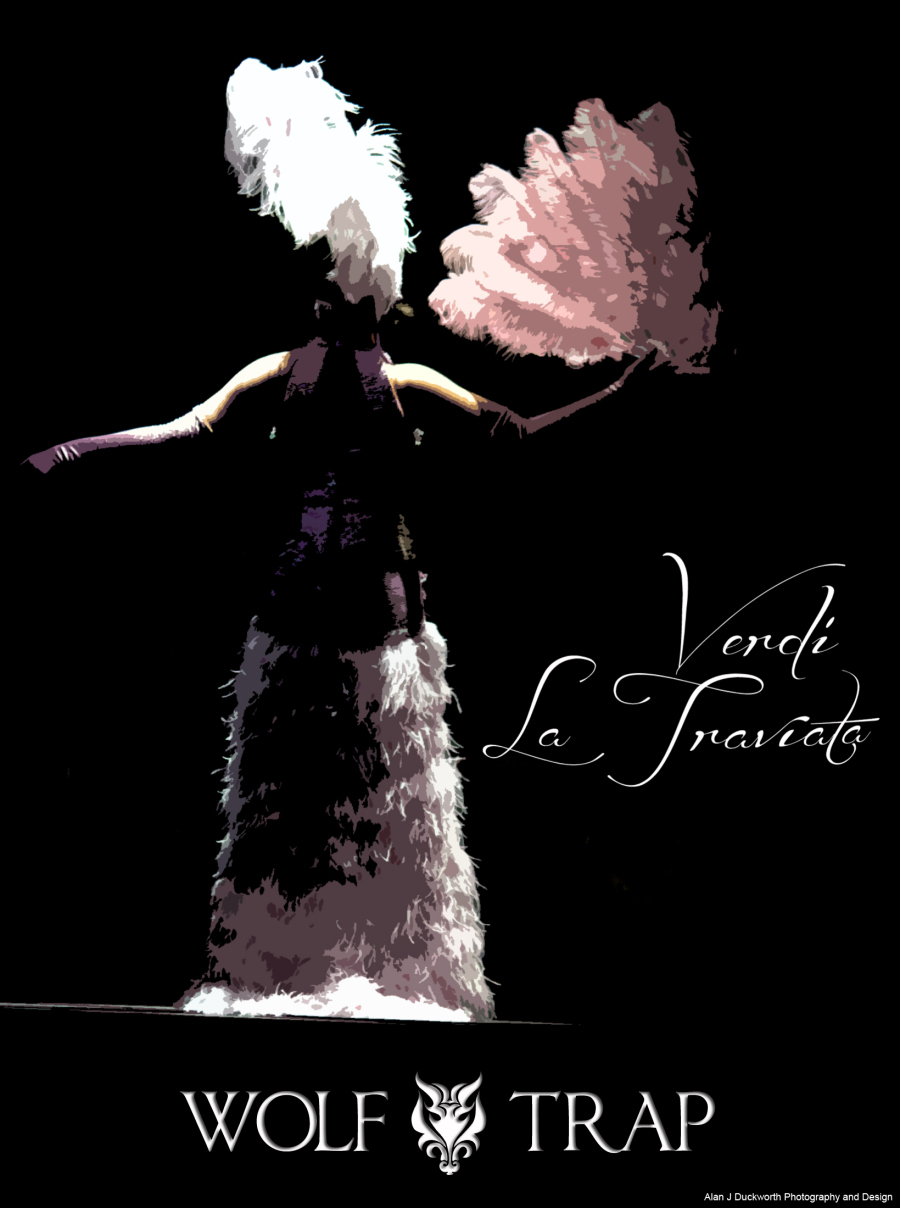 It's the timeless opera and libretto La traviata, a classic story about two star crossed lovers Violetta Valéry, a "courtisane" i.e. "mistress of the night" suffering from tuberculosis and a wealthy middle-classmen, Alfredo Germont. Violetta Valéry is played by a renowned local talent, soprano Corinne Winters  and Alfredo Germont played by Benjamin Bliss. They would be accompanied by the National Symphony Orchestra conducted by Grant Gershon.
Other cast members included a mix between nationally acclaimed singers and Wolf Trap Opera Company rising stars. Giorgio Germont played by Nicholas Pallesen, Annina played by Courtney Johnson, Flora Bervoix played by Alexandra Rodrick, Gastone played by Miles Mykkanen, Giuseppe played by Brandon Russell, Baron Douphol played by Harry Greenleaf, Marquis d'Obigny played by Brian Vu and Doctor Grenville played by Nicholas Brownlee.
[youtube=https://www.youtube.com/watch?v=uDo8Iz8LzW4]
It is such, this opera could easily relate to drama today. As if  the story could be translated into a film that takes place in the present, or preformed as a modern opera. I was never too caught up in the theatrics of La traviata. I always liked Pavarotti and his renditions of "Brindisi." With that said, after experiencing the complete opera in full, theatrics and all; there is no substitute!
The National Symphony Orchestra sounded fantastic! The manner in which Grant Gershon conducted you could feel his excitement. But it wasn't as such his gestures were off balance. The anticipation initiated from the manner in which he addressed the audience. He then calmly directed the NSO with grace and fluidity.
This being an outdoor performance, I knew the singers would be amplified with microphones. I wasn't in favor of this; I always enjoy bare acoustics, it's a very clean sound with no dense echoes and it's easy to recognize the pitch. With this said; the performance was amplified but it sounded acoustic! The levels were perfect. Corrine Winters accentuated the sound and her resonance wasn't as such it rolled around. It seemed to peak and abruptly dissipate, rather than bounce back. I guess its natural at an outdoor concert but over amplification tends to reverberate even outdoors. Corrine played a fantastic lead role!  Her emotions could be felt through her voice. Benjamin Bliss was great as well; his interactions with Corrine were compelling. His dramatic responses were deep and grabbed your attention. Not to be overlooked the difficulty of La traviata, not just anybody can perform it. It takes a special kind of voice.
It's entire performance was beautiful! I was so glad there was actually a set and props. I have attended minimalistic modern operas that sounded great but left nothing to the imagination. I did like the champagne-a-mid and the manner in which the performers interacted with it but the enormous champagne bottle props were a bit much. It was like a reminder that it is a set. It was still way better than a bare stage! The opera itself was spellbinding; La traviata's story draws upon deep emotions. Despite a troubled past you are still left with a favorable impression of Violetta who truly did love Alfredo.
TRR Revue and Photography By: Alan Duckworth