L.E.J. shares Game of Thrones inspired 'Game of Bells'
2 min read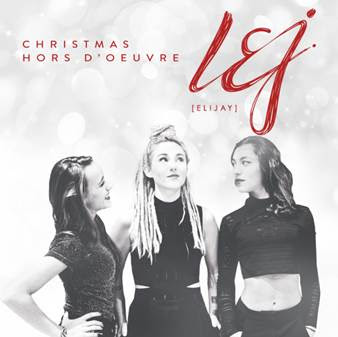 Today, classically-driven French pop trio L.E.J. [Elijay] release their mannequin challenge inspired holiday  video for "Game Of Bells", a modern take of the classic "Carol of the Bells" set to the tune of the Game of Thrones theme song. The song is from their recently released holiday EP, Christmas Hors D'oeuvre [Republic Records], available now at all digital retailers.

"The visual feels like a tour of a Christmas-decked Westeros… We're pretty sure Cersei is somewhere bumping the EP while downing her best bottle of red." – COMPLEX
Watch the Video for Game of Bells" HERE.
Get the Christmas Hors D'oeuvre EP HERE.
Following the runaway success of their massive viral smash "Summer 2016," which earned 2 million-plus plays on YouTube in just a week, the girls recorded three Christmas-themed covers. Playing organic, orchestral instruments with downright impressive chops, they transform "Game of Bells," a fresh modern take of the classic "Carol of the Bells," and "Little Drummer Boy" with their own undeniable je ne sais quoi. Meanwhile, they bring heart and soul to a cinematic rendition of Simon & Garfunkel's "The Sound of Silence." 
Listen to the EP HERE.
It's the perfect soundtrack to the holiday season!
The three childhood friends, Lucie, Elisa, and Juliette garnered a deep understanding of classical music and orchestration while attending conservatory in their native France together. They added that depth to pop music on 2016's En attendant l'album by reimagining some of the biggest smashes in recent memory with a backdrop of cello and organic percussion. Following the international success of the breakthrough online hit "Summer 2015," L.E.J.opened up for Pharrell and sold 200,000 albums in less than three months.
TRACKLIST:
"Game of Bells"
"Little Drummer Boy"
"The Sound of Silence"
PURCHASE LINK:
iTunes: https://republic.lnk.to/LEJChristmasEPDL/itunes
Apple Music: https://republic.lnk.to/LEJChristmasEPDL/applemusic
Spotify: https://republic.lnk.to/LEJChristmasEPDL/spotify
Amazon: https://republic.lnk.to/LEJChristmasEPDL/amazon
Google Play: https://republic.lnk.to/LEJChristmasEPDL/google-play