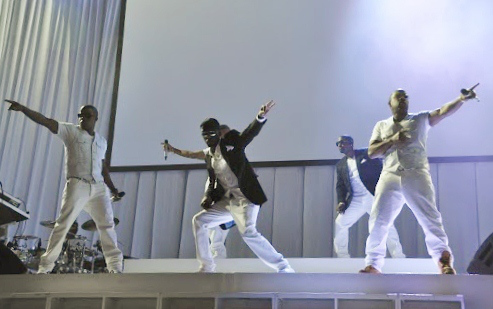 Concert Revue by Stephanie Taylor – Photography by Dean Rogers
Sunday night was a HUGE win for nostalgia as the New Edition All Six Tour made a stop at the Verizon Center and brought along Salt-N-Pepa to open the show!
I remember my first day of school like it was yesterday. I was transferring the foods my mom had laid out on the counter into my metal lunchbox, when I took notice of the ladies shouting confidently on the radio we kept in the kitchen. "Hey, you! I like it like that! Hey, you! I like it like this. If I had a wish, before I die, I'd like to have it like this for the rest of my life." It was 1988, soon after the release A Salt with a Deadly Pepa. I loved Salt-N-Pepa with all my heart and remember that song, along with many of their other hits, being stuck in my head for most of Kindergarten. Over 25 years later, Cheryl and Sandy are still shouting confidently, imparting wisdom and making us dance with their groundbreaking music. They did a fantastic job of taking everyone back to a time when hip hop groups didn't try to knock other artists off their pedestals. While they didn't perform "I Like It Like That," they did perform the other hit from that album: "Push It." The crowd totally lost it when they put on their iconic letterman jackets and started doing all the best late 80s and early 90s dances for us. Their performance was a great reminder of their feminism, social consciousness and DGAF attitude that paved the way for everyone from TLC to Nicki Minaj. The only thing that could have made their performance better would have been the presence of Spinderella, their insanely awesome DJ and fellow hip-hop pioneer.
1988 was also the year that Heart Break hit the shelves and made me fall in love with New Edition. Their fifth studio album contained the hits "Can You Stand the Rain" and "If It Isn't Love," both of which were performed during the show. Ronnie, Johnny, Ricky, Mike and Ralph (more on why there was no Bobby later) sang and danced like teenagers for most of the night; I was floored by their energy! These guys are professionals in the truest sense of the word. From their costumes to their choreography, from their vocals to the videos that were synchronized with the live performance – everything was on point.
Bobby Brown's absence, just like the lack of Spinderella, cast a little bit of a pall on the show since he was one of the founding members. All the promos for the tour said #AllSix when they should have added #FingersCrossed because Brown has a history of not having much staying power where New Edition is concerned. He left the group in the mid '80s to pursue a solo career and quit their reunion tour in the '90s. This time he cited health reasons, which is completely plausible given his obvious exhaustion after the July 3 show, but it still would have been nice to see the entire group back together again.
Despite the void that only a sloping fade could fill, the show was an excellent trip down memory lane, showing NE's early success as kids with "Candy Girl" and "Mr. Telephone Man" and then showcasing the hits from solo projects. Bell Biv Devoe's "Poison" got the crowd jumping while Ralph Trezvant's shirtless rendition of "Sensitivity" got the women swooning. Johnny Gill, the only D.C. native of the group, was at full volume the entire night. This would normally be a good thing since he has a gorgeous voice, but the bass was thundering throughout the whole arena without him screaming like a preacher who just caught the Holy Spirit. The sound was a problem throughout the night, but that should not deter anyone from seeing one of the best boy bands EVER the next time they're in town. Just pop in some earplugs and enjoy this incredible show!