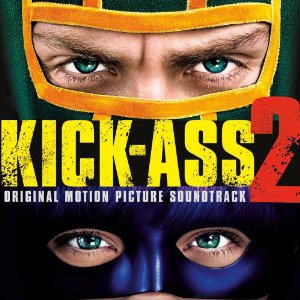 Teen superheroes Kick-Ass and Hit-Girl have returned to the silver screen with "Kick-Ass 2". Here, our heroes grace us with an encore in their return to the superhero lifestyle. Every superhero film deserves an amazing soundtrack as its sidekick; however, that is not the case here. The tracks for this album were not wisely chosen for superheroes, but for teenagers attending an unsupervised house party or club goers hitting the latest club for a night on the town.
DJ Fresh's "Motherquake," Lemmon's "Pussy Drop," and Marco Polo & Torae's "Danger" have a hip-hop feel to them. Although I can imagine a one-on-one battle taking place to the tune of "Danger", "Pussy Drop" and "Motherquake" do not scream "battle royale;" instead, they call for a request for the evening's DJ to get the party started. Hanni El Khabit's "Nobody Move", Chloe Howl's "No Strings", Union J's "Carry You", Glasvegas' "Euphoria, Take my Hand" and Danko Jones' "Dance" are tunes you're likely to hear at a senior prom instead of a physical altercation between Kick Ass and his new nemesis, The Motherf***er.
The Go! Team's "Bust out Brigade", St. Snot's "When The Saints go Marching In", The Bees' "A Minha Menia", James Flannigan's "Yeah Yeah", Jessie J's "Hero" and Ozma's "Korobeinki" serve as the ideal battle track, with "Hero" and "Korobeinki" as the perfect dual themes of the movie. Many fans will recognize "Korobeinki" as the theme from the classic video game "Tetris".
"Kick-Ass 2" may be an awesome action packed movie, but the accompanying soundtrack does not "kick ass." This soundtrack is nothing more than a homemade mix tape a high school student put together for a friend's house party. Although this movie is about teenagers donning homemade costumes and assuming the roles of superheroes, this soundtrack is anything but heroic. The songs were poorly chosen for this soundtrack and would have been better suited for the soundtrack of an MTV reality show.
Final Grade: D