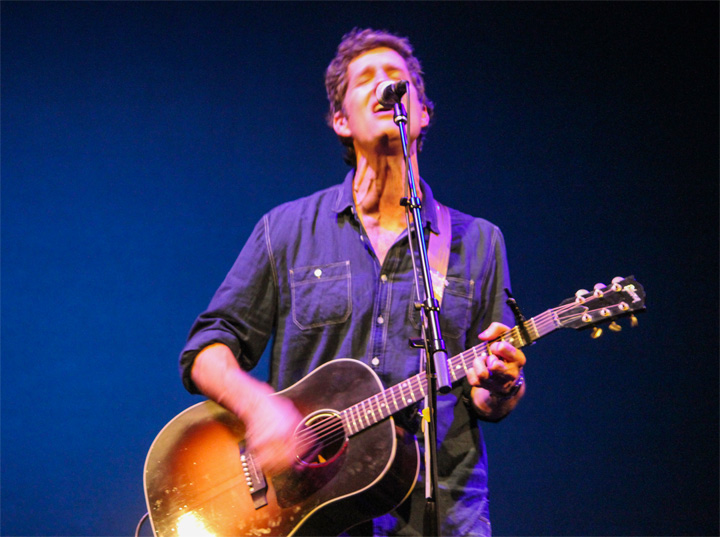 Better Than Ezra front man Kevin Griffin played a solo act Friday night at The Barns at Wolf Trap. Tonight he entertained the stage with little more than a microphone, guitar, and some reverb.
Kevin started with "A Lifetime" off Closer (2001). As you would expect there was plenty of Better Than Ezra in his set but also a few surprises. He was playing an amplified acoustic guitar. Also backing him was percussionist Jen Lowe. She was sitting on a cajón playing a tambourine with a kick pedal.
The first song was almost like a live sound check. After a quick volume adjustment and tune-up he went into "I Just Knew." This song is great for an intimate acoustic setting. Kevin was very active in getting the audience to sing along throughout the whole show.
He played all the Better Than Ezra hits like "Good" and "Desperately Wanting." The song "Good" sounds better with a full band. It just not the same song without the bass. The version of "Desperately Wanting" he played tonight was a little too impromptu my taste. It started off good but he didn't finish the song and just went off on some wild tangent.  Of all the songs performed tonight "King of New Orleans" and "In the Blood" were performed the best. They were played all the way through and they really captured that sensation of what it felt like to hear them for the first time. For that alone this was an exceptional show. Those two songs sounded absolutely fantastic!
Of course it wasn't just all Better Than Ezra songs that were played. Some covers included unexpected surprises like "Feel Good Inc." by Gorillaz, and "Can't Feel My Face" by The Weeknd. These weren't full on covers but more like snippets of the songs fused together. Another songs worked into the mix was "What I Got" by Sublime.
Kevin didn't leave out classic rock either covering "Lovin', Touchin', Squeezin'" and "Wheel In the Sky" by Journey, and "Sultans of Swing" by Dire Straits. Kevin's vocals especially for the classic rock songs were spot on. His guitar playing was spotty. A lot of the covers involved him practicing and figuring out the songs on stage before he played them. His preparation could have been better.
This was a fun performance. An opportunity to get to know Kevin Griffin. Based off that it was a good show. The set list was a little unconventional and hard to follow at times. Kevin Griffin is a talented performer with a natural gift for song writing. He would definitely sound better as Better Than Ezra, the band. At the same time there were also some really solid performances. Kevin at the end stated he gave it all he got. It was really good for a solo show just a little unorganized.