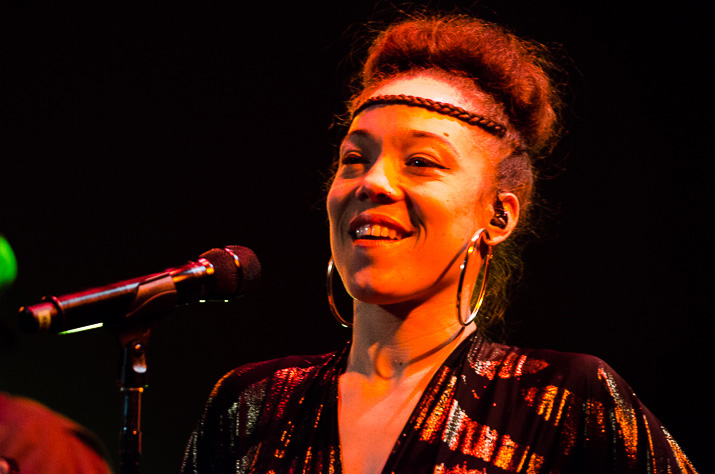 Kendra Foster is a name you will easily remember. She is a Grammy-Award winning songwriter for her work on rhythm and blues singer D'Angelo's album "Black Messiah" and has released the single "Promise to Stay Here" from her upcoming self-titled album. Not only that, she has a talent for dance, having studied the art for over ten years.She is truly a triple threat, wouldn't you say? Now she has a brand new single called "Sweeta", and it is currently available on Soundcloud.
Although she first developed her love of music while in church, the Tallahassee, FL native's career took off while she was a freshman at Florida A&M University. She became friends with trumpet and keys player Whitney Russell, who introduced her to Mike P., a friend of his and fellow musician. She then joined Mike's band Smoke, and later became part of Russell's band Fish-N-Grits, serving as lead singer. Now that is a great way to start out. With such an extraordinary talent, she must have a huge and dedicated fan base. Well, it's about to get even bigger.
After taking an interest in jazz while still in high school, Kendra studied the works of many legendary artists, such as Dinah Washington, Sarah Vaughn, Parliament Funkadelic and Steely Dan. Such unique musical influences shaped her as an artist and helped create the colorful single that is "Sweeta", as well as her upcoming album. "Sweeta" has a smooth sound and a steady beat that is awesome to dance to. The rhythm is relaxing and beautiful and the combination of Kendra's rapping and singing on this track is amazing. Her rapping is energetic and powerful and her singing is soulful and ear catching.
Kendra Foster's single is something rap and rhythm and blues fans will definitely appreciate. Whether you are playing it in your car while on the road or at a party, this is one of the best songs to have in your playlist. This is a song that may warrant an encore at the next party, so D.J.s, get ready to play this song once more for the party people.
Final Grade: A