If it's February, it's Katsucon! Katsucon is the assemblage of cosplayers, gamers, artist, animators, hobbyist, actors and anything else you can imagine all in the name of Japanese culture. The annual convention took over the Gaylord National Harbor for three days this President's Day weekend. It's fandom taken to a whole new level.
The main attraction to Katsu has to be the attendees themselves. Guests go all out to dress up as their favorite anime and video game characters. There are elaborate designs, custom-made costumes, and a party like atmosphere in which there is no rival. Some costumes are over the top ridiculous. Some are so traditional they might as well be imported straight from Japan. It's the closest thing you can get to a masquerade ball in the 21st century.
Navigating the Gaylord National can be a little taxing. You have 17,000 plus people moving in every which direction imaginable, some huddled in groups, some waiting in line, some posing for pictures. There are literally a hundred things going on at once. It's easy to get distracted and lose your train of thought. It's best to keep an itinerary or even better yet map out your adventure and stick to it!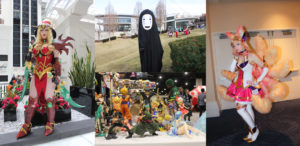 Two must-visit areas are always the merchant tables and artist alley. The artist alley features all sorts of different prints and hand-drawn artwork. They're definitely worth a framing. All flavors of anime are represented no matter how eclectic your tastes are. I found the One Punch Man Manga series I was looking for easily and some cool Samurai Champloo prints. I was disappointed I couldn't find much of the classics like Machine Robo or Ronin Warriors in either the artist alley or merchant tables. I would have bought that stuff up in an instant. Space Dandy is another favorite with little representation. I know they were there, I probably just had to look a little harder. I did find an awesome mech builder merchant and bought a Master Class Justice Gundam Z.A.F.T. Mobile Suit ZGMF-X09A. I was stoked and it was definitely one of the best highlights of the convention.
One of the more notable guests from this year's Katsucon included voice actor Keith Silverstein. Chances are if you've played any video games or watched any anime within the past decade you've probably heard his voice before. Seriously, his credits include Overwatch, Hisoka from Hunter x Hunter, Hawk Moth on Miraculous: Tales of Ladybug & Cat Noir, Speedwagon in JoJo's Bizarre Adventure and the One Piece Film: Gold as mega-baddie Gild Tesoro.  He was also Vector the Crocodile in the Sonic the Hedgehog series, HUNK from Resident Evil, and Gouken from Street Fighter.
He voiced Persona 5, Skip Beat, Batman: Arkham Knight, Glitter Force, Bleach, K Missing Kings, Magi, Tiger & Bunny, Persona Q, Skyrim, World of Warcraft, Soul Calibur, Doraemon, Skylanders, Naruto, AJIN, Call of Duty Black Ops III, Sword Art Online, Gundam Iron-Blooded Orphans, Durarara!!x2, and Disney's Stitch. He also voiced Lupin the Third in Lupin the Third: Jigen's Gravestone, Kirby O'Neil in Teenage Mutant Ninja Turtles and Char Aznable in Gundam the Origin.
I wasn't kidding when I said this guy has a massive portfolio to his credit.  There was a Q&A session where Keith and fellow Overwatch voice actors Josh Petersdorf, Anjali Bhimani, and Jonny Cruz answered questions from fans. They lined up to praise, express gratitude and even bear gifts to the team of voice actors. It was interesting to hear the voice actors' perspective about the game and their characters. One question was how does Josh Petersdorf maintain his beard. Good fun for what it was worth.
Some of the other guests included: Dino Andrade, Eirik Blackwolf, Steve Blum, Colleen Clinkenbeard, Robbie Daymond, Caitlin Glass, Joshua Hart, Greg Houser, Fox Keegan, Mary Elizabeth McGlynn, Vic Mignogna, Cassandra Lee Morris, Tony Oliver, Giada Pancaccini, Leo Saunders, Mandy Seley, The Slants an all Asian dance band and Sonny Strait. It's cool Sonny Strait is the voice of Krillin on Dragon Ball Z and Collen Clinkenbeard voiced Kid Gohan from the same series.
A guest I was also excited about was Lee Malone CEO and large-scale model builder for Rogue Studio Productions LLC. Talk about talent! Any Star Wars fan would be in heaven. His projects include an amazing Millennium Falcon and X-wing Starfighter. I'm fascinated with scale models. As much as I like video games and CG graphics its always refreshing to have real physical material to hold, piece together and manipulate. It gets the gears and wheels turning in your brain in a way that's hard to reproduce else wise.
There was so much to cover a do. With 24-hour programming, it was like a marathon. You could spend hours on a Super Smash Bros. tournament projected on the wall of the game room, sit in on some Anime music videos which are always entertaining or do some Pokémon yoga. Whatever fruits your loops you'll find a taste of it at Katsucon. Great fun!