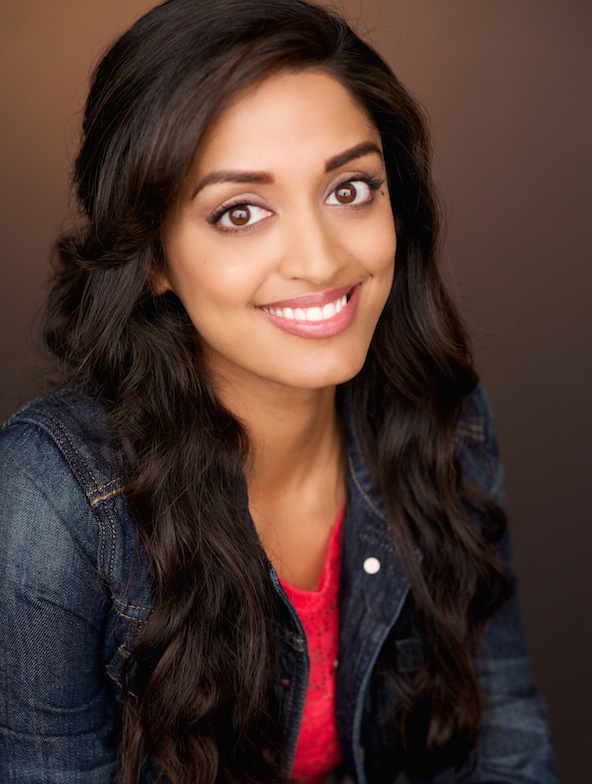 On this edition of THE INTERVUE, Wheel of Fortune LIVE is here at the Capital One Hall in Tysons VA and I just finished watching this amazing show and if you want to experience the excitement of the Wheel, you will have your chance with this traveling show. Our guest today is the hostess of Wheel Live, Kalpana Pot! I talked to her right after the show to know her story about being part of the great show that's traveling all over the country!

So how does it feel to be the Vanna here on Wheel of Fortune LIVE?

It's such a pleasure and an honor to be a part of a game that I've watched since I was a kid, which I won't tell you what year that started. Let's just say a little while ago. And you know, it's something you watch growing up. And then for you to have stepped into the shoes at some point. It's just something you can't ever plan or imagine for it. I'm just having the greatest time on this tour representing this America's game essentially. So, I'm really enjoying it.

So how did you get the role of playing the hostess?

I went through a couple of rounds of auditions. And you'd be like, "how do you audition for a project where literally, you're just like walking across the room". But it actually took a lot more improv and talking to the casting director just to see how well you can interact with people in the audience. If you get those little clips. It's hard to hear me on stage. But sometimes I interject Mark with little jokes here and there.

I just wanted to make sure the person was personable. We did a lot of improv. And of course, the walk is very important. And so, we did a little bit of that. But then most of that training because believe it or not, there's choreography to It happened when we had a few days of rehearsal before our tours. So, by now I made up my own and just nailed it.

If you were a contestant on Wheel, what would be your go to category?

I want to say "Places" and only if they choose something that's space related, because a lot of people don't know I'm a huge space nerd. And most of my social media revolves around talking about astronomy and physics. And so, I know a couple of puzzles we had. We've had something about rings of Saturn, or it was like three or four planets in a row. I'm like, "That's my jam".


So what piece of advice would you give an advice to a contestant who's never seen the game?

It's literally your mind set up here. You see how the audience tends to get it within like the first few spins. And you think you're that person until you're up here with the lights and the pressure and the spotlight on you, and then you just start to freeze. So, realize that you got this, the fact that you're up on stage should make no difference.

So, have the competence and there's a lot of rules to the game, but at the same time, it's very simple. Just don't overthink anything. Take your time take the steps most importantly, they'll have fun it's literally called a "game" for a reason. If you're coming here with too much pressure on you, it's gonna just sabotage yourself so just realize this is this is just a good time and that's all the goal should be about.

I got asked the question. Aside from astronomy, what makes you nerdy?

It's mostly in science in general. I absolutely love and in Los Angeles, I work part time at Griffith Observatory there, which is a science/Space Museum, which is good at talking to people. I do like video games. And I do wear glasses. So, there you go.

Is this your first time being in the DMV?

It is! So, I am actually from Ohio but I won't lie. One of the reasons I accepted the offer for this project is because it allowed me to travel almost the entire country to go to places I've never been and it's just been we've been on the road two weeks, it feels like three months already because traveling is no joke. We're like in a different city every single day. It's crazy.

At the same time, that's why I said yes to this is because I wanted to experience that and go to places I've never been before. Like I said and everywhere we've been that people have been so wonderful. So, it's just been awesome.

See Kalpana, host Mark L. Wahlberg & announcer Randy West when Wheel Live heads to your city. To see if they are heading to a city near you, go to https://www.wheeloffortunelive.com/

You can follow Kalpana Pot on social media:
Instagram – https://www.instagram.com/kalpanapot
YouTube – https://www.youtube.com/c/KalpanaPotsSpace