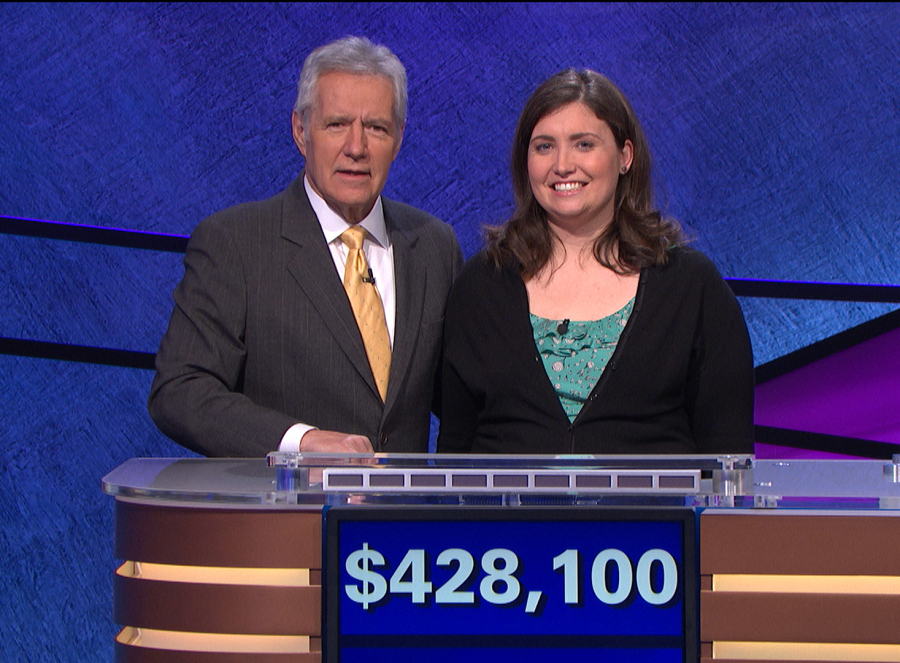 Julia Collins' JEOPARDY! streak came to an end in an episode that aired today, when Brian Loughnane, an investment operations manager from Scituate, Mass., stopped her run at 20 games and $428,100. Collins is now number 2 on the all-time consecutive wins list; no other player aside from Ken Jennings (74 wins) has won more games than she has.
"There are no diminishing returns winning on JEOPARDY!, it just gets more exciting every time you win," Collins said. "I'm delighted that preparation, confidence, and an itchy trigger finger aligned so well. I told Alex [Trebek] on one show that I was having the time of my life, and I meant it."
Collins acknowledged that there are a number of factors that come into play in each game of JEOPARDY!, and that there wasn't "any one thing" that caused her to lose her 21st game.
"I had a feeling my number was up when I was in second place going into Final Jeopardy!," she said. "That hadn't happened to me before. No excuses: I got outplayed that day. Losing isn't fun, but I couldn't have asked for a better experience being on JEOPARDY!."
Collins' $428,100 payout makes her the third-highest money winner on JEOPARDY! history (for regular-season, non-tournament play), and she will return for the JEOPARDY! Tournament of Champions next season.