Joe Satriani – 
A Modern Guitar Hero Celebration
4 min read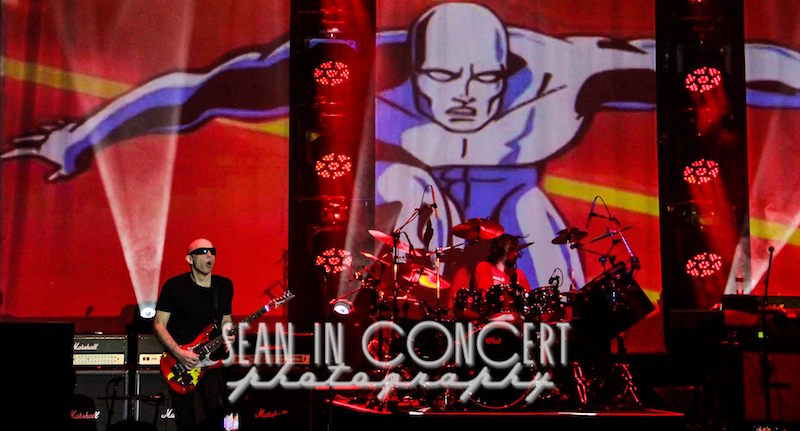 It can be argued that the first guitar icon introduced to us was Jimi Hendrix in 1967 with the release of "Are You Experienced". A decade later, the debut of Van Halen introduced to the next reigning champ of guitar wizardry, Eddie Van Halen. During the next decade, dozens of major g guitarist emerged with the birth of hair metal, all making the claim to be "the next big thing".
One man quietly stood out in front of them all, not only as an amazing player, but an educator as well. In 1986, a few of us music connoisseurs were introduced to Joe Satriani with his debut album, "Not Of This Earth", but a year later, he took the world by storm with "Surfing With The Alien", an album that, almost 30 years later, has stood the test of time and technology stands out as one of the greatest guitar albums of all time.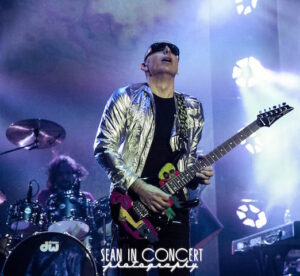 On April 2nd, Joe Satriani brought his 2016 "From Surfing To Shockwave Tour" to a packed Lincoln Theater in Washington D.C. The show is 2 1/2 hours of riffs, scales, arpeggios, dive bombs and mind-bending guitar tricks from one of the best musical minds to ever pick up the guitar. His performance is as fresh and relevant today with new material, including the show opener "Shockwave Supernova", as it was when he unleashed "Surfing With the Alien" in 1988. And to compliment this showcase of Satriani's shredding, he tours with a trio of musicians that are no strangers in the shred community. Mike Keneally, who at one point had one of the hardest jobs in rock as the "stunt guitarist" for the late Frank Zappa (previously held by Adrian Belew, and former Satriani student Steve Vai) doubled as second guitarist with Satch for a few songs as well as doing major keyboard work. On bass was Bryan Beller, who is also the bassist in The Mike Keneally Band and they are both part of the "virtual" band DETHLOK. (Google the Cartoon Networks Adult Swim show Metalocalypse for a better understanding) Not only does he serve as bassist for Satriani's band, he will do double duty as a keyboardist when Joe decides one guitar is just not enough and he calls out Keneally for an axe battle. When Beller isn't with Satriani or any of the other projects, he has his own trio called the ARISTOCRATS, whose drummer extraordinaire is Marco Minnemann who also has a long line of credits in the progressive rock/jazz fusion community.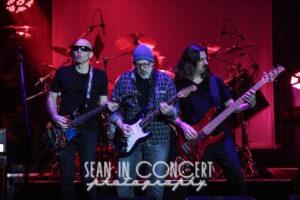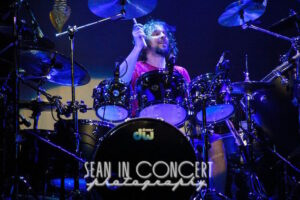 The show itself is amazing. Beautiful imagery is projected as a backdrop for a majority of songs, including the 1992 single "Friends", an amazing instrumental composition but along with the background video created some great "lyrics". I went into this show thinking that I was going to hear mostly "Surfing With The Alien" era songs but it was so much more than that, and it was nice to hear him soar thru most of his catalogue. Other standouts for me were "Butterfly and Zebra" from his latest release, watching him sing the blues (and play harmonica) on "Big Bad Moon, and probably his biggest, most popular piece. A little dance tune called "Satch Boogie". * *insert SurferDude2 pic
The chemistry between these four musicians is really hard to match. This is Joe Satriani's band. They are all playing compositions lead by him, but believe me, this show isn't about ego, its not about " how many notes per minute". It's just about music. Four people who share the same passion about playing to the best of their abilities, and giving a great performance to all the fans
Who have been supporting them all these years? I'd say, 95% of the crowd were all musicians. musicians of all ages. I am NOT one in that percentile, but I love to watch and hear great musicianship. These four are also great educators, and they stress that on and off stage. If you are reading this, and you are planning on going, check out the meet and greet package. You get a chance to meet the band afterwards, and they love to talk shop, and they love to educate. Joe Satriani is definitely a modern guitar hero. When he first emerged on the scene he inspired a generation of budding guitarists. Thirty years later, that same generation and the next three, are still trying to catch up with him. Check out the "From Surfing To Shockwave" tour…all air guitarists are welcome to jam in the aisles.