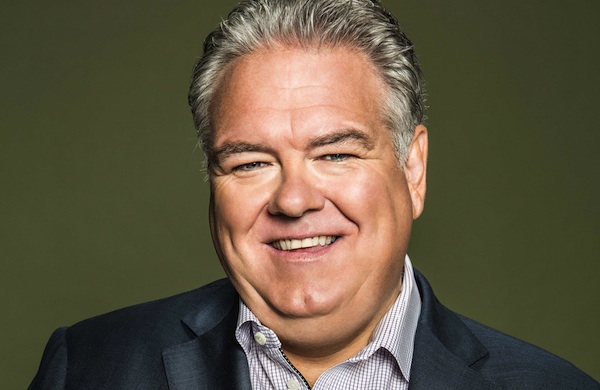 In our final series of AwesomeCon 2019 interviews, Dean on the Scene is talking to Jim O'Heir, who plays Jerry in the NBC smash hit sitcom Parks and Recreation! Would you believe that this was Jim's vert first convention!?!
So now that you've survived three days—and I've seen your line. It's tremendous, it's on-going. I had to be patient, but it's been good.
JOH: (laughs)
How does it feel to meet your fans for the very first time at a convention like this?
It's more than you would expect, because basically, you come in and sit down and have people tell you how much they love you. It's lovely! I mean, in my real life, no one's doing that.
Aww! (laughs)
It's awesome. It was really sweet. The show means a lot to a lot of people, and to think that I have a little part in that is—
No, no no. Little part? No, no, no.
Oh, no, I do. There are so many great characters on the show. If my character, Jerry brings a smile to their face—one girl's telling me what's been going on in her family, and if it's one show they can all look at and still have a lot of laughs together…it means a lot.
Absolutely, especially since you were there for seven years; you had an amazing cast; a lot of people like it. So, what brought you to be part of "Parks and Recreations" in the first place?
I'm an actor in LA, and worked for a lot of years before "Parks." And I got an audition for Ron Swanson.
Really? Wow!
When everybody was auditioning for it. Yeah, so they always wanted Nick. He was always their guy, but they still auditioned everybody. And then they called me back two weeks later and said, "we have this other role, if you would be interested in reading." So, I read for it and the next thing you know…you know, apparently one of the producers said to the other one, "put him in a desk, it'll work out." And thank God they said that, because it worked out.
Especially since you have a smoking hot wife, Christie Brinkley, so I guess that's a good perk.
And she has a smoking hot husband, so what's going on? What's going on with that?
Ah, yes! (laughs)
Yeah, no, she's amazing.
Indeed. So, you were also in "Star Trek: Voyager." You were in "Critical Care." That was one of my favorite series of all time as well.
Nice. I played the role of a husband that was called. I had this piece on my head. It was one of the first times I had to do all prosthetics, where they put this goop on your face and make a mask and put the straws up your nose. It was pretty cool.
Amazing! And now you're in this new show called "Bless This Mess" on ABC. Can you tell us a little about that, since it launched just a week ago?
It launched a couple of weeks ago. It stars Dax Shepard and Lake Bell. It's on ABC, I believe 9:30 Pacific. And it's kind of a reboot of "Green Acres," where the two of them are put…
Two Manhattanites are thrown onto a little farm in Nebraska, and I'm one of the crazy town folk. So, it's been really fun. It's a very sweet show, and Dax and Lake are just wonderful. And Pam Grier is in it, and Ed Begley, Jr. It's really a wonderful show, so I'm telling people to watch it, and I'm on a new show called "Pearson" that starts in May. It's a shoot off of the show "Suits."
Ooh!
So, it's an off-shoot, and…yeah, I don't know when in May, but I know it starts in May.
Awesome. Now that you've completed your first convention, would you do another one?
Oh yes, this was nothing but fun. I just laughed and joked for three days. My throat's trashed; other than that I'm good.
(laughs) Well Jim, thank you very much for being my final interview.
Thanks for sticking around. I know it's a pain.
Catch Jim in his newest series Bless This Mess on ABC and Thank you AwesomeCon for another year and Awesomeness! See you in 2020!