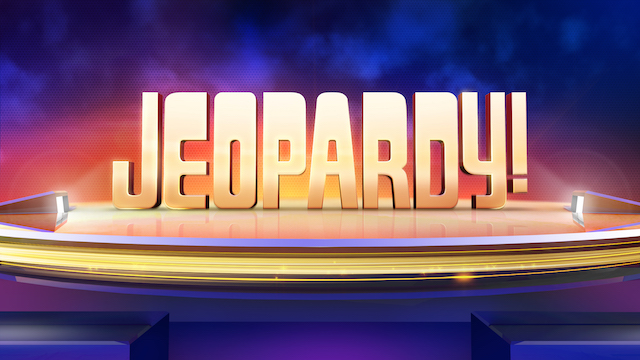 Power Players Week, Teen Tournament, and Final Rounds of Teachers Tournament to Tape at DAR Constitution Hall April 9-13
America's Favorite Quiz Show®, JEOPARDY!, announced today that it will make a special election-year trip to America's capital. Three upcoming tournaments, including Power Players Week, the final rounds of the Teachers Tournament, and the Teen Tournament, will be taped in front of live audiences at DAR Constitution Hall April 9-13, 2016.
Free audience tickets will be available starting Monday, March 7, at WJLA.com/jeopardy, beginning with tickets for the Teen Tournament. Tickets for the final rounds of the Teachers Tournament will be released Monday, March 14, and Power Players Week tickets will be available Monday, March 21.
"Everyone at JEOPARDY! is looking forward to our return to Washington, D.C., particularly during the excitement of an election year," said JEOPARDY! host Alex Trebek. "Our viewers are a particularly politically savvy group, and we hope to see many of them in the audience at DAR Constitution Hall."
The JEOPARDY! tournaments in Washington, D.C., are as follows:
Teen Tournament: The Teen Tournament features 15 of the nation's sharpest high school students competing for $100,000. The Teen Tournament will be taped Tuesday, April 12 and Wednesday, April 13. Airdates are TBD.
Teachers Tournament (Semifinals and Finals): The semifinals and finals of JEOPARDY! Teachers Tournament, presented by Farmers Insurance in affiliation with the Farmers Insurance Thank America's Teachers program, will be the culmination of a competition that features 15 educators facing off for $100,000 and a berth in the next Tournament of Champions. The final rounds of the Teachers Tournament will tape Sunday, April 10, and the tournament will air May 2-13, 2016.
Power Players Week: The fourth edition of Power Players Week will feature 15 newsmakers, influencers, political figures, journalists, and others competing in five stand-alone games for the charity of their choice. Power PlayersWeek will be taped Saturday, April 9, and will air May 16-20, 2016.
For more information, please visit Jeopardy.com.