Jem and the Holograms Official Soundtrack To Be Released on October 23
2 min read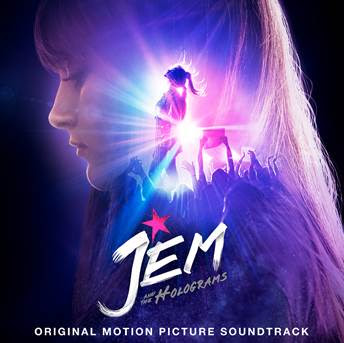 Universal Pictures, School Boy Records and Republic Records announce the Jem and the Holograms Official Soundtrack Album will be available at all digital retailers on Friday, October 23, 2015. The musical adventure directed by Jon M. Chu and starring Aubrey Peeples, Stefanie Scott, Aurora Perrineau, Hayley Kiyoko, Ryan Guzman, Molly Ringwald, and Juliette Lewis arrives in theaters on the same day.
The 13-track album features seven new songs performed by the film's title group—Jem and the Holograms. The album's first single Youngblood, is a collaboration between pop superstar Hilary Duff and Jem and the Holograms.
In addition to music from Hailee Steinfeld, Dawin, Marian Hill, and Ida Marie, Kiyoko contributes the undeniable and unshakable Movie Star. It's a musical ride worthy of the big screen. The full tracklisting is unveiled below.
About Jem and the Holograms:
As a small-town girl catapults from underground video sensation to global superstar, she and her three sisters begin a one-in-a-million journey of discovering that some talents are too special to keep hidden.  In Universal Pictures' Jem and the Holograms, four aspiring musicians will take the world by storm when they see that the key to creating your own destiny lies in finding your own voice.
Directed by Jon M. Chu (Step Up series, G.I. Joe: Retaliation), the musical adventure stars Aubrey Peeples, Stefanie Scott, Aurora Perrineau, Hayley Kiyoko, Ryan Guzman, Molly Ringwald and Juliette Lewis.  Jem and the Holograms, based on the iconic Hasbro animated TV series, is written by Ryan Landels and produced by Chu, Jason Blum for Blumhouse Productions, Scooter Braun for SB Projects, Bennett Schneir, and Brian Goldner and Stephen Davis of Hasbro Studios.  www.jemthemovie.com
Tracklisting:
1.            Hilary Duff and Jem & The Holograms – Youngblood
2.            Jem & The Holograms – Hit Me Up
3.            Jem & The Holograms – Alone Together
4.            Ida Maria – Cold Blooded
5.            Serebro – Mi Mi Mi
6.            Jem & The Holograms and Rio Pacheco – We Got Heart
7.            Jem & The Holograms – Youngblood
8.            Hailee Steinfeld – Love Myself
9.            Hayley Kiyoko – Movie Star
10.          Jem & The Holograms – The Way I Was
11.          Dawin – Life Of The Party
12.          Jem & The Holograms – I'm Still Here
13.          Marian Hill – Got It