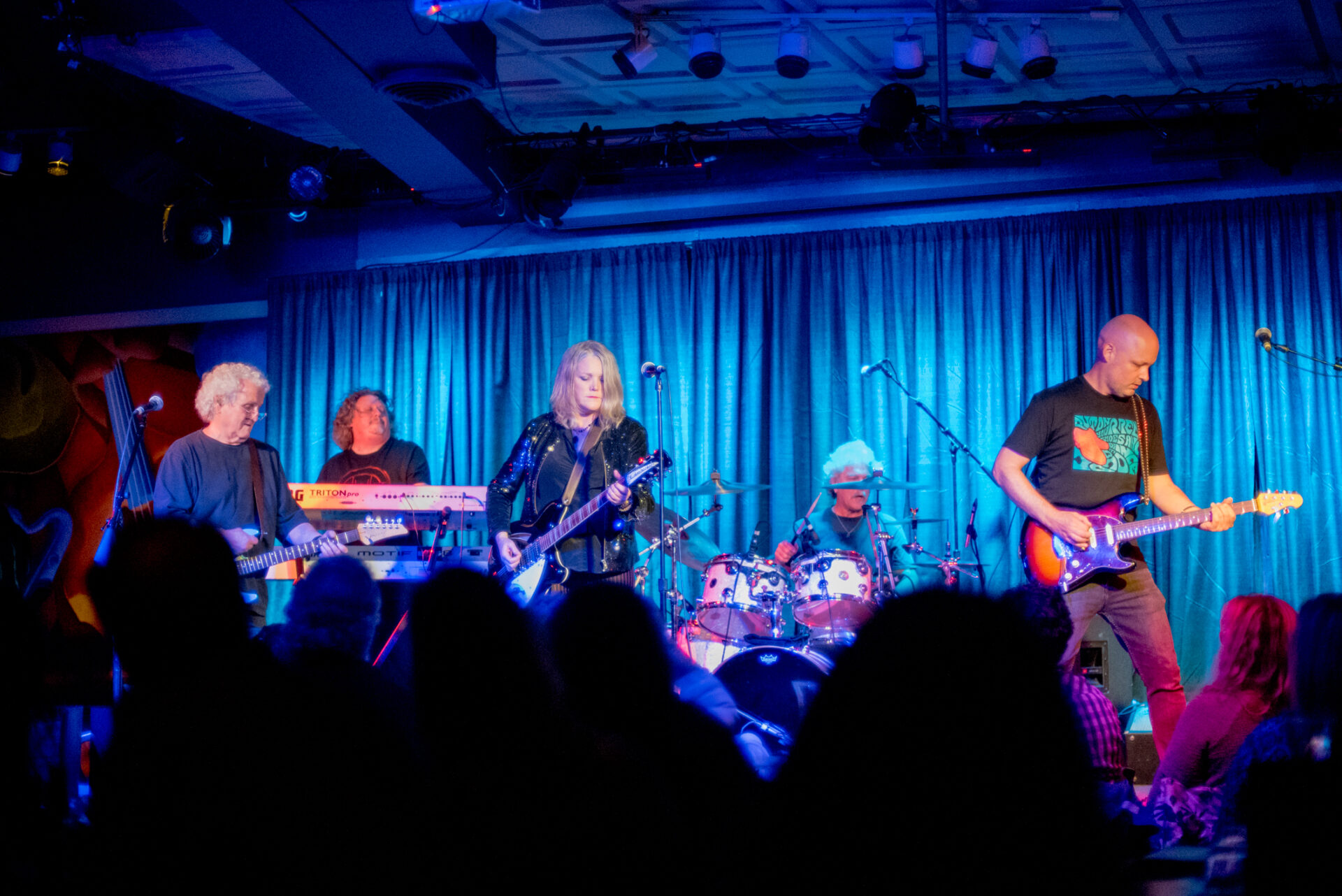 Jefferson Starship has gone through many changes over the years. Starting out in 1965 as Jefferson Airplane in San Francisco as the pioneer of Psychedelic Music. Due to band members going into other directions, in 1972 they changed their name to Jefferson Starship, and dropping Jefferson from their name in 1984 to become Starship.  In 1992 Paul Kantner and Marty Balin joined together to bring back Jefferson Starship. David Freiberg rejoined the band in 2005.
Today Jefferson Starship consists of David Freiberg (Jefferson Starship), Donny Baldwin (Starship), Chris Smith, Cathy Richardson, and Jude Gold. Paul Kantner (Jefferson Airplane, Jefferson Starship) performed with the group until his untimely passing in 2016.
Jefferson Starship performed to a sold-out Tuesday night crowd on February 20th at Rams Head On Stage. This venue is in downtown historic Annapolis MD and they played to an energetic crowd. The band sounded great, the only down side was the start of the show, the vocals were a little underwhelming.  The bass and drums drowned out some of the wonderful vocals from Cathy and David. But as the show progressed, the sound got much better and balanced and you could appreciate how well they played together.
They performed some great Jefferson Starship classic songs including "Find Your Way Back", "Miracles", "Ride The Tiger", "Count On Me". They also performed Classic Jefferson Airplane songs such as "3/5 Of A Mile in 10 Seconds", "Embryonic Journey", and "White Rabbit".
There were chants for music from David Freiberg's band Quicksilver Messenger Service which Cathy mentioned they would put that request in their back pocket. The crowd also wanted to hear a specific song from Starship. Which song could this be you may wonder?  It was one of Starships #1 hits. It also has been referred to as the worse song of all time!  Want more hints?  It has to do with building a city…
To the cheers and wondrous applause of the audience, Starship answered the chants… They performed…
"We Built This City"…
Being that this song has a lot of controversy.  love or hate the song… Nevertheless, I will say Cathy nailed this song as she did with other songs. The real highlight of "We Built This City" for me was David's vocals. David, is 79 years old and will be turning 80 this year! His vocals to me were just as good, even better at times than the original vocals. Being a performer as long as he has, he has troubles hitting high notes.  But David gave it his best and sounded great.  To me he was one of the best parts of the show. Their performance of this song, brought the energy in the room to a new level!
They ended their set with a rocking version of "Jane" and a cover of "Somebody to Love" (Great Society). When Jefferson Starship left the stage, the energy was intense and you knew they would be coming back out.  To the excitement of the crowd, they reached into their back pocket for the encore. They played the song "Fresh Air" from Quicksilver Messenger Service at the thrill of the audience. Again, in David's vocals on this song were amazing. They closed out the night with Jefferson Airplanes "Volunteers".
Consequently, I grew up listing to Jefferson Airplane, Jefferson Starship, and Starship. This was a great night of music listening to the songs from various bands who touched each other in one way or another through the band members over time. They talked about how much they love playing at Rams Head On Stage. The crowd did not want the night to end. There were many other songs they wanted to hear!
In conclusion, it's great to see David Freiberg and his band members playing these songs for their passionate fans and hope to see them spreading the music for years to come.
Grade: A
Photos by Jeff Talbert