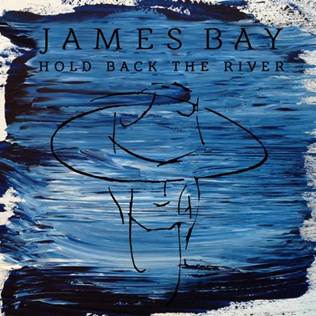 EP DEBUTS #1 ON iTUNES UK ALBUM CHART
SINGER RECEIVES CRITICAL ACCLAIM ACROSS THE GLOBE
FULL-LENGTH DEBUTALBUM OUT IN 2015
JAMES BAY releases his new highly anticipated  EP, Hold Back the River [Republic Records], on iTunes and all digital retailers today. You can purchase it here. Recently, BAY premiered the music video for the title track and first single on VEVO, and yesterday the EP debuted #1 overseas on the UK iTunes album chart.
The UK singer-songwriter continues to solidify himself as a folk soul sensation around the globe. Back home, celebrated tastemaker and early supporter Zane Lowe hosted a session with BAY on BBC Radio 1. Check it out here. The session turned heads around the globe as he performed "Hold Back The River," "Let It Go" and a cover of Alt-J's "Left Hand Free."
You can properly get to know him with Hold Back The River though. It's a snapshot of his talents over the course of four heartfelt and hypnotic tunes. It also hints at the journey encompassed within his highly anticipated full-length debut—out early 2015.
This year, BAY has turned audiences into believers everywhere from London's iTunes Music Festival to Burberry's Prosum Spring/Summer Fashion Show. Zane Lowe named "Hold Back the River" as the "Hottest Record in the World" and "Single of the Week." Every time Radio 1 played "Let It Go", it became "the most Shazam'ed track in real time". He's also hit #1 on HypeMachine's Overall Popular Chart twice.
About the EP, Evening Standard claimed, "(James Bay has) the mature feel of a much more established artist and could be filed between your Passenger album and Ed Sheeran's weepier moments," while New York Times wrote, "In the last few years, the variety of British singer-songwriters has grown to encompass soul crooners, folk howlers, and modest whisperers. Somehow, JAMES BAY is all of those things and more". People named it him of "People's Picks," Consequence of Sound called his music, "a captivating listen through and through", andClash said, "Rising songwriter continues to impress". Finally, The New York Times featured BAYin their recent "Sunday Playlist", while he also garnered recent features in Harpers Bazaar UK,InStyle Germany, Yahoo! Lifestyle UK, and more from his head turning show at Burberry.
BAY hails from the tiny town of Hitchin, but he cut his teeth during rapturous sets at London's famed Blue Flowers Club as well as performing iconic venues including opening for The Rolling Stones at Hyde Park, opening for two sold out tours with Kodaline, John Newman and Tom Odell. It was at one of these very performances that a fan filmed his set and shared the video on YouTube. The video quickly caught the attention of Republic Records who ended up flying BAYto New York and signing him on the spot. BAY is now set to kick off his second sold out headlining tour of the UK.
Hold Back The River Tracklisting: 
1. Hold Back The River
2. Sparks
3. Wait In Line
4. Hold Back the River (Live At The Hotel Café)
James Bay Links
http://www.jamesbaymusic.com/
https://www.facebook.com/jamesbaymusic
https://twitter.com/jamesbaymusic
https://www.youtube.com/user/jamesbayofficial
http://instagram.com/jamesbaymusic