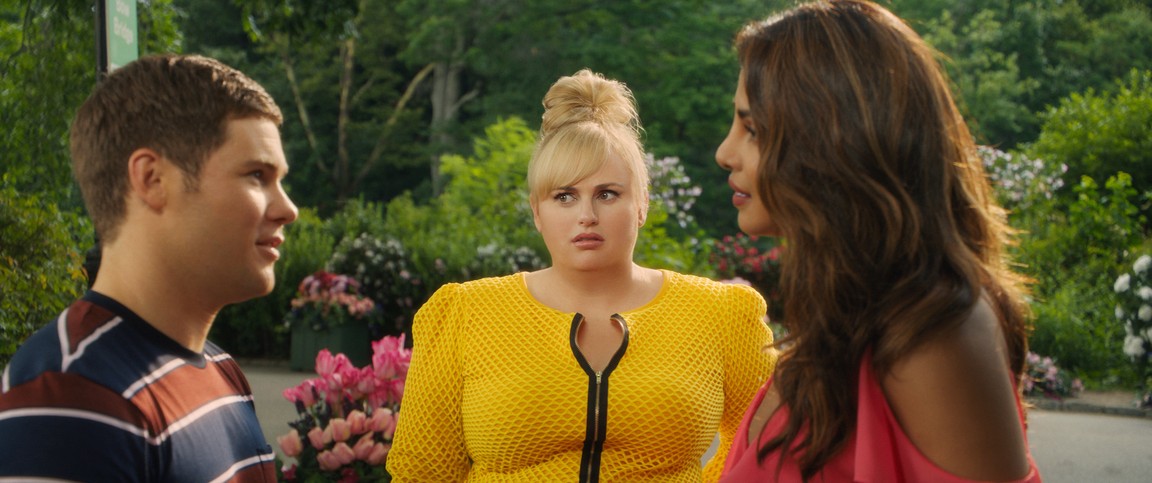 Over the past year, the desire for stories that aren't centered around the straight white male has risen. Films like Black Panther or Crazy Rich Asians dominated the box office at record numbers, showing that there is space for everyone on screen. One demographic not normally seen in a positive or romantic light, until recently, is the fat woman. Hollywood, a land that prides itself on glitz and glamour and thinness, often excluded the fat woman from its narratives (unless as a best friend or comic relief). This is changing. Within the last year, movies and shows like Dumplin', Dietland, the upcoming Hulu show Shrill have shown plus size women in a variety of situations often only afforded to thin individuals. As a fat woman myself, I preface this review with this disclaimer, because its an important context to view the newly released romantic comedy Isn't It Romantic.
The idea has been played before, last seen in last year's I Feel Pretty. An insecure unconventionally pretty yet real looking woman (Rebel Wilson), is hit in the head and her perspective changes. This time, Wilson's character wakes up in a romantic comedy, having to fulfill every troupe the genre has to offer before coming back to her reality, including falling in love with an unattainably hot human (Liam Hemsworth), falling in love with her best friend (Adam Devine), splitting up his wedding to Priyanka Chopra, having a borderline offensive gay best friend (Brandon Scott Jones), and a female work nemesis (Betty Gilpin).
These counterparts have characters in the "real world," Devine being her best friend who obviously likes Wilson's character. Hemsworth plays a client of her architecture firm and Chopra is the scantily clad model on the billboard across the street that Devine's character can't stop staring at. A critically underused Gilpin plays Wilson's assistant/best friend, dressed down with frizzy hair and love for romantic comedies.
The film plays off ever romantic comedy cliché in every rom-com. Ever. When the cliché is worked into the story in a clever way, the concept works really well. When it's not, the film feels monotonous. There are some genuinely funny moments, but at times its momentum slows to a clunky halt. Isn't It Romantic doesn't really say anything new that hasn't been said before by Julia Roberts in the 1990s. You have to love yourself before you love someone else (thanks RuPaul!)
What is refreshing is to see is a bigger woman as a romantic lead. To see thick arms, back rolls, and protruding bellies on the big screen, is why representation is so important. The film makes this connection inadvertently. Wilson's character is unable to connect to these films because she has never seen a body like hers in Julia Robert's or Drew Barrymore's position. To show these bodies as earnestly sexual, not comical like in Wilson's and Devine's Pitch Perfect 2, is groundbreaking.
This movie is watchable, enjoyable even, especially if you are looking for a romantic comedy that as meta as it is comedic and features a plus size lead. Is it the greatest romantic comedy ever? No. But it is worth watching for its representation alone.
GRADE: C