Iron Butterfly Spread's Its Metal Wings at Rams Head On Stage
3 min read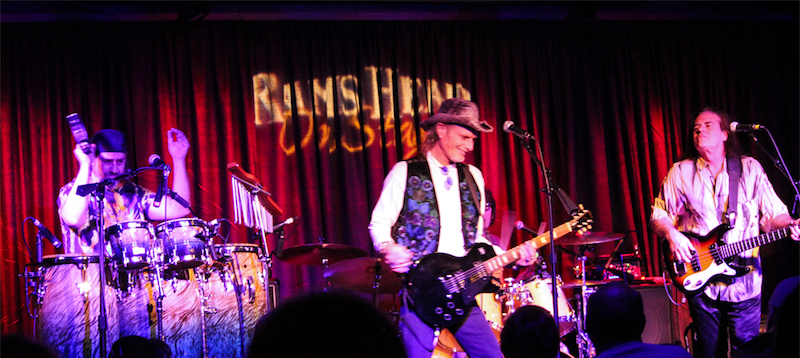 Saturday November 28th 8p.m. – Iron Butterfly has left an undeniable footprint in the creation of hard rock. In 1968 In-A-Gadda-Da-Vida exploded into the Billboard top 30 and eventually went on to sell over 20 million copies. Tonight at Rams Head On Stage in Annapolis; Iron Butterfly spread's its wings. It's their first tour since 2012.
The concert opened with My Silent Bravery, a solo acoustic guitar show. Being on stage, just you and a guitar, isn't easy. It's all you, with no backing. Singer Mathew Wade tackles that challenge easily. He keeps the tempo upbeat and the message positive. It was a pleasant sounding opening act to ease our ears into what was sure to be a loud percussion heavy Iron Butterfly. I like the atmosphere a good solo guitar act can bring. Very comfortable and mood lifting.
Iron Butterfly has gone through quite a few musicians since their 1966 debut; roughly fifty-seven. Their current line-up includes, Eric Barnett – guitar, vocals, Mike Green – percussion, vocals, Dave Meros – bass, vocals, Phil Parlapiano – keyboards, vocals, and Ray Weston – drums, percussion. Doug Ingle Iron Butterfly's original composer and vocalist haven't played with the band since 1999. Eric Barnett is the current longest standing member and main vocalist. The current band definitely captured the Iron Butterfly sound. It's hard to nail Doug Ingles heavy soul singing approach completely, but Eric was close enough to make it feel like it was the Iron Butterfly I know from the albums.
They opened with the psychedelic rock Iron Butterfly Theme. An outstanding jam instrumental! Eric Barnett on guitar was great in tandem with Phil Parlapiano on organ. It was awesome vintage Iron Butterfly sound. Some other incredible songs were Real Fright. and In the Time of Our Lives off their 1969 Ball album. Real Fright is a quirky little number. It reminds me of the Munster's Theme. In the Time of Our Lives has some great harmonizing vocals. Another awesome song performed was of course In-A-Gadda-Da-Vida. They stayed true to the original and played the 17 minutes extended version. Ray Weston turns out a pretty impressive drum solo, John Bohnam style, where the rest of the band leaves the stage and Weston goes animal. That's all I was really hoping for all night was that they play the extended version of that song, ferociously jamming out, and they did; it was great!
My favorite aspect of the show was Iron Butterfly's instrumental ensemble. You had your basic drums, guitar, and bass but then you also had congas, roto toms, and electric organ. I relish the combination of congas and organ. It was music to my ears! Everybody sounded great. Eric Barnett was a magician with the guitar; he can really make some spectacular sounds with amplifier feedback. Dave Meros on bass didn't miss a beat all night. My favorite part of the whole concert was the In-A-Gadda-Da-Vida opening bass line. It's an awesome bass line to play for anybody learning the bass that wants to rock out. Phil Parlapiano added a nice touch on organ. There's nothing like good rock n roll organ! There needs to be more organs in rock n roll today. Grace Potter and the Nocturnals is the only band that comes to mind.
This was a great concert even if there weren't any original Iron Butterfly members performing. They still pulled it off, and at a better than satisfactory level. It's kind of like classical music in the sense you have a great composer and you have an orchestra or "ensemble" of musicians performing your work for decades and even centuries to come. Iron Butterfly is a good act, they really nailed that 1960's hard rock sound, and it sounds phenomenal live. I would recommend catching them on tour if you have the chance.