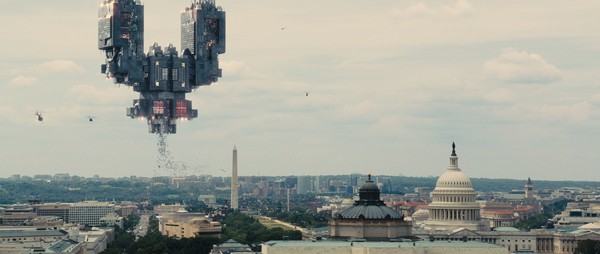 The movie starts out in the summer of 1982, when teenager Sam Brennan attended a video arcade championship with his buddy Will Cooper. They met a boy named Ludlow and the opponent whom Sam was playing against was Eddie Plant. When Sam lost to Eddie, his dreams were shattered for life.
Years went by as they became adults while each entered new roles in their life. Sam (Adam Sandler) took on a dead-end job as a TV installer, while Will (Kevin James) became the President of the United States, and Eddie (Peter Dinklage) ended up in the Prison System as a convict.
Sam was called to install a television at the home of Lt. Col. Violet Van Patten (Michelle Monaghan).  He developed a friendship with Violet's son Matty (Matt Lintz) through video games. Sam and Matty discussed the strategy of beating video games. Sam felt it was about the patterns and numbers, Matty believed that one had to put himself as the character in the game: ''You are the man and you don't want to die".
Suddenly Sam receives a surprise visit from Ludlow (Josh Gad) who makes him aware of a tape of the possibility of alien attack. Meanwhile Sam alerted Will of a possible invasion that they thought was Galaga.
There were strange alien attacks on earth due to misrepresentations through some signals in the old video games whereby the aliens believed it was a declaration of war. With the decreasing polls in the President Cooper's popularity he called on his old friend Sam to come to his aide. Sam and Will realized that they need the help of Eddie who was in prison.
Professor Iwatani (Denis Akiyana) the Japanese creator of the Pac Man video game, along with Sam, Ludlow and Eddie aimed to fight the centipedes along with other vicious pixelated characters that had came to life to invade earth.
Adam Sandler's role in this movie wasn't a funny character but had more of a serious demeanor with low-self esteem that needed to rebuild his confidence. In other movies that he's been in such as Click, Mr. Deeds, & Big Daddy, he provided comedic humor.
Josh Gad was pretty funny for his role in this movie he went from a quiet nerd to a cocky action hero. He has become a well known big hit since the Disney flick Frozen and continues with 2015's The Wedding Ringer.
Kevin James and Adam Sandler seem to perform well together in this movie as they do in other movies they have worked on such as Grown Ups, Grown Ups 2 and I Now Pronounce You Chuck and Larry.
Pixels was entertaining with several unusual twists, celebrity cameos, musical tunes like We Will Rock You and a surprise ending.
This movie is kid friendly because of the  classic arcade characters from the 1980's including the dog from Duck Hunt and Q*Bert. There was a lot of action that children would enjoy. Once the character was defeated, of course you will see "Game Over".
The movie is not that different in 3D so there's no need to pay extra money. I think that parents and kids would enjoy this movie.
FINAL GRADE: B-