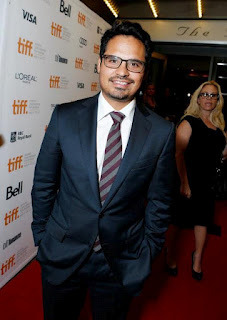 Michael Peña is one of those actors who is a movie-lover at heart.
When talking to him about his latest film, End of Watch (which also stars Jake Gyllenhaal, America Ferrera and Anna Kendrick), Peña pulls you into the conversation with references to his favorite films, his ideal leading ladies (which might surprise you, BTW. So read on to find out below), and talk about character-driven action movies versus those focused on special effects.
For this special edition of INTERVUE: guest entertainment reporter Markette Smith of Chicks Who Like Flicks got a chance to interview the actor, recently!
Peña loves talking about the greats who've come before him – like Brando, DeNiro and Hoffman – and how he's watched all of their movies 100 times over.
The Chicago born, Mexican-American actor made his first major mark in Hollywood in 2004's Crash and says he hopes to follow in the footsteps of the greats someday.
In 'Watch,' he gets one step closer with a seamless performance in his role as Officer Mike Zavala, a young cop who along with his partner (Gyllenhaal) becomes marked for murder by gangsters after stumbling upon a violent drug cartel and human trafficking operation in East Los Angeles.
On his part in the film, Peña says: "There's not a lot of times when a role like this comes your way as an actor… and you're the star of the movie."
To Read Markette's entire interview with Peña – click here:
Markette Smith: What was it like shooting the scenes in L.A.? You actually had some real-life former gangsters serving as extras in the film. Michael Peña: It was interesting.  Some of them didn't really know the etiquette for extras and it really added that sense of reality to the movie. You couldn't help but think like, "Whoa, whoa, whoa! What the [email protected]#! just happened? [laughs]
But I actually really enjoyed it. They acted like real people, especially in the party scene. They were told to drink or whatever, but they got drunk and they got loud. And here we are pretending to be cops in East L.A. [chuckles] You know, like in South Central, we're not super popular there.
Smith: So you and Jake Gyllenhaal really pull off the cop role quite well. What helped you get into character? Peña: Well, the movie is about two brothers and their journey and how they help each other out, so we did like 40 ride-alongs with the sheriff's department and different parts of L.A.P.D. in preparation for those crazy, intense scenes we had.
You want the audience to experience this film, right? You want to give something different, you know? That right there, for me, changed the whole movie.
Smith: The ride-alongs made it more real for you, is that what they did? Peña: Yeah, but you also look at the police officers and how they spoke to each other and sometimes it was non-verbal. Sometimes when they got into trouble and back up was maybe 10 minutes away… You really have to know how to handle yourself and how to fight together, so to speak.
Smith: Yes, I saw that in your role and in Jake's role. You two were a team. I really felt the brotherhood in this movie. Is that how you felt, too? Peña: That was the first thing out of [director] David Ayers' mouth when I met him. In a meeting he was like, he could make these big action movies and make them cool or whatever, but he was like, "This movie is going to be about brotherhood."
He was like Jake's character and my character and America Ferrara's… we all had to be able to feel the brotherhood.
Peña and Gyllenhaal play "bros" who get caught up in some street thickness reminiscent of "Training Day."
Smith: What was it like working with David as a director? He was also the writer "Training Day" and this movie kind of felt like that a little. Peña: He's an actor's director, I think. He's really focused on the acting, he really cares about the character and obviously he can take care of the action sequences.
"Training Day" was a great movie, but it was also a character-driven story and that's what made it so interesting. And this one [End of Watch], he is the same way. It's about the characters driving the action.
MS: You don't see many Latino actors getting to play in leading roles like this. Officer Zavala is a character that any actor of any ethnicity could have played… and you nailed it. Michael Peña: I never think in terms of that, to be honest.  I'd like to think that I do it for people in general, and then being Latino – I'm very much aware of the fact that I am Latin – I'm proud to be doing what I am from my standpoint.
TRR would like to thank one of our superstars and great friend, Markette Smith, for sharing her interview. If you want more of Markette's views and reviews of flicks, go to http://chickswholikeflicks.blogspot.com/