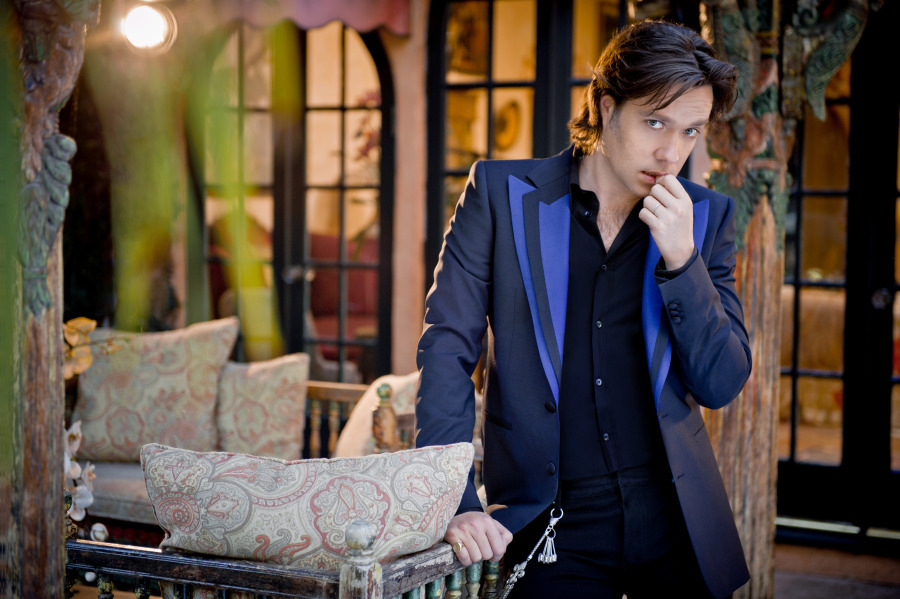 I will start by saying that I am an Ingrid Michaelson fan, so I wanted to see her live because the acoustic versions of her songs are my favorite. As far as Rufus Wainwright, I am familiar with his cool tone from his version of "Hallelujah" that was used on the soundtrack of "Shrek". It was interesting to me that Ingrid kept saying that she was grateful that she was "opening" for Wainwright and he, in turn said the same thing when he came. But this was a split-billing, meaning that the artists share equal billing and could essentially trade places any performance.
Having said that, Ingrid came out and the audience was with her 100%. Her voice and quirky personality make her fun to listen to. She went off on impromptu, yet amusing tangents and sang too! She did "Soldier", "Parachute", "Blood Brothers", "Black and Blue" and "Ghost", along with one of her most recognizable hits, "The Way I Am". I was curious why she didn't sing, maybe her most recognizable song, "Be Ok", but maybe she's just sick of it!? She recreated a performance that she did at Carnegie Hall to honor R.E.M. and sang "Night Swimming". She has that banshee-esque tonal quality to her voice and combined with her vocal range, makes for an interesting bohemian style product. Her personality also makes her fun to see in concert and you can tell that her band isn't just there to be back-up, that they actually connect with her and like playing the songs, not just because they were hired to play. Her songs have deep meaning and because she writes them herself, she expresses that meaning through her voice. She has a great control of her voice and is able to make some powerful belts melt into some very soft flutters. Because of her funky persona and style, she reminds me of this generations Lisa Loeb and could be easily compared in vocal style to Katie Herzig and Sara Bareillis, but she still owns her uniqueness! She is fun to watch and listen to!
Then we had Mr. Wainwright. As I said, I came mostly for Michaelson, but I like Rufus' voice, so I was intrigued to hear more. He is an eccentric cross, vocal style-wise, between Manilow and Elton John and reminded me, look-wise, of Johnny Depp in "Charlie and The Chocolate Factory" with a touch of Jack White….do you have the live picture?! His voice, as I said, has a cool tone to it, but his diction live, isn't so great and because I don't know his songs, it was hard to understand some of them! He's fascinating to watch and he too, had some fun stories. I have to say, honestly, that I wasn't captivated enough by him as a performer. I would love to sit and have a conversation with him, but he is one of those people that could use a laser show or something to add to the drama of his show. He's a cool cat, but I wasn't alone and every time there was a break in song, people left and never came back! I did like some of his songs, "Jericho" and his cover of Judy Garland's, "The Man That Got Away" from, "A Star is Born" and I liked the way he started, in complete darkness with just a couple of candles and an a cappella rendition of "Candles". The most interesting parts of his show were when he had his back-up vocalists sing lead. Krystle Warren's voice is like listening to Maya Angelou read her own poetry. The feeling and soul that went into it were beautiful. Charice Blackman and Teddy Thompson also sang with Rufus and that made for a more dynamic performance. The variation of their voices made an interesting blend on the harmonies and "One Man Guy" became my favorite song of the night. He is an interesting person and his background story is compelling (check out his wikipedia page) but unless he's covering something, he didn't make a fan out of me. Tons of fans filled The Filene Center and I can see that if you are a fan of his, that it was a good evening and overall I would say that fans were satisfied, but he didn't create any new ones. Most of the disenchanted left or fell asleep. When he's singing you know that he feels the words but it doesn't translate to the listener and I think that's where he lost me, besides the diction!
For both performers, you need to like them in order to go see them live. Neither were captivating or exciting enough to see again, right away. If you're  a fan and they put out something new, that will be the next time to see them. It's not a concert I would recommend to just anyone looking for a night out.
Overall Performance Grade: B-
Ingrid Michaelson's Performance Grade: B, even if you're not a fan and are going to see Wainwright, her songs are cool, her voice is good, and she has a way about her that makes her fun and I'll be interested to see what she comes out with next.
Rufus Wainwright's Performance Grade: C, if you are a fan, I'm sure the grade is higher, but he didn't make me want to run home and download anything, even the songs that I liked. I have only been interested in reading about him, as a person, since the concert. And his diction left a lot to be desired.
Venue Grade: A+, this exactly the type of show that works best at Wolf Trap.