Idina Defies Gravity
5 min read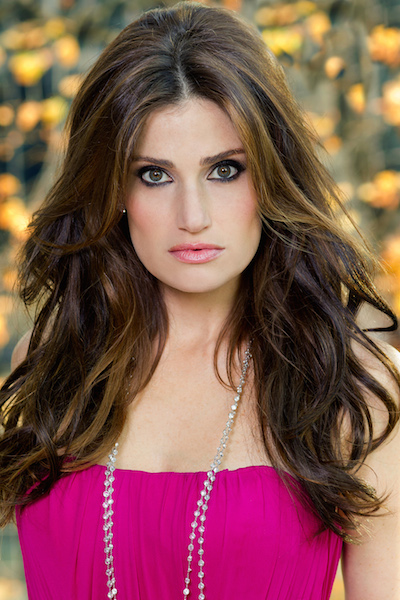 I'm sure that title has been used before, but she lives up to it each and every time! Idina Menzel came to Wolf Trap over the weekend and shared a very special night with the NSO and the audience.
The evening started with a lively composition performed by the NSO and composed by our Conductor for the evening, Steven Reineke, entitled "Celebration Fanfare". It's a magical piece, befitting the evening. It reminded me of something you would hear in a Disney parade. I was waiting for Tinkerbell to come light something up any minute…lol! After that wonderment, we were treated to a piece called, "The Symphonic Sounds of The Supremes". It's a medley of songs by The Supremes, incorporating, "I Hear a Symphony", "Stop! In the Name of Love", "Touch Me in the Morning", "Ain't No Mountain High Enough" and then they came back to "I Hear a Symphony" naturally! What I really enjoyed about the piece was Steven's conducting! He has a real pizazz, a zippiness to his conducting and he "dances" through each number! With the bounce in his stance he cheerfully conducted the audience during the "Stop! In the Name of Love" portion, so that we would sing the chorus correctly! He is so much fun!
The grand entrance of our goddess of the night, is heartfelt with a lovely, offstage start. Out of the night we hear, "Somewhere Over The Rainbow" and that instantly recognizable tone. It's a perfect lead-in for the singer because it suits her on many levels. Judy Garland's (who sang the original) voice is another very identifiable tone, the moment you hear her and of course because Idina is possibly best known for her expert portrayal of Elphaba (The Wicked Witch of The West) in Broadway's Wicked.
I have seen Idina live before, in Wicked and at our very own Filene Center. This concert was no exception to her expertise being stunningly showcased. Reineke was with her the whole way and was so attentive to her vocal stylings. How he followed her was like he had eyes in the back of his head! The night included wonderful stories about her schooling at NYU and her awkward beginnings as an actor, which lead into a terrific mash-up of Cole Porter's, "Love for Sale" and Sting's, "Roxanne".  She performed a lovely rendition of "Both Sides, Now" and belted out "Don't Rain on My Parade" with her famous story about meeting Streisand at The Kennedy Center Honors. Another mash-up included U2's, "I Still Haven't Found What I'm Looking For" and Peter Gabriel's, "In Your Eyes". It was a pretty standard concert format, fantastic songs were chosen to show her range as a performer, some that we have heard her sing in concert before and some new choices.
If you don't know her from her turn on Broadway in Wicked and you still know her from a musical, then it must be RENT. Menzel played Maureen in the original company of RENT, but famously reprised the role for the 2005 film version. Her voice is showcased in the film to the utmost and girls everywhere have learned every single line…thankfully! At the midpoint of her time onstage, she starts to sing one of her well-known songs from RENT. At the first strike of the keys on the piano, we know exactly which song it is and curiosity started to sink in that it's a duet, so where is she going to go with this? Some had hoped that Taye Diggs (her husband and very talented singer in his own right) would surprise us and join her onstage, but instead Idina made her way into the audience and asked for a girl to sing with her, afterall it is a duet for two women! Idina found her girl, Lacey, an incredibly shocked and excited girl, and then they sang it together.
The audience cheered and gave Lacey her well-deserved standing ovation! Though she was nervous and awe-struck, she could sing and did a great job! Idina then asked for a guy and I have never wanted to be a teenage, musical theatre guy so much in my life! No one would obliged! She picked one who said he was too nervous, so she moved on and asked for another teenage, musical theatre lover. A very energetic girl was chosen and there they were, Emily and Idina singing the second verse. Then, Lacey and Emily were brought onto the stage and received the greatest gift of both singing with Idina and performing on the huge Filene Center stage with the National Symphony Orchestra….double whammy!
We heard a touching performance of "No Day But Today" and then we made a u-turn back to Wicked with "I Have Been Changed For Good", which naturally lead the pinnacle of the evening, "Defying Gravity". As Idina has said, she will be 90 years old, in Vegas, and no matter what she ever does in life, she MUST sing "Defying Gravity", but it's because she emotes such passion when she sings it, that even if she came out and just sang that, it would be a great night! Usually, that has been her finish, but she continued the night with an original song by composer, conductor, orchestrator and musician Tom Kitt (Next to Normal). She then closed the night with a melodic "There's a Place For Us" from West Side Story, a brilliant way to finish her night with the NSO and foreshadow the following night at Wolf Trap.
It was an expertly driven concert and I would see her again instantly and anytime Steven Reineke will be conducting in our area, I will be attending! WELL-DONE!
Overall Performance: A+
Steven Reineke's Performance: A+, his spirit is infectious and his style is very visual, which makes him a lot of fun!
Idina Menzel's Performance: A+, her vocals will go down in history with the likes of Streisand, Garland, and Merman, as instantly recognizable and truly unique. Her belt is phenomenal and her head voice is controlled and moving. She performed (to her credit) for almost two straight hours in her gown and bare feet.
NSO Performance: A+, flawless as always.
Venue: A, it was a very hot night and a reminder that we are actually outside. The shells above us and the wood face walls behind the NSO are fantastic for relaying the sound clearly, out to the lawn seats and beyond.