Worldbeat singer-songwriter Idan Raichel in stripped down, acoustic show
2 min read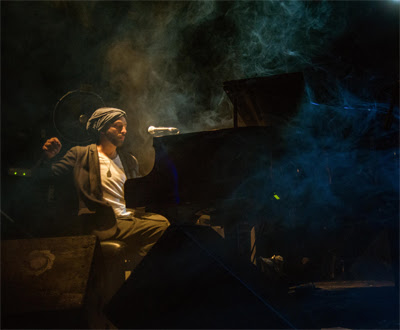 After 15 years as leader of The Idan Raichel Project, world music superstar Idan Raichel is refocusing on the basic essence of his music with the stripped-down, solo piano concert Idan Raichel: Piano Songs in the Music Center at Strathmore on Thursday, February 22, 2018 at 8 p.m. The intimate concert format inspired his 36-song double album Idan Raichel – Piano – Songs, due for release in January 2018 and featuring two previously unreleased compositions. Solo on stage, Raichel jumps from acoustic to electric piano, percussion, drum pad and looper, to even toys from his two young children, in a testament to the transcendent joy of music-making and his boundless enthusiasm for experimentation. This intimate and inspiring show allows Raichel to demonstrate his gifts as a singer-songwriter that have made fans and collaborators of India.Arie, Dave Matthews, and Alicia Keys. This performance is part of Strathmore's Windows to the World series of international performances, harnessing the potential of music and art to break down barriers, spark conversation, and build understanding between people of different backgrounds. For more information or to purchase tickets, call (301) 581-5100 or visit www.strathmore.org.

Patrons can deepen their experience at the pre-concert panel discussion Music as Cultural Diplomacy in the Middle East beginning at 6:45 p.m. Experts will explore how music has been used as a bridge between communities in the Israeli-Palestinian conflict. Free with concert ticket; registration recommended.
Producer, keyboardist, and composer Idan Raichel is a cultural ambassador whose unifying and uplifting music presents a hopeful world in which artistic collaboration breaks down barriers between people of different backgrounds and beliefs. This creative ethos has led to an abundance of eclectic collaborations with artists the world over—household names in their native countries—such as Portugal's Ana Moura, France's Patrick Bruel, Italy's Ornella Vanoni, Germany's Andreas Scholl, and Mali's Vieux Farka Touré.
With his band, The Idan Raichel Project, he has headlined some of the world's most prestigious venues, including New York's Central Park Summer Stage, Apollo Theater, Town Hall and Radio City Music Hall; Los Angeles' Kodak Theater; the Sydney Opera House; Zenith in Paris; London's Royal Albert Hall; and many international festivals.
Strathmore Presents
Idan Raichel
Thursday, February 22, 2018
8 p.m.
Tickets $32-$74
For additional information or to purchase tickets, visit www.strathmore.org or call (301) 581-5100.