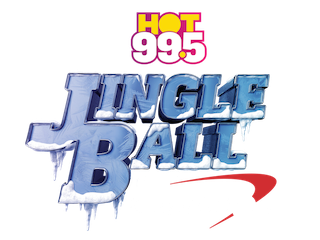 HOT 99.5, DC's #1 Hit Music Station, unveiled the star-studded lineup for its annual holiday concert, Hot 99.5's Jingle Ball 2015, presented by Capital One, taking place on Monday, Dec. 14 at 7 p.m. at Verizon Center. Hot 99.5's Jingle Ball 2015 is part of the national iHeartRadio Jingle Ball Tour, the season's biggest annual music event that captures the holiday spirit of the iHeartRadio app, in Dallas, San Francisco/Oakland, Los Angeles, Minneapolis, Philadelphia, Boston, New York, Chicago, Miami/Ft. Lauderdale and Tampa, with an additional Jingle Ball event in Atlanta.
HOT 99.5's on-air personality, Kane, officially announced the all-star performers for HOT 99.5's Jingle Ball 2015, which will include 5 Seconds of Summer, Demi Lovato, Shawn Mendes, Zedd, Tove Lo, Charlie Puth, Hailee Steinfeld, R. City, Alessia Cara and Natalie La Rose.
Capital One will sponsor the iHeartRadio Jingle Ball Tour and as part of this partnership Capital One cardholders get exclusive first access to high demand tickets through a special iHeartRadio Jingle Ball Capital One cardholder pre-sale. The iHeartRadio Jingle Ball Capital One cardholder pre-sale began Oct. 6 at 10 a.m. local and will run through Oct. 9 at 10 a.m. local or while supplies last. Tickets will be available at www.iHeartRadio.com/CapitalOne. Any remaining tickets will go on sale to the general public on Oct. 12 at 10 a.m.local, and will be available at http://iheartradio.com/jingleball.
"HOT 99.5's Jingle Ball is the must attend holiday concert of the season," said Tommy Chuck, Hot 99.5's program director. "We have another incredible line-up this year and look forward to an amazing night with a packed house at Verizon Center."
"Jingle Ball is one of my favorite events of the year," said Kane, Hot 99.5's morning show host. "When we get the hottest acts in music together with a few thousand fans and a little holiday magic, anything can happen!"
Every year, HOT 99.5's Jingle Ball gives back to the community to celebrate the holiday season.  This year's official charity for HOT 99.5's Jingle Ball 2015 is the Ryan Seacrest Foundation – a $1.00 of each ticket sold will be donated to the non-profit organization, which is dedicated to inspiring today's youth through entertainment and education focused initiatives.
"The Ryan Seacrest Foundation is proud to team up with Jingle Ball for the third year in a row, allowing us to raise more funds and awareness for our work with children's hospitals across the country," said Meredith Seacrest, executive director & COO of the Ryan Seacrest Foundation. "We love being a part of this concert tour and are truly grateful for all iHeartMedia does to help us lift the spirits of young patients and their families."
For up-to-the-minute information on Hot 99.5's Jingle Ball 2015, log on to HOT995.com keyword: Jingle Ball or listen to HOT 99.5 on-air or online via the station's website, as well as on iHeartRadio.com and the iHeartRadio mobile app, iHeartMedia's all-in-one music streaming and digital radio service.