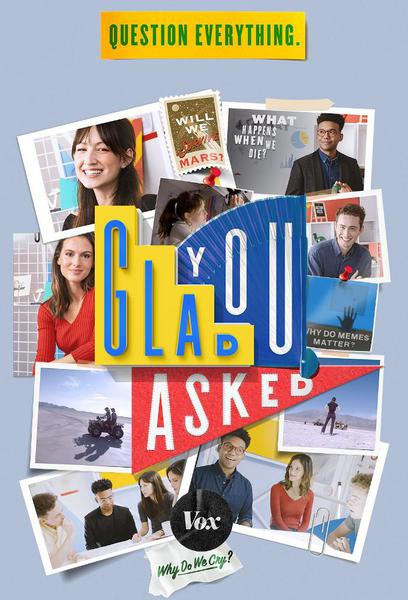 It has long been and remains one of the burning issues in our country – that is, the issue of race relations in America. History in all races is littered with the ugliness of segregation and violence towards minorities and immigrants in cities across the United States. While the issue remains, the question of what to do about it remains.
The show, "Glad You Asked", produced by Vox Media and streaming on YouTube, takes the issue of race to task and pointedly deals with race in our country, neighborhoods, and even closer to home, ourselves. "Glad You Asked" is a collaborative examination of subjects motivated by our interest in the social environment around us. The show is in its second season and with incredible timing, explores issues and concerns regarding race and the impact of systemic racism in our communities and daily lives. This season's topics include implicit bias, such as education discrimination and the impact racism has had on our health.
The producers of "Glad You Asked" and Vox Media are taking a brave step in tackling the issue of racism. is certainly an explosive topic. In a recent interview, two of the show's cast members Christoph Haubursin and Fabiola Cineas offered insight on this season's episodes. The show is in its 2nd season. and given the current climate in our country regarding racism, it is sure to have viewers talking. "I think it will be very impactful. A lot of people don't have answers about why it's happening, but I think they will understand (once they see the show) how it affects everyday life", said Fabiola Cineas. Her colleague, Christophe Haubursin agreed that it is an episode that is needed and worth talking about.

Sometimes 'ice-breakers' can help when trying to talk about difficult issues such as racism. There is no easy way to meet the challenge head-on. "It's hard to begin talking about racism. Christophe and I on certain episodes thought how do we begin to have this conversation. We had to be honest about the conversations we were having and we felt like we were learning from each other", Fabiola said. "Yes, I think that was the challenge and beauty of it, Christophe said. "We were able to have conversations that people should be having in the first place, but we were able to do that," Christophe continued.

One of the episodes will focus on the impact that racism has on one's health, particularly mental and sociological well-being. Citing the murders of George Floyd, the shooting victims in Boulder, Colorado, and Atlanta, Georgia it can be contended that racism has an ill-effect on people whether its physical or learned behavior. "I agree with Christophe that racism is a learned behavior and that it can be unlearned. We are trying to prove in these episodes that racism can be and should be unlearned behavior. It should be handled in all areas of society," Fabiola said.

"Glad You Asked" is a powerful program and one that should be watched. It opens a dialogue between people, races, cultures, and that's an early step to the ongoing work that lies ahead in combating racism. "Personally, I've not had to deal with racism directly, and so I thought that I may not be qualified to talk about it, but in learning about (racism) it for the episodes, I realize, that I am qualified to talk about it. We all are," said Christophe Haubursin. Fabiola Cineas offered another perspective. "I'd say I'm on the other end. My job is to be a race reporter for a company that writes about the issues, and throughout these episodes, I want to be remembered as someone who wasn't afraid to get vulnerable with my subject and wasn't afraid to put the truth out there", she said.

"Glad You Asked" Season 2 will begin on March 30th on YouTube.