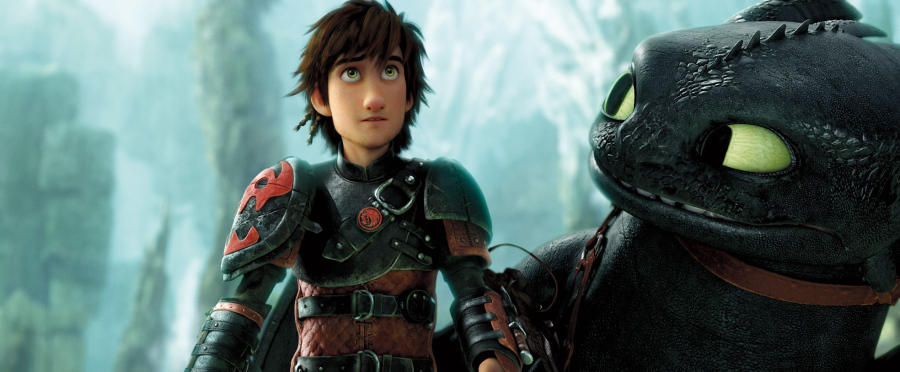 by Dean Rogers
Valka said it best when she said, "You have the heart of a chief and the soul of a dragon." DreamWorks Animation's How to Train Your Dragon 2, opening in theatres today, has the right formula to make a film's sequel soars above its predecessor: a new adventure for Hiccup and Toothless as they take us to new territory while maintaining the heart and soul of its characters.
As you know from the first film, a young Viking named Hiccup (Jay Baruchel) captured a rare Nightfury dragon and named him Toothless. Together, they developed a special bond that not only changed their lives but the lives of the people of Berk. Five years later, the Vikings now enjoy a newfound friendship with the dragons. For the dynamic duo of Hiccup and Toothless, they want to go beyond the reaches of Berk and explore the new frontiers. Soon the two face a new danger as the mysterious dragon rider, Drago Bludvist (Djimon Hounson) wants to control all the dragons and build a new army against his enemies.
The journey to a new world also led Hiccup to reunite with his mother Valka (Cate Blanchett) who was believed to have died from a dragon attack. She's alive and well, co-existing with the dragons and studying their behavior.
Dean DeBlois co-wrote and co-directed the first film with Chris Sanders, but now is flying solo while his partner is filming another DreamWorks product, The Croods 2. Despite the split, DeBlois delivers a sequel that makes the Cressida Cowell's book series so vibrant on screen and he has opened up the tale without losing the depth of 2010 movie. Although the film goes off into numerous directions, DeBlois enforces a balance that fuses it all together by the end of second act. The second act includes an amazing high-flying sequence that you and your kids will talk about all summer.
Jay Baruchel delivers a more grown-up Hiccup that we fell in love with a few years ago. Hiccup's girlfriend Astrid (America Ferrera) once again glows on the screen. It's hard not to swoon over their young love. There is no shortage of humor, thanks to the voices of Kristen Wiig, T.J. Miller, Jonah Hill, Christopher Mintz-Plasse and Craig Ferguson.
Newcomer Eret, Son of Eret (played by Game of Thrones' Kit Harrington) is a dashing rogue dragon trapper who butts heads with the Dragon riders of Berk. But the best new addition to the cast is Cate Blanchett's role of Hiccup's mom, Valka. When it comes to actors, there are very few who are perfect in every role they play. Blanchett is one of those actors. Now, we see where Hiccup gets his love and compassion for both human and dragon kind. Valka shares some great scenes with husband Stoick (Gerard Butler) and gives us a great backstory to the characters but also provides the touching, emotional moments of the film.
DreamWorks Animation continues to dazzle the audience with a family feature that not only brings an amazing story to life on the screen but also pleases people of all ages to boot. The animation for this film is breathtaking, going far beyond the environments of the first film. It's no surprise that composer John Powell delivers an epic score for it kicks into high gear at the right moment. This is a score you must…. download for your listening pleasure.
The sequel takes the cast on a journey that unfolds in between serious tones and the feel good moments. While there will be plenty of sequels this summer, Dragon 2 joins an elite list of sequels that surpasses its first.
Final Grade: A