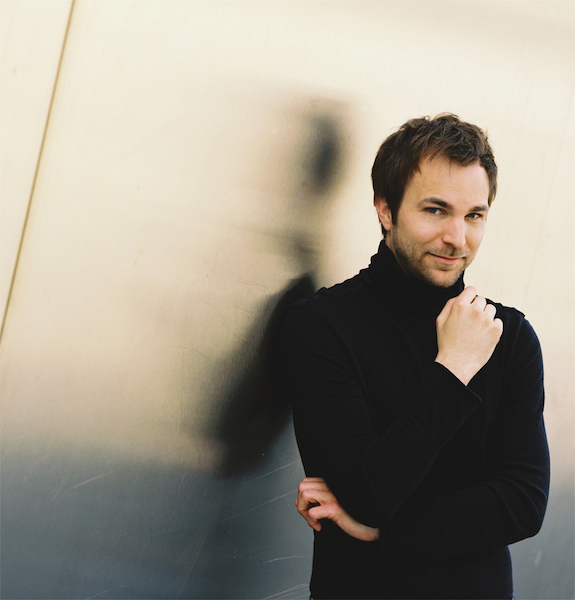 Saturday Oct. 17th 2p.m. – The Romanian-German pianist Herbert Schuch is quickly gaining recognition for his unique recitals. They have lent the works of Bach, Liszt, Ravel, Messiaen and Murail. Today at the Kennedy Center Terrace Theater the Hayes Piano Series presented Herbert Schuch in his DC, and U.S. debut. It was a program based around remembrance, religion and bells.
Herbert Schuch titled his recital "Call of the Bells." It's piano music inspired by religion. Faith still remains music's most powerful expression and at one point was the basis behind all music. The religion and bells motif can clearly be seen throughout the program; a program which included: Tristian Murail, Clotches d'adieu, et un sourire…("Bells of Farewell, and a Smile…") Franz Liszt, from Harmonies poétiques  et religieuses… ("Poetic and Religious Harmonies…") S. 173, Pater noster…("Our Father…") Bénédiction de Dieu dans la solitude…("The Blessing of God in Solitude…") Johann Sebastian Bach, Ich ruf zu Dir Herr Jesu Christ…("I call to You, Lord Jesus Christ…") BWV 639 Oliver Messiaen, Clotches d'angoisse et larmes d'adieu…("Bells of Anguish and Tears of Farewell…") Johann Sebastian Bach, Die Seele ruht in Gottes Händen…("Lord Jesus Christ, true Man and God…") BWV 127 Franz Liszt from Harmonies poétiques et religieuses… ("Poetic and Religious Harmonies…") S.173, Funerailles…("Funeral…") Maurice Ravel, La vallée des cloches…("The Valley of Bells…") from Miroirs.
It's wonderful just to be able to hear Murail, Liszt, Bach, Messiaen and Ravel all in one recital. The Steinway & Sons grand piano was well tuned and sounded fantastic! You got to give credit to whoever tuned the piano; you can't take that for granted. Schuch also had an interesting approach as to how he played the recital. His transitions between pieces were seamless, almost unnoticeable. It was as if the program was a pair of multi-movement compositions with an intermission in between. Just the sustain from the piano would become barely audible he would go into his next piece. It didn't give a lot of room for applause but it keep the sound flowing nicely.
The program almost mirrored Invocation Schuch's latest album release. There's a unique contrast in sound that exists between the composers performed. The more contemporary composers such as Murail and Messiaen have a very different sound than Bach and Liszt and even Ravel. The difference is night and day. It's an interesting take though and the collage of sound added some variety to the performance, Murail's sound in particular. Murail's "Bells of Farewell and a Smile" is described as "cheerful" by Murail himself on his website. I'm may be going out on a limb here but I don't think it sounds any at all cheerful; are you kidding me! It was intriguing and sounded great, just not cheerful. Schuch expressed a serious emotion while playing Murail's piece; he didn't smile and act "cheerful." It's an awesome piece; I'm just perplexed by it's expression.
Herbert Schuch is a good pianist. The pieces he performed were unique and unassuming. Music doesn't have to be scrupulous to sound good and that's best how I would describe this recital. It sounded beautiful without being ornate. Pieces like Maurice Ravel's, La vallée des cloches, and Franz Liszt's Pater Noster are graceful but not as overtly technical as say Franz Liszt's Hungarian Rhapsody No. 2. Regardless, the Liszt that was played was played well. I would still like to see Schuch roll up his sleeves a little; I believe he has the talent for it.
This was a wonderful recital, really enjoyable. It was artistic, well played and fun to listen to. Herbert Schuch is a pianist definitely worth hearing perform. He plays uncommon pieces that are artistry with deep meaning. The execution is superb so if you are drawn to his program you will enjoy the recital.