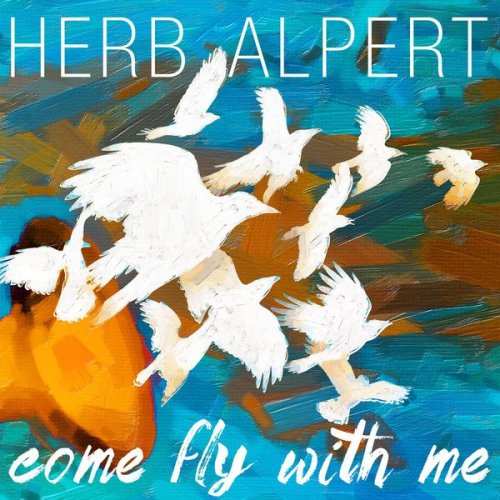 If you love smooth jazz, then no doubt you have heard of the legendary and Grammy Award Winner Herb Alpert. Best known for his popular hits "Rise" and "Spanish Flea", Alpert recently released his newest album "Come Fly With Me". By now, you've already gotten a copy of his album. Just in case you haven't yet, I'd like to talk a bit about "Come Fly With Me" and why it's so stunning.
The soft sounds of the trumpet and light percussion in the title track "Come Fly With Me" are soothing and inviting. The resounding trumpet in the opening of "Blue Skies" will remind you of a splendid sunrise, and the percussion and strings make this a fun and upbeat song to fall in love with. "Got a Lot of Livin' To Do" includes the softly played piano, giving us a wonderful and dreamy melody. "Cheeky" has an energetic and easygoing sound that you will want to dance to.
The soft drums and guitar, accompanying the bold and warm trumpet in "Take The "A" Train" make this track a beautiful tune to slow dance to. "Love Affair" is a track that will relax you at the end of a trying day. The softly played percussion and the sweet and harmonious piano keys give "The Windy City" its amazing beauty and is truly romantic.
The warm and wonderful melody in "Sweet and Lovely" will set your soul at ease. "Walkin' Tall" is a mixture of reggae and smooth jazz. Although a slow song, the reggae beat and the powerful trumpet are the reasons why this track could prove to be a fun and energetic song to enjoy. The smooth and deep piano and the whispering sounds of percussion in the opening in the track in "Night Ride" make it seem mysterious. Unlike the rest of the album, "Something" is not as upbeat, but is still the perfect song for date night. "On The Sunny Side of the Street" is uplifting and exciting. The final track is the soulful rendition of "Danny Boy", a heartwarming Irish classic.
Whether you enjoy a soft and romantic melody, or a remake of a classic song, you'll love every moment of "Come Fly With Me". So while you're getting ready for your next date, get a copy of this album and keep it on repeat for the rest of the evening.
Final Grade: A