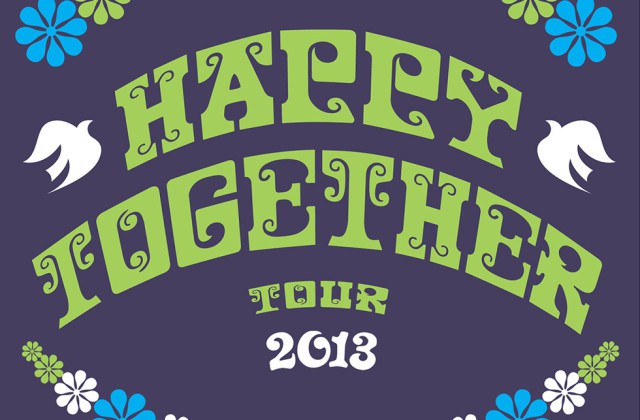 Do you remember the 60's? No, I'm really asking you; it was before my time so I need some help with this one. I can only imagine a turbulent time, what with the Vietnam War going on and all but at the same time a decade where some of the most peaceful music ever created was made. Sunday night at The Filene Center at Wolf Trap Flo & Eddie from The Turtles, Chuck Negron from Three Dog Night, Gary Puckett from Gary Puckett & The Union Gap, Mark Lindsay from Paul Revere and The Raiders and Gary Lewis from Gary Lewis & The Playboys were all in attendance.  We spun the turntables back like a proverbial time machine and recounted Billboard hit after hit.
When it comes to music from the 60's really it was all about The Beatles. It was funny a lot of the artist who performed tonight actually showed a bit of animosity towards them. They were sure to let us know whenever they released a song that surpassed The Beatles on the Billboard music charts and did it in a "in your face" type manner. The first song performed to do that was the number one hit by Gary Lewis & The Playboys "This Diamond Ring". It was a fun catchy song; Gary Lewis's performance all together was fun and catchy. It was a good tone setting act.
http://www.youtube.com/watch?v=qLugEHP3HaU
Next on stage was Mark Lindsey from Paul Revere and the Raiders. The concert was done in a manner where a "house band" performed all the songs and they just substituted in and out different singers. Mark Lindsay was cool, a bit flashy but then again hey he was the lead singer for Paul Revere and the Raiders. My favorite song he performed was "Louie Louie". He claimed Paul Revere and the Raiders were involved to some extent in the original recording with The Kingsmen but the project got canned. That song to me is pretty much the definition of rock n' roll so that's amazing. It's hard to believe it's been recorded by various artist over 4,000 times!
Following Mark Lindsay was Gary Puckett. He sang extremely well. Being that he went on before Chuck Negron had to be ruff. I know as I was sitting there and the only thing I could think about was how long before Chuck from Three Dog Night came on. No disrespect to Gary Puckett the song "Woman Woman" was very enjoyable, it's just that Chuck Negron was the reason I attended the concert and knowing he was due to come up next made me a little anxious. I was nice though Gary Puckett extended himself out to war veterans and members of the military. Being he's from the 60's era I can see why. You can check out his veterans program at www.garypuckett.com
I took advantage of the intermission to stretch my legs and walk around to really get a sense of the music history Wolf Trap encompasses. I talked to a patron who loves the place and has been coming for decades. He recounted a John Denver concert he attended here in 1997.
http://www.youtube.com/watch?v=rKaQzQAlNn4
Speaking of American music history the next artist is more ingrained in it than probably any other artist I have ever reviewed. It was Chuck Negron from Three Dog Night. His song "Joy to the World" was on the Forrest Gump soundtrack; now that's American music history! That song along with "Mama Told Me (Not to Come)" has been on more movie soundtracks than I can count and is synonymous with America life in the 1960's. He performed these songs well but did jokingly admit he was a little out of it and even had trouble remembering where he was. When Chuck performed "Joy to the World" it was an instant sing along. And of course "One" sounded terrific! I think this song was the house bands best performance of the evening.
http://www.youtube.com/watch?v=nl8ycWgPuus
Now for the last set you know its The Turtles so you know to expect the unexpected. The last thing I expected was for Flo & Eddie to come out doing PSY's "Gangnam Style" It was ridiculous. Watching Flo is like a circus act, he's always attempts to juggle his instruments. Their definitely a funny pair and developed into quite the tandem, they have been performing together for 51 YEARS! They sounded the best out of everyone that evening. I think it had something to do with the fact that they were the only act to sing as a duet and they harmonize magnificently together. The song "Happy Together" was an instant classic hearing live. Everybody stood up and just swayed from side to side with the rhythm and sang along.
It was a great concert. I feel like I engulfed myself with American music culture and history after attending this show. I don't know how you could go to a performance like this and not enjoy yourself. It was amazing!
TRR CONCERT REVUE by Alan Duckworth