Haochen Zhang Performs Rachmaninoff's Piano Concerto No. 2
3 min read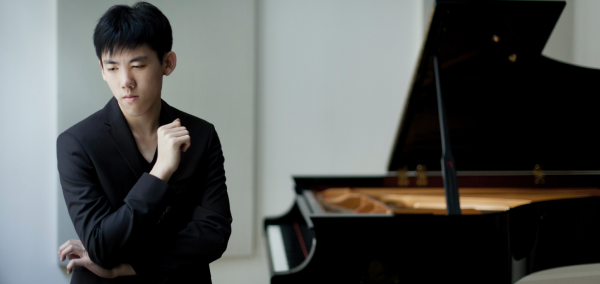 Rachmaninoff's Piano Concert No. 2 is one of the most complex pieces of musical composition ever written. The sheer technicality will amaze you. The romanticism will stir your emotions. Tonight at The Music Center at Strathmore Haochen Zhang along with The National Philharmonic Orchestra performed this astonishing piano concert. In addition, Dvořák's Symphony No. 8 was also performed.
The concert opened with Rachmaninoff's Piano Concerto No. 2. To call Rachmaninoff's Piano Concerto No. 2 astonishing would be an understatement. It's so amazing it's hard to believe what you are hearing. It's elaborate yet beautiful. The Russian-like melody and piano accompaniment of rapid oscillating arpeggios, quick transitions, and agitated developments capture your breath and leave you entranced. The exuberant finale, the Allegro Scherzando, is as much a triumph as any piece of music ever written in the history of mankind. And that's no exaggeration.
Haochen Zhang is a Van Cliburn International Piano Competition gold medalist. That is the premiere Piano Competition in the world. He's known for performing show-stopping pieces with spectacular virtuosity. A perfect match for Rachmaninoff's technique. Zhang's execution was flawless! His endearing musicality overwhelms your emotions, impacts your soul, and captivates your imagination. Zhang's interpretation of this piano concerto is the best I've ever heard. He adds a touch that differentiates himself from other performances of the same concert. It's like he emphasizes certain bars of the climax that really bring out the performance. It's different from other interpretations I've heard and it's wonderful.
Your first reaction is to perk up and listen. As simple as that sounds it really is a powerful statement. It seems like music, more and more, is turning into background noise. It's not bad just more atmospheric. It's refreshing to hear music whose technicality is so inspiring it makes you want to intricately listen. It's beautiful concentration. It's the sound of courage. The sound of determination. The sound of victory. The sound of defeat. The sound of power and the sound of optimism. The fact that I felt all these emotions is a testament to how well Haochen Zhang performed.
This concert also featured Antonín Dvořák's Symphony No. 8. It was part of a string of successful symphonies composed by Dvořák that started with Symphony No. 7 and lead up to the magnificent Symphony No. 9. It was an interesting addition to the program by conductor Piotr Gajewski. Everybody's familiar with Dvořák's Symphony No. 9, "From the New World." It was nice to have some variety in the repertoire. Experience a really good symphony that you may not be as familiar with. The Allegretto grazioso and Allegro ma non-troppo are particularly enjoyable. The NPO and Gajewski managed to follow a tough act and did so exceptionally well. They captured the excitement of the first half and carried it over into the second.
This was an awesome concert, to say the least. To be able to see it performed by Haochen Zhang was icing on the cake. He gracefully tackled this complex and beautiful machine of a piano concerto with modest attitude and confident disposition. Bravo! Great Job!