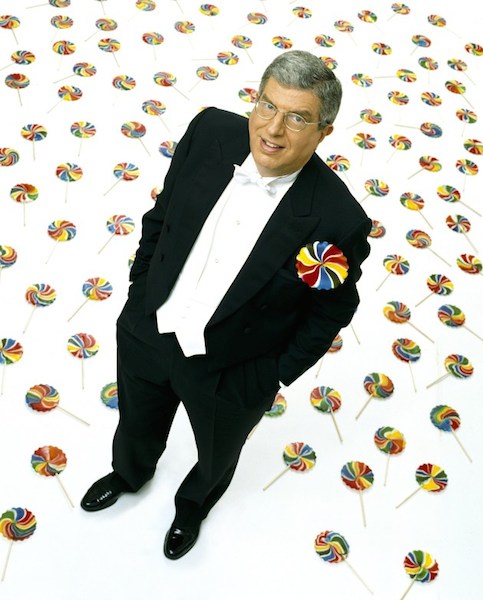 Marvin Hamlisch along with two special guests, Kevin Cole and Melissa Errico delighted the Wolf Trap audience last Friday night, with the NSO and an evening of Gershwin. The weather was lovely and their infectious spirits and amazing talents, made for a superior evening. This was my third time seeing Mr. Hamlisch in this type of format and he never falters. He is an accomplished composer, multiple Oscar winner, multiple Grammy, Emmy, and Golden Globes winner and even receiving a Tony and Pulitzer Prize for his triumphant "A Chorus Line"! I could write this review and tell you every interesting thing about Hamlisch and I'd have paragraph after paragraph of one of the most amazing careers and lives in history. He truly is an amazing man and everyone should get to witness his talents!
His impressive life and career are to be admired, but he has a wit and a fantastic sense of humor that really take the performance to another level. Between each glorious piece of music, he would tell us anecdotes or give us fun tidbits about the music or his cohorts that night.  Although, I wasn't familiar with Kevin Cole before, I certainly have him on my iPod now and there he will stay! He is an unbelievable pianist! Hamlisch told us how Cole is considered to be the closest thing to George Gershwin we will ever have, according to the Gershwin family. That says a lot and it's not a mistake! When he played "Rhapsody in Blue", he captured my heart and they received and well-deserved staying ovation! I had a wonderful conversation with him at the intermission when he was gracious enough to sign autographs and it became a highlight of my evening. He and I discussed the Gershwins and their relationship with my family and he gave me chills when he recalled that the film, "Rhapsody in Blue" was the reason that he became interested in playing the piano and George Gershwin. My Great Great Aunt, Sonya Levien wrote the story that became that movie. We had our moment and I will always remember his story!
After intermission, Hamlisch returned and introduced the vivacious, Melissa Errico. I have had the pleasure of seeing her perform in "Dracula", one of her many trips to Broadway, but I loved watching her be herself! She has a beautiful singing voice and she is quite a character on her own. She happily told the audience and Hamlisch in an unrehearsed story that she discovered DSW earlier that day…it was very amusing and a fan even had a DSW shopping bag with them that Errico relished in signing…now the fun story will live on!  She was wearing a beautiful grey gown and apparently needed the spree to acquire some sexy, silver heels. Her performance enchanted us, with her singing the very well known, "Someone to Watch Over Me" and "Embraceable You" which she did with zeal and heart and excellent diction. She has the kind of trained singing voice that you know no matter what she sings, it will be perfection! One of my favorite parts of the evening was her rendition of, "By Strauss". It's a happy Gershwin tune, played exquisitely by the NSO and sung vivaciously by Errico.
The evening was to end with Hamlisch conducting the NSO performing the entire version of, "An American in Paris", but an encore was demanded by the masses and Hamlisch and Cole obliged by performing a dueling piano rendition of "'S Wonderful". Hamlisch finished off the night by giving us the insight that some songs should be performed at a slower tempo, so that you can really hear the brilliance, so he played, "I've Got Rhythm".
It was a magical evening and I only wish it was longer! Any part of this show could be separated out and be a terrific night. A night with the NSO or Kevin Cole, or Melissa Errico, and of course an evening with Hamlisch even telling stories, would be an evening worth remembering.
Overall Event: A+, I could have used more stage time of Cole and Errico, but I could watch them all night!
Venue: A+, Wolf Trap is the perfect place for this type of show. The weather was perfection and even the crickets chirped to Hamlisch's conducting…that is power 🙂
For upcoming performances check out: