Hall & Oates evening of Rock 'n Soul, 'n Train
5 min read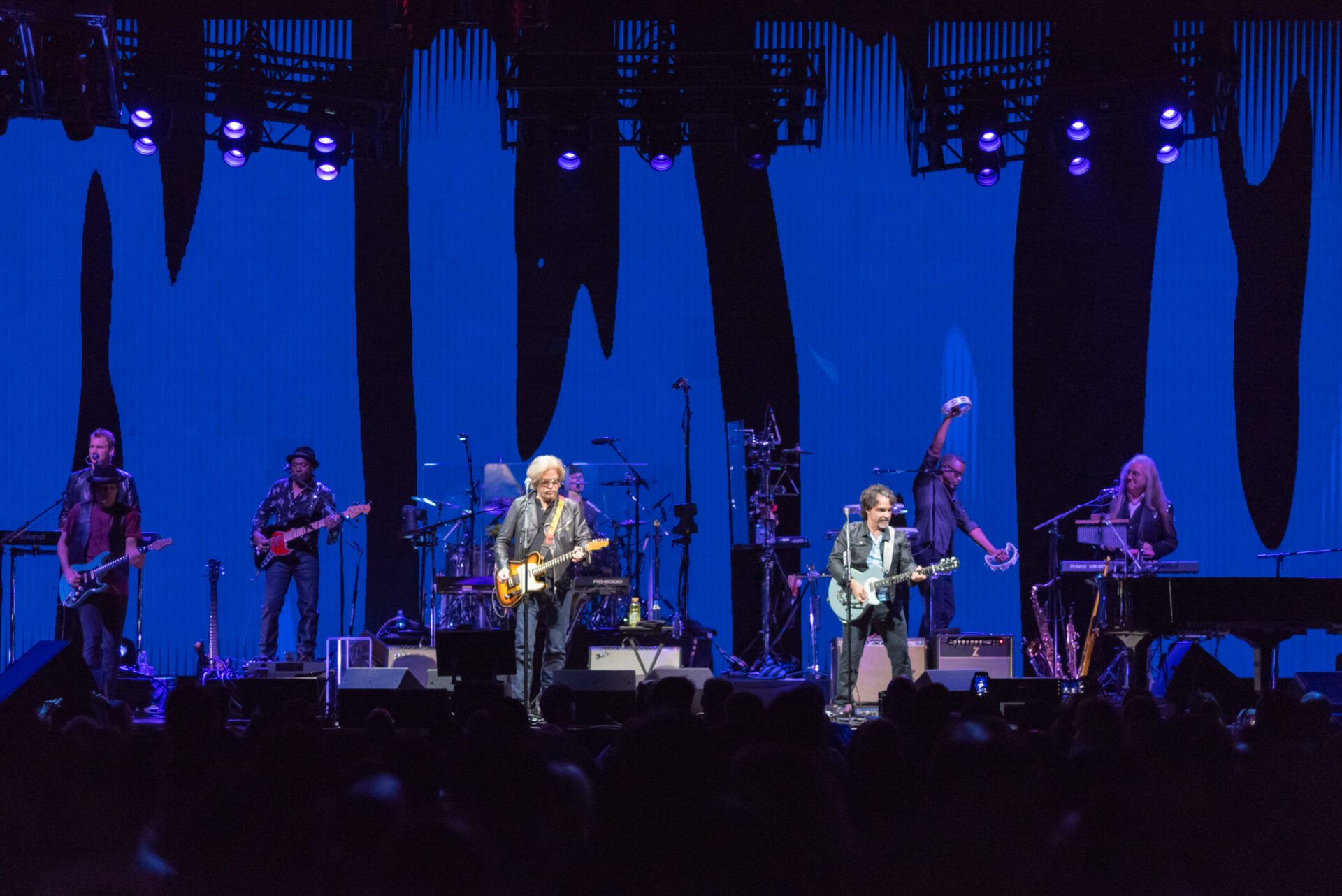 On Monday, June 11th, the pop-rock and soul duo Hall & Oates performed at the Capital One Arena.  Looking around the arena, there were not a lot of empty seats.
Hall & Oates has been performing together since 1967. They had their first hit single, "Sara Smile," in 1976. Over the next 14 years, Hall & Oates had 35 Top 40 singles, 17 Top 10 singles, and 7 Number 1 singles on the Billboard ® Top 100 / Adult Contemporary charts. That is an amazing record, especially because most of their top 40 songs were Hall & Oates originals.
On February 18th I saw John Oates and his Good Road Band perform in Annapolis. After seeing John Oates' performance, I was looking forward to this show.
Hall & Oates opened the show with their song "Maneater," which was a great start for their set. The last time I heard this song live was at a John Oates show, where he explained that he wrote the song after returning from Jamaica. At that time, John performed the song with a reggae twist and I loved it.  When I heard them start the show with this song, I was hoping they would play all or some of the song that way, as I wanted a bit of reggae. Thanks, John!
The sound and tempo seemed a bit off at the start, but the band quickly got into rhythm and sounded great. Most of the songs they played were recorded 30+ years ago. Given the time since the songs were recorded, the vocals were mostly in tune, which brought back many great memories.
They have a great band:  Shane Theriot on guitar, Porter Carrol on percussion, Klyde Jones on bass guitar, Brian Dunne on drums, and Charles DeChant, who has been playing saxophone, flute and other instruments for Hall & Oates since 1976!
Hall & Oates has so many hit songs, they must run into a problem deciding which songs to perform. While it would have been great to hear all their top songs, with such a large catalog, they managed to play most of their biggest hits, with the exception of two songs I would have loved to see them perform: "One on One" and "Adult Education."
Opening up for Hall & Oates was the band Train. About two-thirds of the way into the set, Hall & Oates invited Train lead singer Pat Monahan on stage to perform three songs with them, including a new single that was co-written by Pat and Daryl. Since Hall & Oates and Pat all are from Pennsylvania, the song was about Philadelphia and titled "Philly Forget Me Not".
This song was one of those that sound very familiar, in a good, comfortable way.  It was great hearing a new song from Hall & Oates. The song had the signature Hall & Oates rhythm, vocals and chorus.  Pat Monahan sang much of the verse, while all three sang the chorus.
One of the great things about listening to Hall & Oates has always been hearing them sing both the chorus and their great vocals. "Philly Forget Me Not" is not a long song — just over 2 1/2 minutes. It's great hearing new music from Hall & Oates, and I wish the song would've been longer. I want more of the story of Philly and why it should not be forgotten. I think the song focused a little too much on Hall & Oates' signature chorus. Nonetheless, it's great to hear new music from Hall & Oates and shows they are still great songwriters.
After hearing this song, I was wishing for more new Hall & Oates music. Monahan also performed the Train song "Calling All Angels," which was amazing, with Hall & Oates on vocals along with Monahan.
Train released their first self-titled album in 1998, when they had their first top 10 AC single, "Meet Virginia."  Since then, Train has released 11 albums, which included 4 top 10 AC singles. I know Train and love their music. There are songs on the radio that you know and love but may not know who performs them. At times you may not realize how much music you know from a particular band.  On Monday night, I learned that Train is one such band.
They opened the show with "Parachute." This song is not a single for Train, but it sounds familiar. It's a song I think I've heard before, many times, but I'm not sure. There are times you hear a song that you never heard before but it's such a good song that it sounds like an old favorite — a song that immediately grabs you — and this song is one of them.
Train played many of their hits, including "Meet Virginia," "Drops of Jupiter," and a cover of the Led Zeppelin song "Black Dog." During their performance of "Save Me San Francisco," they released what had to be 12 or more big inflatable beach balls around the arena. The fans hit the balls around, which made for a very entertaining experience.
Toward the end of their set, Train performed the Tom Petty song "Free Fallin," which was amazing. It was a performance I think Tom would have been proud of. The most touching part of this song was when Pat called out to the audience to sing the chorus as loud as they could (loud enough for Tom to hear it!). It was a well done tribute to the late, great Tom Petty.
Hall & Oates is one of the duos I've followed all my life, but never have seen in concert until now.  All in all, it was a great night of favorite Hall & Oates music. It was especially wonderful to hear most of my favorite Hall & Oates songs live, including "Kiss On My List", "I Can't Go for That (No Can Do)", "She's Gone", "Private Eyes" and others. As for Train, it was great to see them live. They put on a great live show.
All in all, if you're a Hall & Oates fan and have a chance to see them live, I highly recommend you take advantage of it!
Rating: A
Hall & Oates Photos
Train Photos
Photos by Jeff Talbert