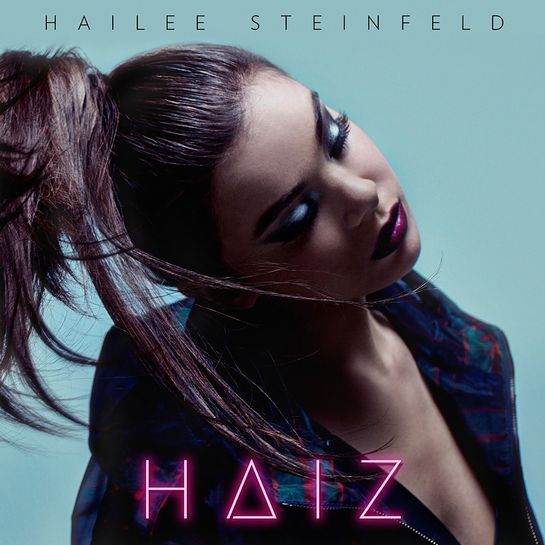 Hailee Steinfeld is a triple threat. Not only is she an accomplished singer, she is also an actress and a model. Hailee appeared in the 2010  remake of the John Wayne hit film "True Grit" with actor/musician Jeff Bridges and later appeared in "Ender's Game", "Unity", Three Days to Kill" and the musical film "Pitch Perfect 2", where she first showcased her musical talents. Now she has released an EP called "Haiz", and each track varies from upbeat pop to relaxed rhythm and blues. So,while you're waiting in line to pick up her EP, how about we talk about why "Haiz" is so awesome?
Let's start with the first track "Hell No's and Headphones". This uniquely titled song has a quiet intro with light finger snaps and Hailee's vocals. This track has the sound of rhythm and blues and a hint of pop and is a fun song to listen to. "Rock Bottom" is a percussion-filled track with the perfect amount of energy. Hailee wonders "What are we fighting for?" and expresses her feelings of a mutual love and hate for the object of her affection. "You're Such A" is a lighthearted and spirited melody. Whereas we hear pop and rock in the earlier tracks, this track has a hint of rhythm and blues and an awesome danceable beat.
Finally, we have the upbeat track "Love Myself". Hailee expresses her confidence in herself when she announces "I love me/Gonna love myself/No, I don't need anybody else". This track is not only pleasant, but it is positive and perfect to dance to in a party setting.
"Haiz" is an amazing EP with an array of sounds and musical choices that will appeal to Hailee's audience. Each song is upbeat and has a unique message, but they are all enjoyable and perfect to dance to. From the pop rock and the rhythm and blues tracks, every song on "Haiz" is something that works for everyone. No matter what your music preferences may be, you are going to love this awesome EP. These are songs that will be apart of your play list very soon.
Final Grade: A